SMC at Regionals
Cross Country - Gray Qualifies for National Championships, Sets School Record; Belles Finish 15th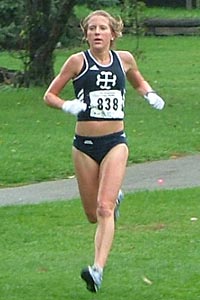 November 10, 2007, GRAND RAPIDS, MI – For the second consecutive year Saint Mary's cross country runner Megan Gray qualified for the NCAA Division III Cross Country Championships by placing fourth at the Great Lakes Regional Championships Saturday morning with a time of 21:48. The 6K event was hosted on the campus of Calvin College.
As a team the Belles finished 15th in the 68 team field. Calvin won the team championship with a team score of 46 while Esther Erb from Case Western won the individual title with a time of 21:13.
The NCAA Championships will be held next Saturday, Nov. 17 at St. Olaf College in Northfield, Minn at the Skoglund Athletic Fields.
Gray broke her school 6K record she set two weeks ago at the MIAA Championships when she ran 22:18. The senior became the first Belle harrier to qualify for the NCAA Cross Country Championships last season when she finished 10th overall at the Great Lake Regional with a time of 22:52.
Samantha Wieczorek was the Belles second best harrier, running the course in 24:02 in finishing 78th overall. Catie Salyer (24:14) and Megan McClowry (24:31) were the third and fourth runners to cross the finish line for the Belles placing 87th and 104th respecitively overall. Caitlin Brodmerkel rounded out the scoring runners for the Belles with a time of 25:11 finishing 134th overall in the field with 231 runners.
Saint Mary's Top Finishers (Overall Finish)
Megan Gray (4th) – 21:48
Samantha Wieczorek (78th) – 24:02
Catie Salyer (87th) – 24:14
Megan McClowry (104th) – 24:31
Caitlin Brodmerkel (134th) – 25:11
Top 10 Team Scores
1) Calvin – 46
2) Case Western – 73
3) DePauw – 80
4) Kenyon – 145
5) Oberlin – 165
6) Baldwin-Wallace – 226
7) Ohio Wesleyan – 241
8) Anderson – 244
9) Dension – 256
10) Otterbein – 268
15) Saint Mary's - 407