Crabbe - New Soccer Coach
Crabbe Hired to Lead Saint Mary's Soccer Program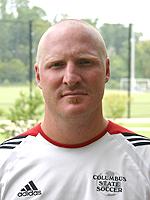 NOTRE DAME, Ind. – The Saint Mary's athletic department has hired Ryan Crabbe as the head coach of the Belles soccer program. Crabbe is the first full-time soccer coach at Saint Mary's.
"We are very excited to hire Ryan as our full-time soccer coach," Saint Mary's Athletics Director Lynn Kachmarik said. "His knowledge, energy and passion for soccer are great characteristics that will help Ryan as he looks to build our program into a competitive NCAA Division III team."
Previously Crabbe served as the assistant coach at Columbus State University since the 2005 season. During his three years with the Cougars he helped guide them to consecutive Peach Belt tournament championships in 2006 and 2007. In addition to their post-season success, Columbus State won the league's regular season title during all three seasons he served on head coach Jay Entlich's staff.
Columbus State qualified for the NCAA Division II tournament in 2006 and 2007. They earned a berth into the Elite 8 in 2007 and ended the season ranked fifth in the country. During his tenure the Cougars went a combined 53-14-3 as he coached nine different players who earned All Conference honors.
"I am eager and excited to take over the soccer program at Saint Mary's College and hope that I can have an impact on the success of our student-athletes both academically and athletically," Crabbe said. "Through diligent recruiting and promoting the excellent opportunities which Saint Mary's can offer a young student-athlete, I plan to build the program into a consistent contender in the Michigan Intercollegiate Athletic Association and one that is competitive at the national level."
The native of Atlanta, Ga. is a certified United States Soccer Federation "A" licensed coach, which is the highest classification the USSF offers. He began coaching at Stone Mountain Youth Soccer Association from 1997-2000 before moving onto the Gwinnett Soccer Association from 2000-2004. He worked with all aspects of girls program at GSA from U10 to U19 and also was boys' varsity assistant coach at St. Pius X Catholic high school, winners of the 2001 state championship and state quarterfinalists in 2002.
Crabbe earned his Bachelor's Degree at Georgia State in film and video where he graduated Magna Cum Laude in 2004. He went on to complete his Masters of Education from Columbus State in 2007. Crabbe and his wife Jennifer were married in December of 2006.
He was a four-year collegiate soccer player at Augusta State (Ga.) from 1993-1996. Crabbe takes over the program from Caryn MacKenzie who served as the head coach the past four seasons.
The Belles are slated to return 16 players next season after finishing in fifth place in the MIAA last season. He is the school's seventh head coach since Saint Mary's joined the MIAA during the 1997-98 season.