2009 NCAA Golf Championships - Day Four
Belles Wrap Up Tenth Place at NCAA Championships
PORT ST. LUCIE, Fla. - Entering the NCAA Division III Championships as the 17th seeded team in the field, the Saint Mary's College golf team rose to the occasion and finished 10th in their fourth appearance in the Championships.
The Belles finished the tournament with a combined score of 1,318 after shooting a 326 on the final day of competition. The overall team score is the lowest four-round total by the Belles in the NCAA Tournament by 29 strokes (1,347 in 2005 - finished 6th).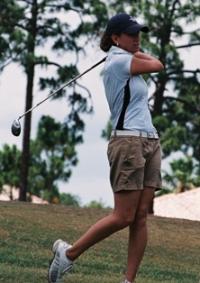 Emily Gore wrapped up an impressive tournament by leading the Belles again on Saturday. Today, the sophomore fired a 77, which included back-to-back birdies on 12 and 13, and tied for 17th place overall with a four-day total of 322.
Freshman Natalie Matuszak ended on a high note as well by putting together her best round of the weekend by getting her first birdie of the Championships and finishing with an 80 on Saturday. Matuszak finished in a tie for 36th place with a 330 on the weekend. Hot on Matuszak's heels was sophomore Rosie O'Connor, who fired an 82 for the second time of the tournament and finish with a 337.
Mary Kate Boyce and Meredith Fantom both 87 on Saturday to wrap up the Belles' solid weekend. Boyce finished the weekend with a 335 while Fantom carded a 349 over the four-day tournament.
Methodist University continued their stronghold on the rest of the field by capturing their 12th consecutive team championship. The Monarchs coasted with a 25 stroke margin of victory (1,257) over runner-up Wisconsin-Stevens Point (1,282). The individual champion also hails from Methodist for the fifth straight year as Susan Martin took medalist honors with a four day total of 294, holding off a strong final day performance by Jessica Urban from Stevens Point by just three strokes.
Day Four Results and Final Standings
Current
Position
Team
Scoring
Rounds
Total
Score
to par
today
1
2
3
4
1
+105
  +28
321
310
310
316
1257
2
+130
  +34
322
318
320
322
1282
3
+145
  +37
322
324
326
325
1297
4
+146
  +35
327
318
330
323
1298
5
+151
  +25
327
325
338
313
1303
6
+154
  +37
312
340
329
325
1306
7
+157
  +37
335
327
322
325
1309
8
+159
  +40
326
333
324
328
1311
9
+161
  +40
323
336
326
328
1313
10
+166
  +38
322
340
330
326
1318
T11
+169
  +36
326
326
345
324
1321
T11
+169
  +36
321
334
342
324
1321
13
+173
  +44
337
328
328
332
1325
14
+182
  +51
318
337
340
339
1334
15
+186
  +32
343
342
333
320
1338
16
+195
  +62
329
341
327
350
1347
17
+206
  +45
338
343
344
333
1358
18
+226
  +44
350
360
336
332
1378
19
+228
  +57
344
346
345
345
1380
20
+283
  +72
357
363
355
360
1435
21
+289
  +67
355
375
356
355
1441