SMC at MIAA Jamboree
Belles Finish Fifth at MIAA Jamboree
Full Results (pdf)
NOTRE DAME, Ind. -- The Belles' five scoring runners all finished within 20 seconds of each other as Saint Mary's finished fifth at the MIAA Cross Country Jamboree hosted by the Belles for the first time since 2002.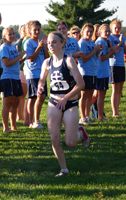 Megan McClowry continued her stellar junior season by being the Belles' top finisher yet again.  McClowry finished the 5k in 20:43 to finish in 21st place on the evening.
Caitlin Brodmerkel and Joanne Almond were the next two harriers for the Belles to cross the finish line.  Brodmerkel was the second finisher for the Belles with a time of 20:55 (24th) while Almond finished just three seconds behind at 20:58 for 26th. 
Hot on the heels of Almond were Arianne Rodriguez and Catie Salyer, who finished in 27th and 28th with times of 21:01 and 21:03, respectively.
Clare McVey (21:25), Hanna Vicary (21:39), Alicen Miller (21:48), Becca Mason (22:02), and Caitlin Stevenson (22:05) were following closely in a pack of runners to have good showings for the Belles as well.
Next up for the Belles will be the Adrian College Invitational on Friday, October 3 in Adrian, Michigan.