SMC at MIAA Championships Day Two
O'Connor Earns Medalist Honor as Belles Finish Second
Results (pdf)
BATTLE CREEK, Mich. -- Rosie O'Connor became the fifth Belle in the past six years and the youngest Saint Mary's golfer to earn MIAA Season Medalist honors at the MIAA Championships this weekend.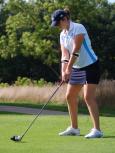 The sophomore finished the fall season with a 78 in day two of the MIAA Championships to finish with 403 strokes to average 80.6, edging out Lindsay Pipkin from Olivet by a single stroke.  O'Connor also earned medalist honors for the weekend with her 161 in the two-day tournament.  The 80.6 ties Megan Mattia's 2005 performance for the second best average for a Belle in MIAA play.
The Belles had a stellar weekend as a team as well.  Perri Hamma, Emily Gore, and Natalie Matuszak all finished in the top ten with O'Connor.  Hamma finished with a 174 on the weekend to tie for seventh place.  Gore and Matuszak both finished with two-day totals of 175 to tie for ninth place.  Meredith Fantom was the fifth scoring golfer for the Belles and finished with a 193 on the weekend.
By finishing second this fall, Saint Mary's will host one of the three 18-hole rounds of MIAA play in the spring that will determine the conference's automatic qualifier to the NCAA tournament.  Tournament and fall champion Olivet will host the other two rounds of the spring qualifier.
Several Belles earned All-Tounament and All-MIAA honors with the conclusion of the fall season.
O'Connor, Hamma, Gore, and Matuszak were named to the All-Tournament Team for their top ten finishes this weekend.  Olivet also placed four golfers on the All-Tournament team list.
Rosie O'Connor was named to the All-MIAA First Team for her outstanding play this fall.  Natalie Matuszak earned All-MIAA Second Team honors for her consistent play in the league.