Press Release
Campbell Named Head Coach for Tennis Program
Contact: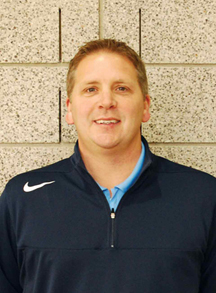 Sarah Miesle 
Sports Information Director
Saint Mary's College
(574) 284-5290 (office)
November 11, 2008 – It was announced today that Dale Campbell will take over the reigns as the head tennis coach at Saint Mary's College.
Campbell brings a wealth of experience to the program as he has been teaching tennis for more than 20 years. Certified by the USPTA as a tennis professional in 1988, he served as the head tennis professional at the South Bend Racquet Club for 10 years. During his time there, Campbell instructed several district, sectional, and nationally ranked players.
From 1999 until recently, Campbell had served as the managing director and was owner of the Lakeland Athletic Club in Niles, Michigan. Currently, he is the general manager of Signal Point Club in Niles.
A 1988 graduate of Central Methodist College, Campbell was a number one singles player for the Eagles. He served as a captain for his college team and was named team MVP.
"I am very excited to lead this tennis program which is moving in a positive direction," Campbell commented on being named to the position. "The opportunities are immeasurable for the student-athletes here at Saint Mary's. We will strive to compete in the upper levels of the MIAA and work toward national distinction."
Campbell resides in Granger, Ind. with his wife Christy and their three children, Avery, Paxson, and Alayna.
About Saint Mary's College: Saint Mary's College, Notre Dame, Ind., is a four-year, Catholic, women's institution offering bachelor's degrees in more than 30 major areas of study. The College has six nationally accredited academic programs: social work, art, music, teacher education, chemistry and nursing. Saint Mary's College ranks among the nation's top liberal arts colleges in U.S. News & World Report's 2009 annual survey. Founded in 1844, Saint Mary's is a pioneer in the education of women, and is sponsored by the Sisters of the Holy Cross.