SMC at DePauw (Day Two)
Belles Claim Third at Tiger Invitational
GREENCASTLE, Ind. -- The Saint Mary's College volleyball team dug deep and found a way to win on Saturday as they defeated Anderson and Gallaudet to take third place at the DePauw University Tiger Invitational.
In the opening match of the day, the Belles battled back from an early deficit to take a 3-2 (17-25 25-16 25-17 23-25 15-13) win over the Anderson University Ravens to earn a spot in the 3rd/4th place match.  Cathy Kurczak helped lead the offense for the Belles with 13 kills, two service aces, and three block assists.  Jacee Watson also had a solid game at the net with nine kills and a pair of block assists of her own.  Meg Rose helped carry the defense with 27 digs.
In the 3rd/4th place match-up with Gallaudet, the Belles stormed to a 2-0 set lead before dropping the third and fourth sets to send the match to a decisive fifth set.  In the fifth set, the Belles picked up where they had left off earlier in the game and took a commanding 15-7 victory to claim third place in the tournament.  The win came with scores of 25-10, 25-21, 20-25, 15-25, 15-7.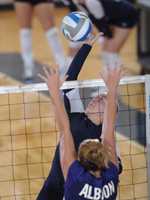 Four different Belles had at least 10 kills in the victory.  Lorna Slupczynski led the way with 13 kills, while Kaela Hellmann added 11 kills.  Watson and Kurczak both had 10 kills to round out the double-digit efforts.  Danie Brink had an all-around strong match against Gallaudet with four kills in 12 attempts, 25 assists, six digs, a service ace, and two solo blocks.
Slupczynski earned earned All-Tournament team honors for her performance.  The junior had 51 kills, 47 digs, five service aces, two solo blocks, and a block assist in the four games of the weekend.
Jacee Watson had an impressive weekend as well as she had 34 kills with just one error in 96 attempts for a .340 hitting percentage.
The Belles return home to host Kalamazoo College for an MIAA match on Tuesday, September 23.  The match has been moved up from 7:00 to 6:00 p.m.