SMC vs. Adrian
Belles drop MIAA-opener against Adrian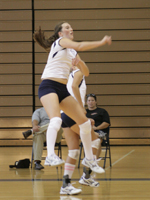 NOTRE DAME, Ind. -- The Saint Mary's College volleyball team dropped a tough 3-0 (25-15, 25-22, 25-18) decision to the Adrian College Bulldogs in the opening match of MIAA play on Tuesday night.
The visiting Bulldogs grabbed an early lead at 3-2 in the first set before taking the frame by a 25-15 score.  After the second set started out much the same way as the first, the Belles had something to prove as they erased a 5-1 deficit to tie the set at 9-9.  Things would remain tight throughout the second set.  The visitors, however, managed to gain the edge again to take the 25-22 win.
The two teams traded points throughout much of the first set with neither team managing to get more than a three point lead midway through the frame.  The momentum swayed in favor of the Bulldogs when the guests got a solo block from senior Jenny Carlson, which tied the game at 13-13.  The Belles would be unable to regain the lead in the final set of the match, falling 25-18.
Kaela Hellmann had an all-around solid night for the Belles as she tallied 10 kills and 11 digs with a solo block and a service ace.  Meg Rose led the Belles with 13 digs on the evening.  Kathleen Mills also played effectively as she had three kills in just seven attempts with no errors for a .429 attack percentage.
The Belles (3-2, 0-1) will have one day to prepare for cross-town rival Bethel College.  The Belles and the Pilots will square off in Mishawaka, Ind. on Thursday, September 4.  Game time is scheduled for 7:00 p.m. at the Wiekamp Athletic Center.