SMC vs. Albion
Belles Bounce Britons
NOTRE DAME, Ind. -- The Saint Mary's College volleyball team pulled their conference record up to 2-2 on the season with a 3-1 (25-23, 23-25, 25-11, 25-17) win over conference opponent Albion College on Wednesday night.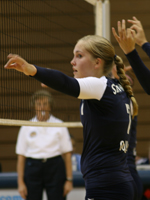 Lorna Slupczynski proved to be a force to be reckoned with on Wednesday from the beginning of the match.  The junior led the offense early, tallying six kills in the opening set while also adding nine digs.  Slupczynski notched the Belles' last two points of the set to help the home team take the opener 25-23.
The Britons got the upper hand early in the second set as they mounted a 12-3 lead.  After a Kathleen Mills kill made the score 13-5, Ellen Huelsmann served seven straight points for the Belles as Slupczynski and Kaela Hellmann each picked up a pair of kills to bring the Belles within three of the Britons.  The Belles pulled even at 14-14 on an Albion hitting error.  Albion, however, would regain the lead and hold on for a 25-23 win in the second set.
In the third and fourth sets, the Belles capitalized on 17 Albion hitting errors as the Britons hit -.051 in the final two sets while hitting .222.  Slupczynski added seven kills in the final two sets and Cathy Kurczak had six more kills of her own.  Jacee Watson also also chipped in five kills in the third and fourth frames.
Danie Brink had a match-high 49 assists.  Slupczynski and Meg Rose both had a match-high 28 digs. 
The Belles (6-3, 2-2 MIAA) will next travel to Greencastle, Ind. for the DePauw Tiger Invitational on Friday and Saturday.  The first game for the Belles will be against North Central College at 4:00 p.m. on Friday.