SMC vs. Calvin
#17 Knights Out-duel Belles
Box Score (pdf)
NOTRE DAME, Ind. -- The visiting #17 Calvin College Knights edged out the Belles in each set of a 3-0 (25-19, 25-22, 25-21) decision on senior recognition night on Tuesday.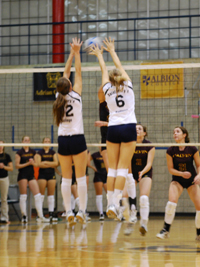 Lorna Slupczynski and Kaela Hellmann helped set the tone early offensively for the Belles as the two combined for nine of the team's 12 kills in the opening set.  A Rebecca Kamp kill for the Knights would break a 16-16 tie, and Calvin would go on to outscore the Belles 9-3 down the stretch to take the first set.
In the second set, the Belles battled back from a 10-4 deficit as Slupczynski started off with a kill and proceeded to serve four straight points for Saint Mary's to cut the lead to 10-9.  After the two teams were deadlocked at scores of 13-13, 14-14, 15-15, and 16-16, Calvin took the lead on a Saint Mary's attack error at 17-16 that they would not surrender.
In the third set, the Belles mounted an early 9-5 lead on a Kaela Hellmann kill.  The two teams would trade the lead a few times throughout the frame, but a four point run by Calvin down the stretch proved to be the difference as the Knights took the third set 25-21.
Lorna Slupczynski led the Belles with 15 kills while Meg Rose had a match-high 19 digs on defense.
The Belles will travel to Boston, Ma. this upcoming weekend for a one-day tournament at the Massachusetts Institute of Technology (MIT) on Saturday, October 18.