SMC vs. Olivet
Belles Soar Past Comets
NOTRE DAME, Ind. -- The Saint Mary's College volleyball made short work of disposing conference foe Olivet College for their first MIAA win of the 2008 season.  The Belles took the victory in straight sets by scores of 25-9, 25-16, 25-21.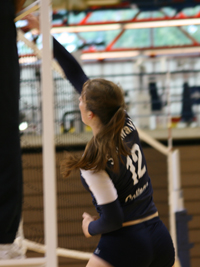 The Belles came out firing on all cylinders in the opening set.  Lorna Slupczynski grabbed the momentum for the home team with five kills in ten attempts in the first frame.  Kaela Hellmann helped to balance the attack with four kills of her own as the Belles took a commanding 25-9 win.
The pair of outside hitters picked up where they had left off in the second set, combining for eight of the team's 13 kills.  Danie Brink picked up nine assists while adding a service ace to help Saint Mary's to the 25-16 win in the second set.
The Comets gave the Belles some grief in the third set by taking an early lead.  After capitalizing on some Olivet errors, the Belles were able to regain the lead at 6-5 and would not relinquish it.  Kaela Hellmann continued her solid night with four more kills and a pair of block assists to help put the game away.
Hellmann finished the night with 12 kills (.387 hitting percentage), 12 digs, a solo block, and four block assists to lead the Belles' all-around effort.  Danie Brink had 26 assists and 11 digs on the night.  Jacee Watson and Cathy Kurczak were very effective at the net all night as Watson had six kills and four block assists while Kurczak had six kills and a .385 hitting percentage.
With the win, Saint Mary's is now 5-3 on the season with a 1-2 MIAA record.  The Belles will have the weekend off from competition and will return to Angela Athletic Facility to host the Albion College Britons on Wednesday, September 17 at 7:00 p.m.