SMC vs. Trine
Belles Take Down Thunder
Box Score (pdf)
NOTRE DAME, Ind. -- The Saint Mary's College volleyball team took control of the match early and triumphed with a 3-1 (25-16, 25-14, 26-28, 25-16) win over Trine University on Wednesday evening.
The Belles came out swinging in the first set as they posted a .577 hitting percentage with 18 kills on 26 attempts with just three errors.  Kaela Hellmann, who had the best all-around evening of any player, was unstoppable in the opening frame as she had seven kills in seven attempts for a perfect 1.000 hitting percentage to help lift the Belles to a 25-16 win.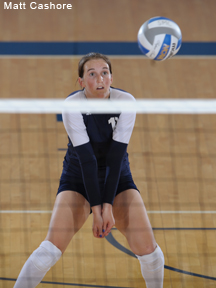 Hellmann and company picked up right where they had left off to take the second set by a 25-14 score.  Hellmann added four more kills while classmate Cathy Kurczak had six kills of her own.
In an error-plagued third set, the Thunder battled back from 22-24 to take a 28-26 win to force a fourth set.
In the fourth set, Lorna Slupczynski would be the go-to player for Saint Mary's as the junior had seven kills and six digs as the Belles claimed the 25-16 win to take the match.
Hellmann finished the match with 20 kills on 35 attempts with four errors to have an impressive .457 hitting percentage on the evening.  The senior also added a match-high 16 digs.  Slupczynski and Kurczak also continued their strong offensive seasons with 19 and 14 kills, respectively.  The trio combined for 53 kills and a .396 hitting percentage.
Danie Brink finished the evening with 56 assists while Meg Rose chipped in 11 digs for the Belles.
Saint Mary's (12-5, 5-3) will travel to Alma College on Friday for a 7:00 p.m. match against the Scots.