Fast Facts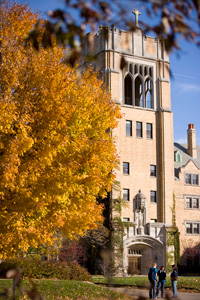 Saint Mary's College ranks among the top 100 Best National Liberal Arts Colleges for 2015 published by U.S. News & World Report.
The College
Located in Notre Dame, Indiana, just north of South Bend and across the street from the University of Notre Dame, Saint Mary's College is sponsored by the Sisters of the Holy Cross, who founded the College in 1844.
The campus
Our suburban campus includes 100 acres of trees, gardens, and manicured lawns, historic buildings, and technologically advanced classrooms beside the Saint Joseph River. 
The students
Approximately 1,600 students
From nearly all 50 states and 10 other countries
More than 85% live on campus 
Guaranteed housing all four years
The education
The faculty
Top scholars who are recognized for excellence in their fields of study
All classes taught by faculty, not teaching assistants. 
Classes averaging 18 students, ensuring a close working relationship with faculty
Student/faculty ratio of 10:1
Hands-on learning
Approximately 50% of graduates studied abroad in Australia, Austria, France, India, Ireland, Italy, South Africa, Spain, and other countries. 
More than 80% of students participate in an internship, co-op, field experience, student teaching, or clinical placement. 
Roughly two-thirds of Saint Mary's seniors volunteer annually.
Student life
Students lead more than 60 organizations on campus, including campus publications, fine arts clubs, community service groups, and social and professional organizations. 
Across the street, the University of Notre Dame expands the opportunities for our students, with classes, sporting events and teams, clubs, and organizations.
Students make key decisions regarding Saint Mary's social, education, spiritual, and service opportunities through the Board of Governance.
Athletics
Eight NCAA Division III varsity athletic teams 
Wide range of club and intramural sports available to Saint Mary's students through both Saint Mary's College and the University of Notre Dame.
Financial aid
100 percent of Saint Mary's students receive some form of financial aid, totaling more than $35 million in institutional grants and scholarships.
Graduates
More than 93% of Saint Mary's graduates one-year out are employed full-time, and/or enrolled in graduate school or participating in other full-time activities such as service/volunteer work.
By five-years after graduation, nearly half of graduates had completed or were enrolled in graduate/professional school.
More than 90% of graduates from the class of 2015 indicated their education helped them foster a better understanding of themselves.
Nearly 90% of the class of 2015 indicated one-year following graduation that their Saint Mary's education helped them make a difference in the world.