Aaron M. Moe
Faculty Profiles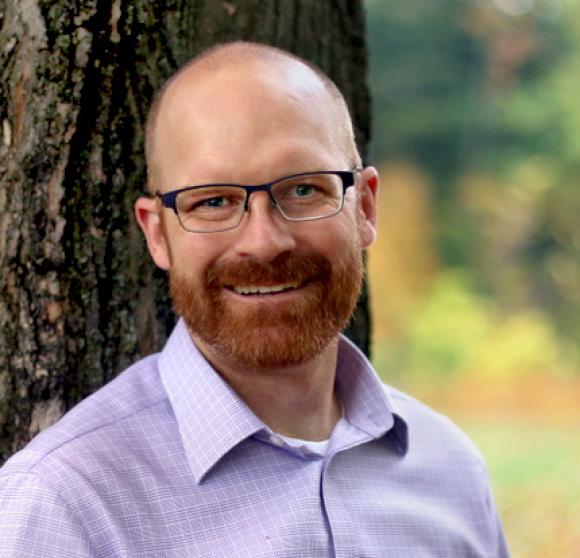 The Hebrew word for teach has, among its meanings: to aim or shoot like an arrow, to point like a finger, to flow like water.
Renee Moore
Teaching, for Aaron, involves the art of pointing students toward what is possible, and then supporting and encouraging students to follow those trajectories. He hopes that all students experience
and understand the work that storytelling and poetry-making accomplishes in individuals and in communities of readers. Such work is multifaceted, but, in general, it invites us to engage with trauma and healing, silence and voice, power and acts of resistance.
To get there, Aaron foregrounds what may open up if and when figures such as Kairos, or Proteus, or the Trickster become a force in one's consciousness.
Education
PhD, Washington State University
MA, Union Institute
BA, Trinity Western University
Research Interests
American literature
Ecocriticism
Ecopoetics
Animal studies
Zoopoetics
Courses Recently Taught
ENLT 455: Emily Dickinson
ENLT 385: Critical Theory
ENLT 352: 20th Century American Literature
ENLT 351: 19th Century American Literature
ENLT 254: William Carlos Williams, the Poet Doctor
ENLT 253: Native American Literature
ENLT 251: African American Literature
ENLT 212: Ecopoetics & the Age of the Anthropocene
ENLT 211: Animals in Literature and Society
ENLT 109w: Mathematical Poiesis
Professional Experience
E.E. Cummings Society, blog manager
Creative and Scholarly Work
Zoopoetics: Animals and the Making of Poetry. Lanham: Lexington Books, 2014.
"Toward a Zoopolis: Animal Poiesis and the Poetry of Emily Dickinson and Brenda Hillman." Forum for World Literature Studies 6, no. 1 (2014): 50–67.
"Toward Zoopoetics: Rethinking Whitman's 'original energy.'" Walt Whitman Quarterly Review 31, no. 1 (2013): 1–17.
"Trees, Ecophilia, & Ecophobia: A Look at Arboriculture along the Front Range Cities of Colorado." The Journal of Ecocriticism: A New Journal of Nature, Society, and Literature 3, no. 2 (2011): 72–82.
Professional Memberships
The Association for the Study of Literature and Environment
The E. E. Cummings Society
Modern Language Association