Kimberly Cossey
Faculty Profiles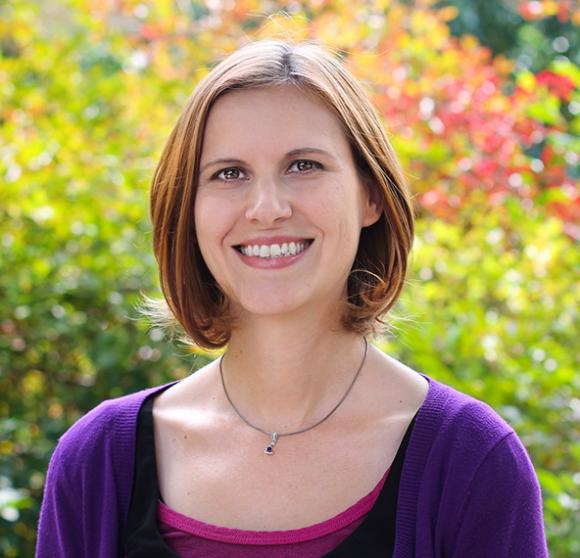 Learning chemistry teaches you how to solve problems. A liberal arts education teaches you how to put those problems in context.
Education
PhD, The Pennsylvania State University
MS, The Pennsylvania State University
BS, Oklahoma Baptist University
Areas of Expertise
Organic chemistry
Chemical education
Assessment
Research Interests
Community-based Research
Contaminants in local water
Degradation of organic molecules
Analysis of coffee
Courses Recently Taught
Chem 221 Organic Chemistry I
Chem 222 Organic Chemistry II
Chem 221L Organic Chemistry I Lab
Chem 222L Organic Chemistry II Lab
Chem 118 Integrated General, Organic, and Biochemistry
Professional Experience
Georgia College & State University, Associate Professor of Chemistry, Department of Chemistry & Physics
Creative and Scholarly Work
Cossey, K.; Lisse, C.; Mills, C.; Metzker, J.; Richards, R. Using the climate debate to revitalize general chemistry cCWCS workshop (Chemistry Collaborations Workshops and Communities of Scholars, an NSF sponsored program). Charlotte, NC. June 12-15th, 2014. 3 Day Workshop
Cossey, K. Reducing lecture and increasing impact in an organic I course: Design and assessment. ACS National Meeting, New Orleans, LA. April, 2013. Oral Presentation. Session: Increasing Student Comprehension and Retention in the Undergraduate Organic or Inorganic Curriculum.
Schaafsma, B. and Cossey, K. Comparing the amount of caffeine in store-bought versus locally roasted Blackbird coffee, Council of Public Liberal Arts Colleges (COPLAC) Southeast Regional Undergraduate Conference, University of North Carolina, Asheville, NC, April 2015.
Davis, K. and Cossey, K. Degradation of estrogen: An NMR study, 249th American Chemical Society (ACS) National Meeting, Denver, CO, March 2015. (Student Presentation) Oral Presentation.
Professional Memberships
The American Chemical Society (ACS), Chemical Education Division