Krista K. Hoefle
Faculty Profiles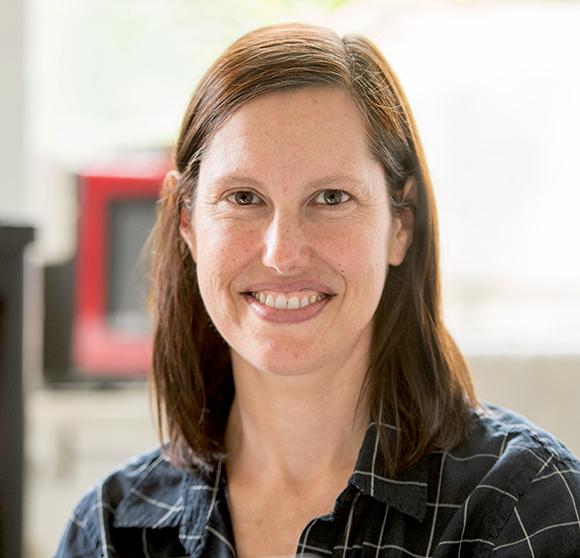 Education
MFA, Pennsylvania State University
BFA, Savannah College of Art and Design
 
Research Interests
Videogame design and structure
The culture of gaming, specifically women and gaming
3D modeling, printing, and animation
Interactive art and embodiment
New media theory and criticism
Courses Recently Taught
ART 103: Design lab I
ART 104: Design lab II
ART 219: Scupltural knitting and crocheting
ART 366: Cyberfeminism and new media
ART 370: Topics in sculpture
Professional Experience
Anchor Graphics, Chicago, IL, artist residency
The Experimental Television Center, Owego, NY, artist residency
University of Rochester, visiting artist
University of Tennessee, vising artist
recieved regional and national reviews in publications such as Sculpture Magazine, Art Papers, The Wall Street Journal, and TimeOut Chicago
Creative and Scholarly Work
"Farming & LVL_ing UP! interactive performance, Art in Odd Places Festival."  Curated and sponsored by Big Car Productions, The Indianapolis Museum of Art, and the Arts Council of Indianapolis, Indianapolis, IN, October 2014.
"LVL_GRNDR." A solo exhibition at Packer Schopf Gallery, Chicago, IL, May-June 2013.
"A Game Without Words." A collaborative interactive performance with Dr. Phyllis Kaminski (Religious Studies) at the Irigaray Circle Conference, RMIT University in Melbourne, Australia, December 2014.
"Mystery Science." A two-person exhibition with Edie Fake at Tryk Tryk Tryk Gallery, Copenhagen, Denmark, May-June 2011.
"Uncanny Congruencies." Group exhibition at the Palmer Museum of Art, Penn State University, September-December 2013.
Professional Memberships
Member of the College Art Association, 1996-present
Board of Directors of the New Media Caucus, affiliate society of the CAA from 2011-2014
Member of the New Media Caucus, 2005-present