Transfer Admission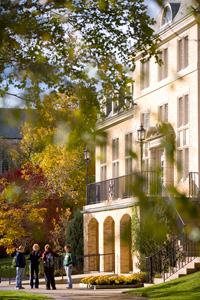 In the market for a school with challenging academics and a strong sense of community? Saint Mary's College is the place for you! Look forward to:
A liberal arts curriculum with an emphasis on writing
A female-focused educational experience
Abundant leadership opportunities
Discussion-based classes that average 15 students
Close interaction with faculty who are dedicated to you
Networking with alumnae all over the world
Your unique perspectives and diverse experiences will make Saint Mary's a more vibrant place. We value your voice in the classroom and welcome your contributions to campus events. We are excited by the many ways in which you will contribute to our community.
If you're thinking about transferring to Saint Mary's, our Transfer Admission Coordinator, Lindsay Romeo, will be happy to help you through the process. Lindsay is very familiar with the unique needs you have as a transfer student and will be happy to offer her guidance. She can be contacted at lromeo@saintmarys.edu or (800) 551-7621. You can also find more information about transferring through the navigation links on the left-hand side of this page.
Connect with us on social media!