Third Sunday of Advent: December 15th, 2013
Reflections for the Advent Season
Third Sunday of Advent: December 15th, 2013
"Rejoice in the Lord Always"
Matthew 11:2-11 (pdf)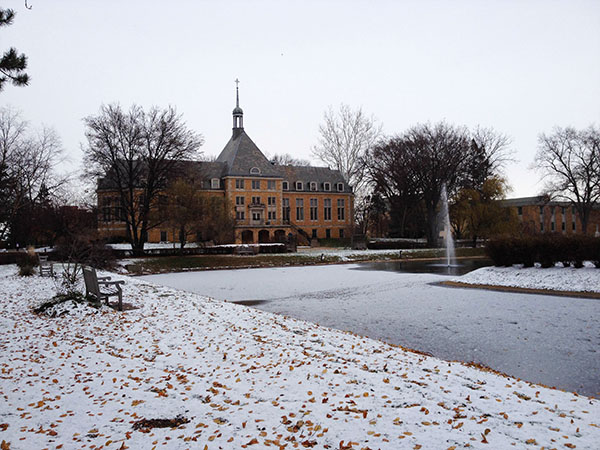 Quiet reflection; pondering in our hearts: Advent, thus far. But this week, it's Gaudete in Domino semper - "Rejoice in the Lord Always" This week, promises made in ancient deserts have been honored, and all heaven breaks forth in vigor, in action, in love:

"'Go and tell John what you hear and see,' Jesus says, 'the blind receive their sight, the lame walk, the lepers are cleansed, the deaf hear, the dead are raised, and the poor have good news brought to them.'"

This is an answer to a cry from the darkness, a quiet, plaintive query: "Are you the one? Do we have to wait for another?" (Mt. 11:3) Uncharacteristic, certainly.

Could this be John, always sure of his Lord: the one who leapt in Elizabeth's womb at the sound of our Lady's voice? This is John - wanderer of the wilderness, keening over the sins of humanity, calling us to prepare a way for the Lord? Truly, is this John - the booming voice at the Jordan, begging us to amend our lives as he points to Jesus? We might pity this poor messenger as he languishes in Herod's prison. Who would blame this prophet if there, in the dark, he questioned the worthiness of his life's mission?

But no one knows how to rebuke despair better than Alpha-Omega, the Light-in-Darkness. He more than anyone knows what John's heart searches for: The Good News: Isaiah's prophecy is indeed fulfilled. Jesus even uses Isaiah's advice in delivering the message: "Say to those who are of a fearful heart, 'Be strong, do not fear! Here is your God.'" This evidence - that God is alive and well and
at work in the world through Jesus - lifts John's flagging spirit, and strengthens him to face anything.

So now, today, this moment, I cry to my Lord from the darkness. I ask him to show me my captivity:
my selfishness, my addictions, all my interference in my ordained identity. I ask him to open my ears to other voices, crying out in despair from their prisons. We are all captives, longing for justice. We're all tempted to doubt that God is at work in the world. Our strength wanes; we're tempted to give up; to whisper from within our prison walls:

"God, are you there? Jesus, are you really the One?"

Then...

Gaudete!

He "strengthens our weak hands and makes firm our feeble knees." We hear the voice of Jesus calling us to spread the word:

Tell them that the lame walk! The blind see! The dead are raised, and the Good News is proclaimed to the poor.

We, the ransomed of the LORD, return with singing, and "sorrow and sadness shall flee away."

Gaudete in Domino semper. Lo, He comes, He IS, always and forever, Amen.


~Susan Baxter, Department of Communication Studies, Dance, and Theatre