Fourth Sunday of Advent: December 22nd, 2013
Reflections for the Advent Season
Fourth Sunday of Advent: December 22nd, 2013
The Meaning of Trust
Matthew 1:18-24 (pdf)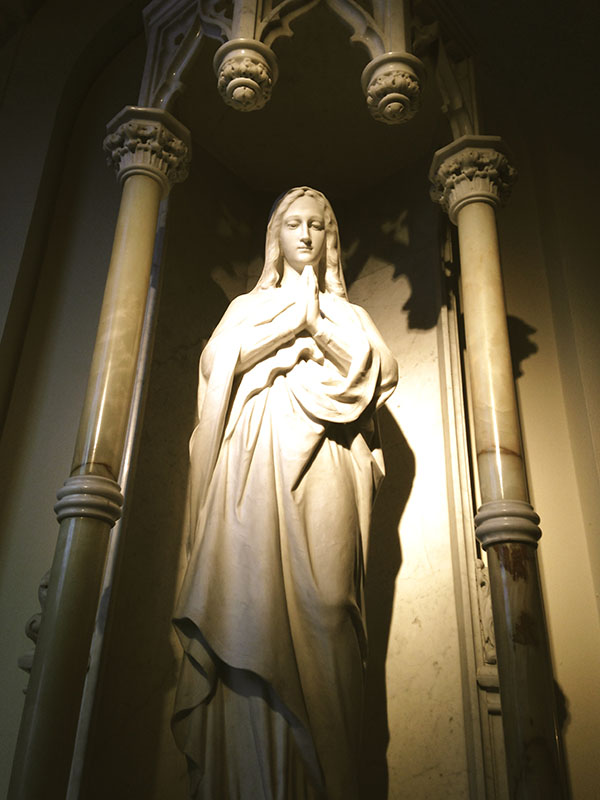 Trust. Merriam Webster defines trust as a basis of reliance, faith or hope; to place confidence, to depend. In today's Gospel (Matthew 1:18-25), Joseph trusts the angel of the Lord. He fears for both Mary and himself – their reputations are on the line. He must have had so many questions that were left unanswered. Joseph had to trust that things would turn out alright. Imagine how Mary felt and the thoughts that were running through her head. God chose her to be the mother of His Son. Mary had to fully put her doubts aside and accept the responsibility given to her. She had to trust God.
When we pray, do we completely trust God? Do we willingly accept God's answers, though they may not be exactly what we had in mind? God's timeline may not always jive with ours. Be patient. Trust in the Lord. He sees and knows things that we could never even imagine. Do we say thank you for both answered and unanswered prayers? As Catholics, we have prayers to the Saints asking them to intercede for us and we trust that they will petition God. As children, we trusted that our parents would take care of us. Calls for "mommy" or "daddy" had them running to our aid. Rarely did we doubt they would not respond. When we made a poor choice as teenagers, there was hope and confidence our parents would come to our rescue. In our adult years, we may still find ourselves calling our parents for reassurance or assistance in times of trial.
Persistence in prayer is part of trusting that God is listening. "The Lord spoke to Ahaz , saying, ask a sign of the Lord your God" (Isaiah 7:10-11). The people of Israel cry out "restore us, O God; let your face shine, that we may be saved" ( Psalm 80:3). Some days it may seem like our hope has vanished, but I ask you to not grow weary. My own experiences confirm my being relentless in prayer. I prayed for five years for a job that would allow my children to attend my alma mater for high school. Sixteen years later, I am still at that job at Benet Academy and thanking God every day. For three years, I prayed that I would sell my house and find the perfect place to live. I am happy to say that this summer I sold my house and every time I pull into my new driveway, I say thank you to God. Finally, for two years I have been pleading for an estranged family member to return to me. Thanks be to God, that prayer was recently answered.
My prayer for you, my fellow Saint Mary's alumnae, is that God hears and answers your prayers in God's time and that you gratefully accept God's will.
~Susan Nasharr Shuma '82