Second Sunday of Advent: December 8th, 2013
Reflections for the Advent Season
Second Sunday of Advent: December 8th, 2013
Open Yourself Up to A Place of Uncertainty
Matthew 3:1-12 (pdf)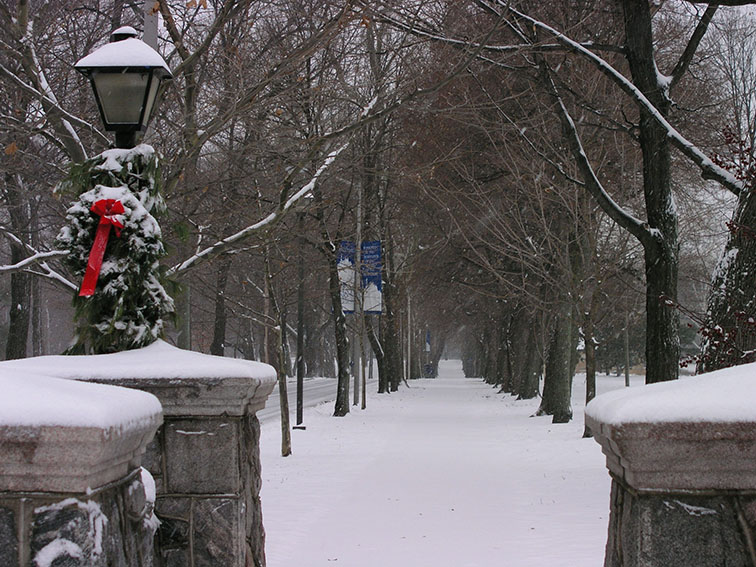 Four years ago I was in the wilderness. Many consider my hometown Norway, Iowa to be wilderness, but I am actually naming another kind of wilderness: a place of solitude and uncertainty. I was the only senior in my class of 130 who looked to attend college out of state. "You will love Notre Dame –wait until your first football game." "Your brothers did well at Iowa State. Are you ready to be a Cyclone?" No, I thought, those schools are not me. With patience I discovered Saint Mary's College.
To an open heart, the wilderness is good news. When we allow ourselves to enter a place of uncertainty, we can begin to truly discern God's voice.
Consider John the Baptist. This unexpected prophet occupies center stage in Sunday's Gospel (Matthew 3: 1-12). I imagine he still had locust wings and wild honey stuck in his beard when he proclaimed, "Prepare the way of the Lord". John was almost as strange as the One whom he was called to announce. As a man from the wilderness, he embraced a life of frightful uncertainty. Yet, he was unwavering in his commitment to serving and seeking God in everyday life.
John the Baptist was the forerunner of Jesus Christ's first coming. We all are forerunners of His second coming. Pope Francis recently tweeted, "There is no such thing as low-cost Christianity. Following Jesus means swimming against the tide". During this time of year, the "tide" can seem overwhelmingly strong. The commercial celebration of Christmas is in full force and long to-do lists are looming.
The Advent Season invites us into the wilderness to slow down and refocus. Where is there uncertainty in our world today? Do we hear God's call through the voices of the unemployed, the undocumented, the people suffering from Typhoon Haiyan? How are we being invited to respond and help prepare the way?
Dear Father,
You are the Creative Origin of all that I am
and of all that I am called to be.
With the talents and opportunities I have,
how may I serve You best?
Please guide my mind and heart,
open to me the needs of others
and help me to choose wisely and practically
for Your honor and glory,
and for the good of all those whose lives I shall touch.
(Author unknown)

~Malea Schulte '14