Sixth Sunday of Lent, April 13th, 2014
Reflections for the Lenten Season
Sixth Sunday of Lent, April 13th, 2014
The Cross of Love
Matthew 26:14-27;66 (pdf)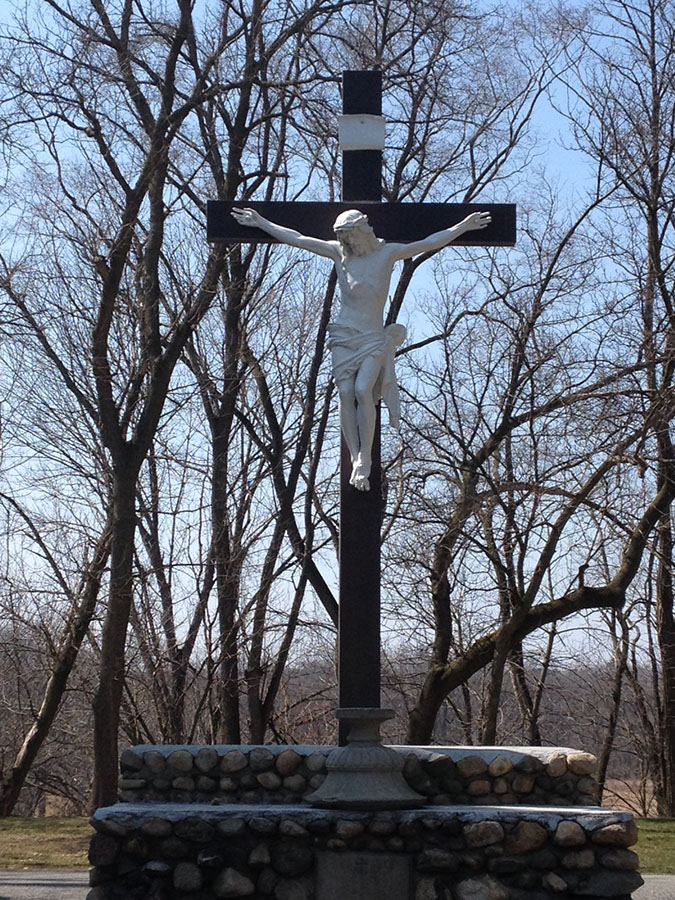 IS 50:4 The Lord God has given me a well-trained tongue, that I might know how to speak to the weary a word that will rouse them.
Not too long ago one morning before church, my nine-year-old son said to me, "Mom, I am going to pay attention today and listen!" He had the intent that morning of showing up at mass ready to listen to the word of God and pay attention as if it were the first time. He was going to try something different and change his routine.
This Palm Sunday, we will again encounter the Passion of Christ and we could all show up at mass in routine mode possibly thinking: I have heard it before. I know what happens. Only one more week of Lent and then I can stop fasting! But what if we decided to arrive differently this Sunday with the intention of listening with open ears, seeing with new eyes, and bearing a lightened heart to make space for Christ to touch and enter our hearts? What will we hear differently? What will we see differently? What will we feel differently?
It is easy to get distracted and antsy, and I will need to remind myself to stay awake and pay attention. In the Gospel of Matthew, I hear the notable message of the "threes". On the Mount of Olives, how many times is it foretold that Peter will deny knowing Jesus? Three. How many times do Jesus' disciples fall asleep while Jesus is praying to His Father in the Garden of Gethsemane? Three. How many days does it take for the temple of God to be rebuilt after it is destroyed? Three. As I reflect on the number three, I question its importance and have discovered that the number three signifies something that is:
Complete. Real. Or. Substantial. Solid.
CROSS
About five years ago someone offered me the idea that when I see Jesus crucified on the cross, I should see LOVE. I could not see it. Understand it. Feel it. A few years ago, however, when my brother's kidney transplant surgery was cancelled three times and never rescheduled, I began to grasp this idea. I dropped my nets and created space in my heart to carry Christ. I spent time getting to know Him so that I could comprehend what happened with three nails and a cross and why. Ultimately, I came to understand Jesus unselfishly dying for me, for us, as an act of love.
I have been awakened to God's joyful, passionate, and unconditional love. God's love completes me when I recognize I am imperfect. God's love is real when my surroundings seem less trustworthy. His love substantiates me when I am spent. His love is solid when I need to be rebuilt. God's love never fails.
-Marie Koscielski Gerken '92
Weekly Gospel Readings for the Week of April 13th