Ash Wednesday, February 13, 2013
Reflections for the Lenten Season
Ash Wednesday, February 13, 2013
From the Desert to the Garden
Matthew 6:1-6, 16-18 (pdf)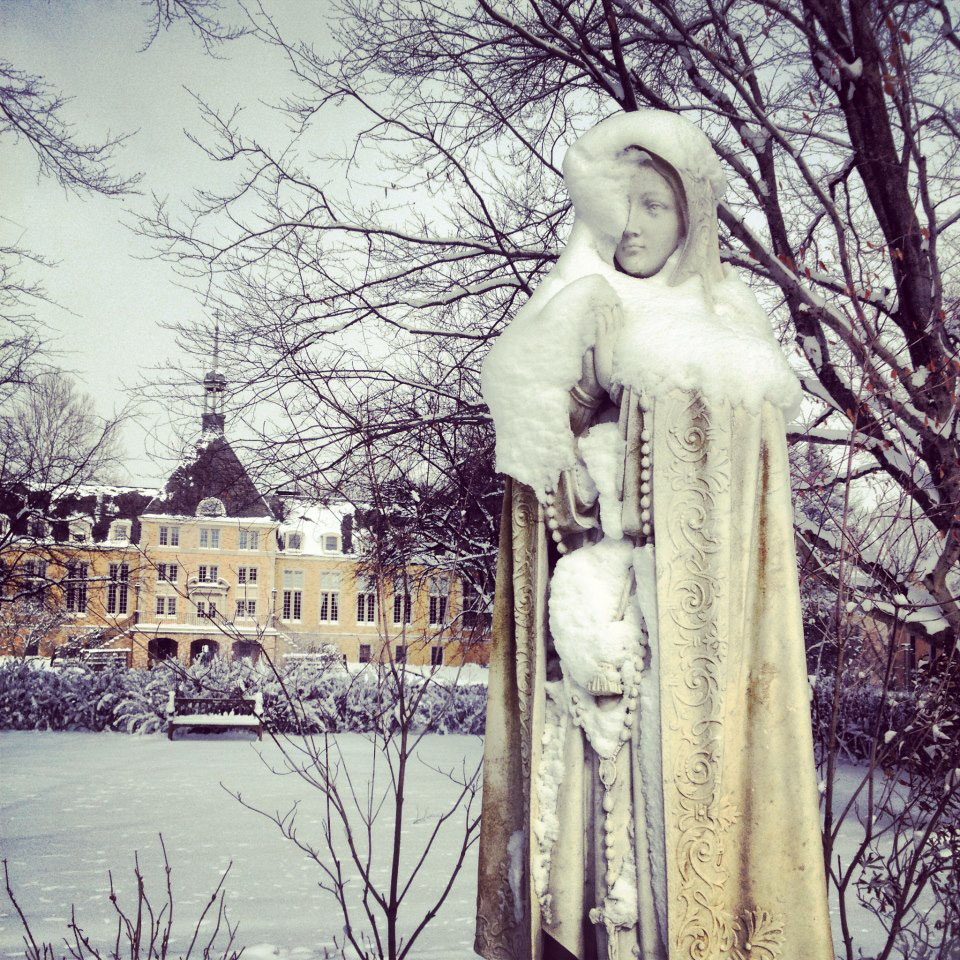 Ash Wednesday: the Church's annual Lenten retreat begins. Ashes bid us remember and repent, to believe and to return to God with all one's heart. For some whose Initiation nears completion, it will be a time of intense preparation for the baptism they hope to celebrate at Easter. For those already baptized into Christ, it is an opportunity to discover where we have strayed from our original zeal for Gospel living; where individually and as a faith community we need to witness God's love in ever more clear and compelling ways.
Our Catholic faith centers us in relationship. During Lent, we courageously journey in the Spirit with Jesus, who incarnates and models for us right relationships with Abba-God, our neighbor, our own selves, and with all creation. As Christ's life reveals God's infinite mercy and ever-present love, so our Christ-like practice of prayer, fasting and almsgiving become signs of hope to our world.
Childhood Lents for me used to center on the different "sacrifices" that marked my endurance of the long six weeks to Easter; of what I "gave up" or "didn't do". Somewhere along the way, however, probably during those four years of high school Latin, I learned that the root of the word "sacrifice" actually meant "to make holy". Ah, the reason behind the self-denial, to become holy!
Now, as Ash Wednesday signals the beginning of another Lent, I concentrate first on God's invitation to enter into prayer, that intimate relationship, that humble response to God's invitation to holiness. Following Jesus' example, I listen to God with a "disciple's ear, and thank God for my desire to be a bearer of hope for the life of the world. It is only after I have listened with care and shared from the heart that I come to understand what I need to fast from AND hold fast to today. Then my almsgiving of time, talent, and treasure will witness my trust in God's provident care and love.
Lent will take us from the desert to the garden. I have traveled the western deserts of the U.S., and I know that there are few distractions. The drive can become monotonous and boring if I don't take time to "see rightly," to keep focused, and to discover the desert's often hidden beauty. When I do, it is always with deeper joy and appreciation that I emerge from the desert into the garden spaces of my world. I look forward to living this year's journey from desert to garden with all of you. May hope and peace find us as we courageously follow the royal way of the Cross to Easter's empty tomb.
-Sister M. Veronique Wiedower, CSC '70
Weekly Gospel Readings
Thursday

Luke 9:22-25 (pdf)
"If anyone wishes to come after me, he must deny himself and take up his cross daily and follow me."

Friday

Matthew 9:14-15 (pdf)
"'The days will come when the bridegroom is taken from them, and then they will fast.'"

Saturday

Luke 5:27-32 (pdf)
"'I have not come to call the righteous to repentance but sinners'"