Vote for the Next One Book One Saint Mary's Selection
The next One Book One Saint Mary's selection will be unveiled at Reunion 2014. Don't miss your chance to vote for this year's title.
Therese Johnson Borchard, '93 Beyond Blue
Adriana Trigiani, '81 Big Stone Gap
Hollye Harrington Jacobs, '93 The Silver Lining
Please vote here!
Beyond Blue
Beyond Blue is part memoir/part self-help. It describes Borchard's experience of living with manic depression as well as providing cutting-edge research and information on dealing with mood disorders. By exposing her vulnerability, she endears herself immediately to the reader and then reduces even the most depressed to laughter as she provides a companion on the journey to recovery and the knowledge that the reader is not alone.
Beyond Blue covers a wide range of topics from codependency to addiction, poor body image to postpartum depression, from alternative medicine to psychopharmacology, managing anxiety to applying lessons from therapy. Because of her laser wit and incredible sense of humor, every chapter is entertaining as well as serious.
In this self-help memoir, Borchard manages to relay her history of mental health trouble with humor and hope. Read to learn more about this 2011 Saint Mary's Commencement speaker and honorary degree recipient now commonly featured on The Huffington Post, Salon, and Real Simple.
Big Stone Gap
With the movie version scheduled to premiere this year, take this chance to read (or reread), Big Stone Gap, written by our very own Saint Mary's Alumna, Adriana Trigiani '81!
Filled with big-time eccentrics and small-town shenanigans, Big Stone Gap is a jewel box of original characters. It's 1978, and Ave Maria Mulligan is the thirty-five-year-old self-proclaimed spinster of Big Stone Gap, a sleepy hamlet in the Blue Ridge Mountains of Virginia. She's also the local pharmacist, the co-captain of the Rescue Squad, and the director of The Trail of the Lonesome Pine, the town's long-running Outdoor Drama. Ave Maria is content with her life of doing errands and negotiating small details-until she discovers a skeleton in her family's formerly tidy closet that completely unravels her quiet, conventional life. Suddenly, she finds herself juggling two marriage proposals, conducting a no-holds-barred family feud, planning a life-changing journey to the Old Country, and helping her best friend, the high-school band director, design a halftime show to dazzle Elizabeth Taylor, the violet-eyed Hollywood movie star who's coming through town on a campaign stump with her husband, senatorial candidate John Warner.
Big Stone Gap is the story of a woman who thinks life has passed her by, only to learn that the best is yet to come.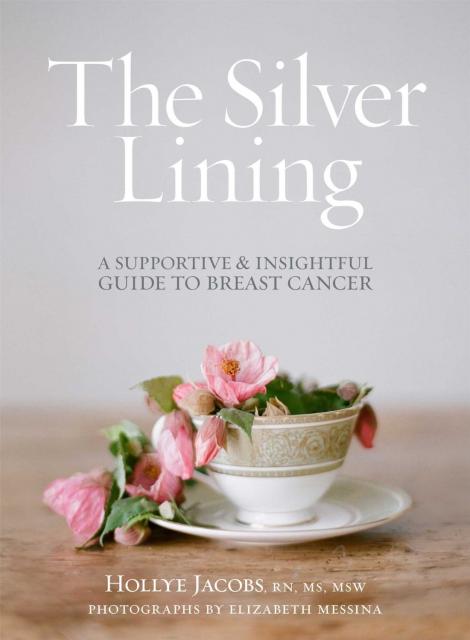 The Silver Lining
As a healthy, happy thirty-nine-year-old mother with no family history of breast cancer, being diagnosed with the disease rocked Hollye Jacobs's world. Having worked as a nurse, social worker, and child development specialist for fifteen years, she suddenly found herself in the position of moving into the hospital bed. She was trained as a clinician to heal. In her role as patient, the healing process became personal.
Exquisitely illustrated with full-color photographs by Hollye's close friend, award-winning photographer Elizabeth Messina, The Silver Lining is both Hollye's memoir and a practical, supportive resource for anyone whose life has been touched by breast cancer. In the first section of each chapter, she describes with humor and wisdom her personal experience and gives details about her diagnosis, treatment, side effects, and recovery.
Jacobs uses her medical background to provide resources and Helpful information alongside the story of her personal experience with breast cancer. Follow along with this winner of the 2013 Saint Mary's Alumna Achievement Award as she looks for the silver linings of life.