Travel
Village Life
in the
Italian Lake District
with
Saint Mary's College President Carol Ann Mooney '72
September 7-15, 2013
Consider joining President Carol Ann Mooney '72 and other alumnae and friends for this seven-night program. It will be a wonderful way to experience the true essence of life in, and the incomparable beauty and charm, of the fascinating region of Lombardy.
This Travel Program Features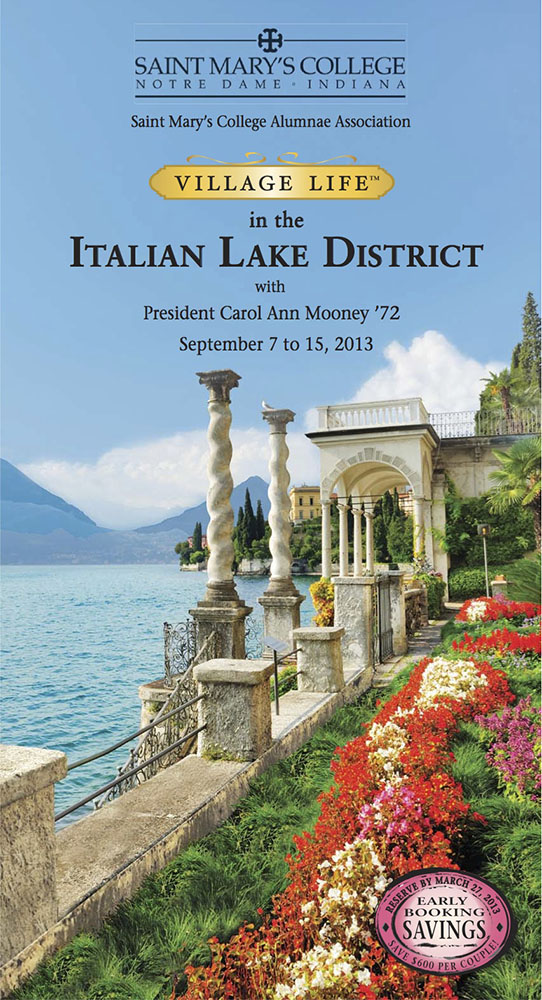 In Cernobbio, Italy
? Seven nights in the charming Hotel Regina Olga in rooms overlooking Lake Como in the picturesque village of Cernobbio.
? Full breakfast each morning.
? Four dinners included, featuring northern Italian specialties served ?with house wine.
? Welcome reception featuring Prosecco, northern Italy's famous sparkling wine.
Tours and excursions led by expert local guides
? Walking tour of historic Como, a classic Italian town more than 2,000 ?years old and the center of the European silk industry for centuries.
? Private boat cruise across Lake Como to the ancient villages of Varenna, Bellagio, and Villa del Balbianello.
? Walk through the perfectly preserved medieval quarters of Varenna.
? Visit to romantic Bellagio, the most famous town on Lake Como.
? Specially arranged tour of the Italian National Trust's magnificent Villa del Balbianello.
? Spectacular, full-day scenic tour of Lake Maggiore, featuring a ferry to the Borromean Islands and a visit to Isola Bella.
Exclusive Cultural Enrichments
? Engaging lecture and presentation by local experts about regional culture and history including "Parliamo Italiano!" a language and customs presentation and an exclusive private lecture about Como presented by a local scholar and Como native.
? Specially arranged Village FoRumTM led by local residents who will discuss contemporary cultural and social topics.
For a detailed itinerary and information on how to make your reservation, please download the brochure.
---
Great news! The Saint Mary's Alumnae Association has been invited to partner with the University of Notre Dame Alumni Association Travel Program. Not only will we be able to expand our travel offerings, but we will also be able to continue to focus on our traditions and values with an emphasis on the educational and religious character common to both institutions. This new partnership, however, will not come at the expense of our current travel program. Saint Mary's will continue to host one or two trips each year that are exclusive to our alumnae, family and friends of the College. Over the years, Saint Mary's has hosted trips to places such as Tuscany, Hong Kong, Peru, Spain, and Ireland.
---
If you would like a brochure or have any questions about the Alumnae Travel Program, please email: alumnae@saintmarys.edu