Athletics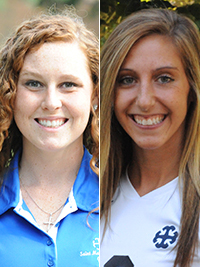 Athletes of the Week

Sammie Averill and Katie Hecklinski

Sammie Averill
The senior golfer posted the best round of her collegiate career this past weekend. A native of St. Joseph, Michigan, she shot a collegiate career-low 79 to tie for fifth overall while helping to lead the Belles to a team score of 329. Saint Mary's tied for third overall at the event.
Katie Hecklinski
The senior outside hitter on the volleyball team was named MIAA Co-Player of the Week this week. A native of South Bend, Indiana, she had 42 kills in three matches and had a .317 attack percentage as the Belles went 2-1 on the week. She led both teams with 18 kills in the Belles' contest against No. 14 nationally ranked Hope last Friday.
Congratulations, Sammie and Katie!
Saint Mary's student-athletes are powerful in the classroom and on the playing fields. Our athletic program complements a student's overall educational experience. Many of our varsity student-athletes and teams continually earn Dean's List, MIAA, and NCAA Division III Coaches' Academic Honors each year as our coaches and staff mentor and lead them on the path to excellence.
In addition to our varsity athletic programs, students can also participate in club sports and intramurals. Excellent fitness equipment invites all students to have fun while they stay fit.
What it means to be Division III.
Download our Visiting Team Guide! (.pdf)
Are you a Saint Mary's Alumna and former student-athlete? Reconnect with us.
News
October 3, 2015

ANGOLA, Ind. - Sammie Averill shot a career-low 77 and was the individual medalist as the Saint Mary's golf team placed second at the Trine MIAA Jamboree on Saturday.

October 3, 2015

WHEATON, Ill. - The Saint Mary's volleyball team had some tough competition on Saturday, falling 3-1 to host Wheaton (25-23, 16-25, 25-16, 25-16) and 3-0 against Wisconsin-Eau Claire (25-14, 25-15, 25-23) to end the Wheaton Invitational.

October 3, 2015

ALMA, Mich. - The Saint Mary's soccer team lost a 7-0 final against Alma in conference play on Saturday afternoon.