Athletics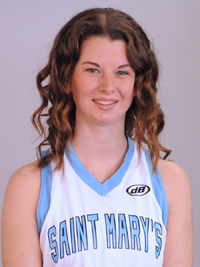 Athlete of the Week

Stephanie Szymas

The freshman goalkeeper on the lacrosse team was named MIAA Defensive Player of the Week for her efforts last week. A native of Grand Haven, Michigan, she made 26 saves with a save percentage of 56 percent for the week. She made 15 saves in a 12-9 loss to Olivet, then turned away 11 shots as Saint Mary's edged Trine, 9-8, in double overtime for its first-ever MIAA women's lacrosse victory.
Congratulations, Stephanie!
Saint Mary's student-athletes are powerful in the classroom and on the playing fields. Our athletic program complements a student's overall educational experience. Many of our varsity student-athletes and teams continually earn Dean's List, MIAA, and NCAA Division III Coaches' Academic Honors each year as our coaches and staff mentor and lead them on the path to excellence.
In addition to our varsity athletic programs, students can also participate in club sports and intramurals. Excellent fitness equipment invites all students to have fun while they stay fit.
What it means to be Division III.
Download our Visiting Team Guide! (.pdf)
Are you a Saint Mary's Alumna and former student-athlete? Reconnect with us.
News
April 24, 2014

NOTRE DAME, Ind. - The Saint Mary's lacrosse team lost a 16-6 conference game at home against Albion on Thursday evening.

April 23, 2014

NOTRE DAME, Ind. - The Saint Mary's softball team lost to NFCA No. 3 ranked Trine 10-0 (6 innings) and 7-3 at home on Wednesday evening.

April 23, 2014

NOTRE DAME, Ind. - The Saint Mary's tennis team earned a spot in the top-four only MIAA Tournament with a 6-3 win over Calvin on Wednesday evening. The win also gave the Belles their tenth victory of the season, extending their streak to nine consecutive seasons with double-digit wins.