Athletics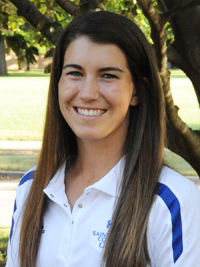 Athlete of the Week

Janice Heffernan

The junior on the golf team had a solid showing this past weekend. A native of Floyds Knobs, Indiana, she improved her score from day one to day two by six strokes to record a 78 and take ninth place overall at the Ohio Wesleyan Laura Bump Invitational. Her two-day score led the team as the Belles finished fourth in a field of 18 teams.
Congratulations, Janice!
Saint Mary's student-athletes are powerful in the classroom and on the playing fields. Our athletic program complements a student's overall educational experience. Many of our varsity student-athletes and teams continually earn Dean's List, MIAA, and NCAA Division III Coaches' Academic Honors each year as our coaches and staff mentor and lead them on the path to excellence.
In addition to our varsity athletic programs, students can also participate in club sports and intramurals. Excellent fitness equipment invites all students to have fun while they stay fit.
What it means to be Division III.
Download our Visiting Team Guide! (.pdf)
Are you a Saint Mary's Alumna and former student-athlete? Reconnect with us.
Lacrosse vs. Trine - Live Stats
News
April 17, 2014

KALAMAZOO, Mich. - The Saint Mary's softball team won the opening game 9-4 before ending on the wrong side of a 5-4 game two final in an MIAA doubleheader at Kalamazoo on Thursday evening.

April 17, 2014

NOTRE DAME, Ind. - The Saint Mary's tennis team lost an 8-1 match to No. 10 regionally-ranked Hope in conference action on Thursday afternoon.

April 16, 2014

OLIVET, Mich. - The host Comets closed out the first half with four goals in-a-row, and the Saint Mary's lacrosse team was unable to come back from the deficit as the Belles lost a 12-9 conference contest at Olivet on Wednesday night.