Athletics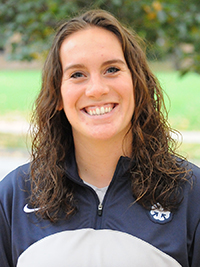 Athlete of the Week

Ariana Paul

The senior on the basketball team closed out her career by reaching a big milestone on Saturday. A native of Valparaiso, Indiana, she led the team with 21 points and 11 rebounds while scoring her 1,000th career point in the Belles' season finale at Olivet. She became the eleventh player in program history to score 1,000 career points.
Congratulations, Ariana!
Saint Mary's student-athletes are powerful in the classroom and on the playing fields. Our athletic program complements a student's overall educational experience. Many of our varsity student-athletes and teams continually earn Dean's List, MIAA, and NCAA Division III Coaches' Academic Honors each year as our coaches and staff mentor and lead them on the path to excellence.
In addition to our varsity athletic programs, students can also participate in club sports and intramurals. Excellent fitness equipment invites all students to have fun while they stay fit.
What it means to be Division III.
Download our Visiting Team Guide! (.pdf)
Are you a Saint Mary's Alumna and former student-athlete? Reconnect with us.
News
February 28, 2015

HOLLAND, Mich. - The Saint Mary's tennis team lost their conference opening match at ITA No.33 ranked Hope by a 9-0 final on Saturday afternoon.

February 21, 2015

LIMA and DAYTON, Ohio - The Saint Mary's tennis team lost a 9-0 match against Ohio Northern before taking a 9-0 win against Wittenberg on Saturday.

February 21, 2015

OLIVET, Mich. - Ariana Paul scored her 1,000th career point in the second half, but the Belles were unable to overcome their deficit against Olivet as the Saint Mary's basketball team lost 83-78 in their season finale.