Athletics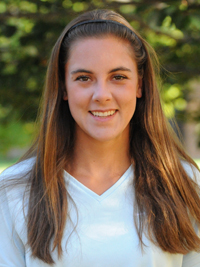 Athlete of the Week

Andrea Fetters

The sophomore on the tennis team led the Belles with a pair of singles wins over the past two weeks. A native of West Milton, Ohio, she won a 6-1, 6-2 decision against regionally-ranked Ohio Northern University before claiming a 6-2, 6-4 straight set victory at Aquinas College on Saturday night.
Congratulations, Andrea!
Saint Mary's student-athletes are powerful in the classroom and on the playing fields. Our athletic program complements a student's overall educational experience. Many of our varsity student-athletes and teams continually earn Dean's List, MIAA, and NCAA Division III Coaches' Academic Honors each year as our coaches and staff mentor and lead them on the path to excellence.
In addition to our varsity athletic programs, students can also participate in club sports and intramurals. Excellent fitness equipment invites all students to have fun while they stay fit.
What it means to be Division III.
Download our Visiting Team Guide! (.pdf)
Are you a Saint Mary's Alumna and former student-athlete? Reconnect with us.
Softball vs. Stevens; vs. Franklin & Marshall - Live Stats
News
March 9, 2014

ORLANDO, Fla. - The Saint Mary's tennis team earned a 9-0 win over Cornell (Iowa) in their first match of their spring break trip to Florida.

March 9, 2014

MEMPHIS, Tenn. - The Saint Mary's lacrosse team ended on the wrong side of an 18-2 final against Hendrix in their varsity program debut on Sunday afternoon.

March 9, 2014

CAPE CORAL, Fla. - The Saint Mary's softball team lost an extra-inning contest against Drew before claiming a victory over Wartburg to open the 2014 season on Sunday.