Athletics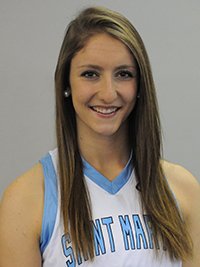 Athlete of the Week

Emilie Vanneste

The sophomore midfielder on the lacrosse team has been a big contributor to the team's success. A native of St. Petersburg, Florida, led the team with five goals, two assists, five ground balls, and two caused turnovers in the Belles' 14-2 win over Illinois Tech last week. She added a goal and two assists against John Carroll last Saturday while leading the team this season in goals, assists, and points.
Congratulations, Emilie!
Saint Mary's student-athletes are powerful in the classroom and on the playing fields. Our athletic program complements a student's overall educational experience. Many of our varsity student-athletes and teams continually earn Dean's List, MIAA, and NCAA Division III Coaches' Academic Honors each year as our coaches and staff mentor and lead them on the path to excellence.
In addition to our varsity athletic programs, students can also participate in club sports and intramurals. Excellent fitness equipment invites all students to have fun while they stay fit.
What it means to be Division III.
Download our Visiting Team Guide! (.pdf)
Are you a Saint Mary's Alumna and former student-athlete? Reconnect with us.
News
March 31, 2015

ADRIAN, Mich. - The Saint Mary's softball team earned a 5-4 (8 innings) win in game one before falling 9-5 (8 innings) in game two at Adrian on Tuesday evening.

March 30, 2015

NOTRE DAME, Ind. - The Saint Mary's lacrosse team posted a new program-high for goals in a single game on their way to a 17-5 win over Loras at home on Monday evening.

March 29, 2015

MADISON, Ill. - The Saint Mary's golf team moved up a spot to claim thirteenth place at the Washington University in St. Louis Spring Invitational on Sunday.