Athletics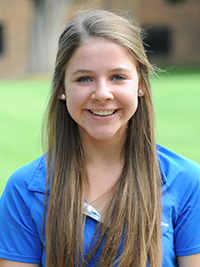 Athlete of the Week

Taylor Kehoe

The freshman on the golf team had a strong career-opening tournament over the weekend. A native of Traverse City, Michigan, she turned in an 86 on Friday at Knollwood Country Club before leading the team with a 79 at Elbel Golf Course on Saturday. Her two-day score was good enough for fourth place overall as the Belles finished second at the Cross Town Rivalry Tournament.
Congratulations, Taylor!
Saint Mary's student-athletes are powerful in the classroom and on the playing fields. Our athletic program complements a student's overall educational experience. Many of our varsity student-athletes and teams continually earn Dean's List, MIAA, and NCAA Division III Coaches' Academic Honors each year as our coaches and staff mentor and lead them on the path to excellence.
In addition to our varsity athletic programs, students can also participate in club sports and intramurals. Excellent fitness equipment invites all students to have fun while they stay fit.
What it means to be Division III.
Download our Visiting Team Guide! (.pdf)
Are you a Saint Mary's Alumna and former student-athlete? Reconnect with us.
News
September 2, 2015

MISHAWAKA, Ind. - A goal late in the first half proved to be the difference as the Saint Mary's soccer team fell by a 1-0 final in their season opening contest at Bethel on Wednesday night.

September 1, 2015

MARSHALL, Mich. - Saint Mary's had 10 of the top 14 finishes at an unscored tri-meet with Albion and Olivet on Tuesday evening.

September 1, 2015

NOTRE DAME, Ind. - The Saint Mary's volleyball team took little time to take care of business in a 3-0 (25-14, 25-18, 25-14) win over visiting Manchester in both teams' season-opening match.