2010 Senior Athlete Awards
2010 Senior Athlete Awards
Every year, the Saint Mary's College Athletic Department hosts an awards ceremony honoring the senior athletes who have been a part of the Department over the past years.  In addition to each senior athlete receiving a watch to commemorate their time spent participating in Belles' Athletics, a select few seniors are recoginzed with special awards, including the Don Miller Belles Spirit Award and the Marvin Wood Outstanding Senior Athlete Award.
Below are the 2010 honorees.  To learn more about the award and read the citation of each award winner, please click on the individual's name or scroll down the page.
Belles Varsity Club Appreciation Award - Mike Hicks
Leadership Award - Bridget Ronayne
Impact Award - Anna Kammrath
Improvement Award - Perri Hamma
Competitive Spirit Award - Lorna Slupczynski
Academic and Athletic Achievement Award - Jessica Slean
Don Miller Belles Spirit Award - Patty Duffy
Marvin Wood Outstanding Senior Athlete Award - Ashley Peterson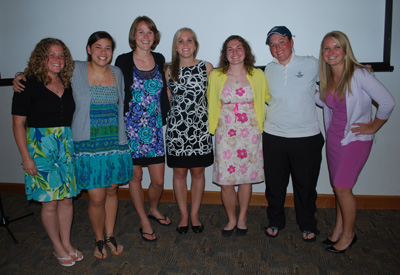 Belles Varsity Club Appreciation Award - Mike Hicks

The Varsity Club Appreciation Award is presented annually to a member of the Saint Mary's community for extraordinary contribution to the Saint Mary's Department of Athletics.
Our coaches work hard to recruit talented players that are exciting to watch compete.  The athletes put in hours upon hours of training to perfect their skills.  The teams practice their strokes, drill formations, plays, coverage situations, pace and skill execution drills in preparation for their contests.  At game time, meet time or match time one of the most disappointing aspects for the coaches and the athletes is to step out ready to compete in front of stands that are sparsely populated.  Tonight's honoree has taken up the cause to give his every effort to fill those stands!
Mike Hicks loves athletics and understands the frustration of the coaches, athletes and administrators when our teams compete and few are there to cheer them on.  The displays of talent, fight, spirit and sportsmanship are not witnessed by so many members of our campus community because they do not attend our contests.  Our women represent Saint Mary's with such class.  Mike knows that if we can just get people to attend one competition, they will return!
For years now, Mike and his staff have sent out emails, poems, announcements – anything that they can do to make the campus aware of athletic events.   He gets creative with promotions to draw in the fans!  He gives discounts for those that can produce a stamped athletic program proving attendance at the winning game each week.  He schemes with his cohort, Bookstore Bob, who marches out at half time to the Blues Brothers theme song dressed in a dark suit with sunglasses handcuffed to a briefcase full of t-shirts!   The crowd goes crazy as he opens up the locked briefcase and begins throwing them into the stands.  Planning for these promotions is serious business.  From what I have heard, Mike was not going to allow Bookstore Bob out at half time without first practicing his throws.  So from outside of the bookstore, Bob would throw t-shirts up to Mike in the upper level of the student center until Mike was satisfied that Bob was ready for the task!
Mike is very generous to all of our students.  The athletes are no different.  He helps our teams in their fundraising and service efforts by assisting us in our t-shirt sales – from the "undefeated since 1844" t-shirts to our pink week and dig for the cure shirts sales.  He has sponsored the awards at our Player of the Week luncheon for the past three years with wonderful sweatshirts the first year and beautiful Vera Bradley bags these past two years!   He has truly gone above and beyond in his support of athletics and it has not gone unnoticed or unappreciated.
It is with great honor that we present Mike Hicks with our 2010 Varsity Club Appreciation Award.
Leadership Award - Bridget Ronayne

The Leadership Award is presented for outstanding leadership, commitment, and dedication.
It is not strange to hear coaches and athletes talk about the different types of leaders on their teams.  Those leaders who develop and are able to serve a purpose larger than just themselves are the ones who rise to the surface and become exceptional. They strive to help others to accomplish more than they thought was possible.  Bridget Ronayne is someone whose leadership has extended beyond the soccer field and is our 2010 recipient of the Leadership Award.
There are not very many people who can say that they have been a starter in every game of their entire collegiate career.  In fact, since 2003 only two athletes who have played soccer at Saint Mary's have accomplished the feat.  One of those athletes is Bridget.  That accomplishment is a testament to her dedication and commitment to herself and her team.
The position of middle defensive back in soccer is a position that requires strong leadership.  It is a position that orchestrates the entire defense while facing off against the other teams' best players day in and day out.  It requires someone who competently and continually leads through both communication and action to keep those in front of her organized while preventing anyone from getting past that last line of defense. 
Bridget has demonstrated in the 67 games of her career that she has the poise and maturity to fill that role for the Belles' back line.  At the conclusion of her freshman campaign, she garnered MIAA Coaches' Honorable Mention and was the team's Rookie Player of the Year.  As a sophomore, Bridget earned conference player of the week honors as she became just the third athlete in program history to be named the MIAA Defensive Player of the Week.  After her junior season, she was named the team's most valuable defensive player while also making the Dean's List and earning MIAA Honor Roll accolades as a leader both on the field and in the classroom.  This past season, she was tabbed as the team's "Iron Man" for having started every game of her career.
In her four years, she has been a crucial cog in a defensive machine that allowed one goal or fewer in 30 contests.  For having such a critical role on the team, it is no surprise that she has been a three-year captain for the squad.
Her ability to lead and motivate others has extended beyond the pitch.  She has been an active member of the Student-Athlete Advisory Committee during her four years at Saint Mary's.  As a representative for the soccer team, Bridget served as a committee chair and organized team community service projects on and off of our campus.  As a junior, she was named the Vice President and served as the President of SAAC from the spring of her junior year to the spring of her senior year. 
Bridget's leadership, commitment, and reliability have extended throughout the Athletic Department as well.  She has spent the last two years as a student intern in sports information, having responsibilities such as updating the website, promoting activities and athletic events, writing for the various needs of the department, and assisting with the many aspects of game day management and the day-to-day workings of the department.
Bridget has been a true leader among her teammates and classmates over the past four years in all aspects of being a student-athlete.  A native of Lake Zurich, Illinois, she is the daughter of James and Claudia Ronayne and will graduate in May with a degree in English Literature.  We are proud to present the 2010 Leadership Award to Bridget Ronayne.
Impact Award - Anna Kammrath

The Impact Award is presented to the senior athlete who elevates the intensity and focus of a game beyond what statistics can measure.
Four years ago, Anna Kammrath stepped into Angela Athletic Facility not knowing what to expect from the basketball program. After all, there was a brand new coach and more freshmen than returning players.
Anna was surrounded by seven other freshmen. Little did she know back then that she would be the only one playing her senior year and be known as the "Queen" to her teammates. Over the years, Anna would play with some very talented players. She was a part of teams that set many records and beat opponents that had not been beaten in over ten years. As she grew with the program, so did her leadership and impact on the game.
As a freshman, Anna came off the bench for the first four games of the season. Because of her style of play and ability to change the momentum of a game, Anna started the next 101 games. She went from scoring 185 points her first year, to almost 300 points her senior year. Along the way, she has set three school records including:
Most steals in a game (9)
Most rebounds in a game (23)
Most rebounds in a career (863)
Anna leaves Saint Mary's College as the tenth  all time leading scorer with 939 points. She also has the most wins any basketball player has ever had in a four year period in school history. What is even more impressive is the fact that during Anna's career, she has been a part of 51 individual and team records that have been set or broken. Not bad for a kid who shies away from the spotlight.
Anna carries so much pride and class with her every time she put on a Saint Mary's uniform. She always gave up that sense of "self" for the greater good of the team. Even though she became the only senior this season, it was never about "Anna"…it was always team first. With Anna's dedication and perseverance, Saint Mary's Basketball has made a name for itself.
Her presence on the court may not have always shown in the box score, but you always missed it when she was not there. Opponents respected how she played the game as a true team player and recognized her class. When she was in a game, coaches knew where she was at all times and tried to limit how she impacted the game. They knew she was always looking for a steal and would dive for a loose ball. They knew she would always find a way to score on you and grab as many rebounds as she could. Anna's efforts were recognized by all the coaches in the league this season when the conference awarded her with First Team All-MIAA honors.
As she graduates this spring and pursues a Master's Degree in the public health field, those players that remain will have a huge task in filling the void she leaves behind. She inspires us to do more, to break limits, and above all, to leave our mark.
This biology major from Union Mills, Indiana is the daughter of Deb and Skee Kammrath. It is with great honor that we recognize Anna Kammrath with the 2010 Impact Player Award.
Improvement Award - Perri Hamma

The Improvement Award is presented in recognition of demonstrated improvement and special contribution to Saint Mary's Athletics over a four-year period.
Improvement requires incredible dedication, commitment, and hard work. Improvement in collegiate athletics is challenging to most athletes, but especially challenging for one who did not play her sport in high school! The amount of confidence one must have in herself and in the tutelage of excellent coaching is what allowed this person to earn tonight's Improvement Award.
Perri Hamma is the sole senior member and captain of this year's golf team.  She has been a four year player for the Belles after not playing her freshman season.  In her first tournament as a member of the golf team, she shot a 107 and finished second to last.  While this may deter some people from continuing with their sport, this finish did not set Perri back. She only played in one other tournament that season, but worked hard during the off-season and came back ready to contribute to a strong golf team.
Throughout her second and third seasons, the Belles golf team stayed strong and Perri continued to better her game.  She began shooting in the lower 90s and upper 80s and finished in the Top 20 in 18 tournaments, and more impressively, in the Top 10 in eight tournaments in the last two years.  This year, Perri has really shown how hard work can pay off.  She started off the conference season taking third place at the MIAA Jamboree at Albion by shooting a 79.  That score was the best of her career and helped the Belles capture their first MIAA win of the fall and also set a school record for the lowest 18 hole MIAA round. At the Depauw tournament, Perri was named to the All-Tournament Team thanks to a ninth place finish. Following this year's fall season, the golf team achieved their highest national ranking of second place!
Coach Mark Hamilton:
Through sheer "want to" Perri developed herself into a player capable of securing a spot on one of the nation's elite teams.  She always overcame various injuries and setbacks with an increased desire to learn.  Perri shot a 116 at the Medalist Golf Club in Marshall, Michigan her first year on the team.  Last fall she shot 79 on the same course, a 37 stroke turn around, the largest I have ever seen in my eight years of coaching. The fact that Perri took herself from a self professed hacker to a truly accomplished college player in four short years is a feat that is rarely seen.  She is truly deserving of this award.
This economics and accounting major from Kennett Square, Pennsylvania is the daughter of Jerry Hamma and Paula Maxwell. It is with great honor that we recognize Perri Hamma with the 2010 Improvement Award.
Competitive Spirit Award - Lorna Slupczynski

The Competitive Spirit Award is presented in recognition of demonstrated passion and love for the sport through work-ethic, desire to succeed, and commitment to teammates.
Coaching legend John Wooden says "success is peace of mind which is a direct result of self-satisfaction in knowing you did your best to become the best that you are capable of becoming."   I believe that this year's recipient has achieved that very success.  She was not dealt great height nor great jumping ability.  Her shoulder has taken so many swings, it is ready to fall off.   But, you put Lorna Slupczynski on the court and her competitive spirit has her playing bigger than any of those Dutch giants in our conference!
Players that possess a Competitive Spirit are a gift to coaches as well as to their teammates.  These are the athletes that step onto the court expecting to win.  They thrive on challenge. They take advantage of the off season to prepare for their competitive season.  They challenge their teammates to do the same.  They celebrate their successes as a team.  They have a true love and passion for their sport that is displayed in how they play the game – they are competitors. 
Lorna possesses a quiet and calm confidence.  Her ability to maintain her composure is an attribute that serves her well.  She is often outsized by her opponent, but that does not shake her.  She maneuvers around them with well placed shots or solid kills. 
Her presence on the volleyball court forces our competition to change how they play us. They do not want Lorna Slupczynski to handle the ball because she handles it far too well!     
To the fan in the stands, Lorna is not going to be the player that you hear; however, she is going to be a player that you notice – again and again.  Her competitive spirit is a force to be reckoned with!  She pounds away at opponents from the attack line to the service line.  In her career, she has well over 1300 points from kills alone.  On the other side of that, she has denied our opponents over 1300 points by her stellar defense digging attack after attack.   She is a proven competitor on the front line and the back line! 
In her career, she has earned MIAA recognition all four years!  Her first year, this volleyball player was named the MIAA Freshman of the Year.  Her sophomore and her junior years, she was named Second Team All-MIAA; this year, Lorna was named First Team All-MIAA.  Not only has Lorna lead her team this season in kills and service aces, she finishes her career at Saint Mary's second in kills, fifth in digs and fourth in service aces.   Lorna is also a statistical leader in the MIAA.  She finished the season fourth overall in kills per game and second in service aces – only a hundredth of a point out of first in the conference!  She also ranks first in kills in both a three set match and a four set match.
This history major from St. John, Indiana is the daughter of Janet and Dave Slupczynski.  Her future plans include graduate school in a Museum Studies program.  It is with great honor that we recognize Lorna Slupczynski with the 2010 Competitive Spirit Award.
Academic and Athletic Achievement Award - Jessica Slean

The Academic and Athletic Achievement Award is presented for outstanding academic and athletic achievement and future promise as a Saint Mary's graduate.
It is one thing to give the dedication and commitment of playing a varsity sport in college for all four years.  It is quite another to excel both on the field of play and in the classroom to the extent of earning athletic and academic honors.  Senior soccer player Jessica Slean has done just that and is our 2010 recipient of the Academic and Athletic Achievement Award.
Jess stepped onto this campus nearly four years ago as an unassuming member of one of the largest freshman classes in recent history of the soccer program.  Since that time, she has developed into a force to be reckoned with on the field, in the classroom, and beyond.  Jess was named her team's Most Improved Player at the conclusion of her freshman season.  A few months later, she earned the First Year Student Academic Achievement Award while being named to the Dean's List and the MIAA Academic Honor Roll.
After serving as a representative for the soccer team on the Student-Athlete Advisory Committee, Jess continued to make her impact on the College by joining the Young Executives Club and Students for Effective Autism Treatment.  Since studying abroad in the spring of her sophomore year, she has gone on to join the Lady Accountants of Tomorrow and spent a semester as a volunteer income tax assistant.  She has risen to leadership positions in both the Lady Accountants of Tomorrow Club and the Young Executives Club as she has served as the vice president and president of the two clubs, respectively.
This past summer, Jess completed a tax internship with PricewaterhouseCoopers and clearly left a lasting impression as the firm offered her a position earlier this school year.  Her exceptional abilities in the areas of business administration and accounting have resonated far and wide.  Shortly after returning to campus for the beginning of her senior year, Jessica learned that she was the recipient of two prestigious accounting awards - Ernst & Young's Most Likely to Succeed in Public Accounting Award and Crowe Horwath's Excellence in Tax Classes Award.  It comes as no surprise that she should receive multiple awards for her outstanding performance in the classroom as she currently has a perfect 4.0 in her major.
In her final season for the Belles, Jess's heart and determination on the field translated into more than what could ever be seen on a stat sheet.  While she is hardly the biggest player on the field, she repeatedly played bigger than her 5'2" frame in the rough center midfield position.  She was recognized for her gritty play and battle-tested determination at the conclusion of the season by being named the team's Most Valuable Player by her teammates.  She also earned recognition by conference coaches as she was named Second Team All-MIAA - pretty impressive for a player who consistently gave up six inches or more to her counterparts in that position.
Having been named to the Dean's List every semester of her collegiate career while also earning MIAA Honor Roll accolades, we have no doubt that Jess will live up to the description of this award of "future promise as a Saint Mary's graduate".  Jess is the daughter of Michael and Joyce Slean and will graduate in May with better than a 3.9 cumulative GPA with a degree in Accounting and Finance while also earning a minor in Mathematics.  This summer, she will begin a position with PricewaterhouseCoopers in Pittsburgh near her hometown of Allison Park, Pennsylvania. 
It is with great pleasure that we present the 2010 Academic and Athletic Achievement Award to Jessica Slean.
Don Miller Belles Spirit Award - Patty Duffy

The Don Miller Belles Spirit Award is presented to the person who best exemplifies the winning spirit of the College's athletic program.
It is hard to define spirit. It's easier to recognize it. It's electrifying. It's moving. It's contagious. It is without a doubt, Patty Duffy.
Patty does not wait to be asked to do something. Instead, she gets things going and then will ask you to be a part of it. She's the type of person you cheer for, regardless of her task. Not only does she find a way to make a difference in this world, she finds a way to tug at your heart, and get you involved.
From a pregame séance on the soccer field to leading the college in a fundraising initiative, Patty Duffy certainly embodies the qualities that define the Don Miller Belles Spirit Award.
Quite possibly one of the most recognizable individuals on campus, Patty's magnetic personality draws students, faculty, and staff to her.
Outside the demands of her nursing major and soccer season, Patty always found time to do even more. Upon returning from a service trip to Uganda during the summer of 2009, Patty proposed the idea of raising funds to assist with healthcare needs at clinics in the East African nation. Patty's initiative, "Belles for Africa", raised $5,400 which was presented to the Sisters of the Holy Cross in December of 2009. This service project reached campus-wide attention and gained the involvement of everyone associated with the Saint Mary's Athletic Department.
During the winter, Patty rejoined her basketball teammates by helping out in practice. Due to injuries early in her career, Patty had to walk away from basketball—but she never lost her passion for the sport or her teammates. Often you could see Patty in the front row of home and away games leading chants and cheers that certainly fired up the Belles…and sometimes the opposing team!
In the spring, she would lend a hand to the softball team at practice. Patty ran drills, threw pitches to bunters, and brought energy and excitement to the practices and games she attended. She wanted to learn ways other teams worked and found motivation in order to be a better leader for the soccer team.
If she was not helping coaches, she was supporting other athletes. Patty was often found with face paint on cheering at athletic events or painting banners in the racquetball court or ramp outside of Angela for fellow seniors in honor of their "Senior Day."  Patty was on every team!
If there is a cause worth doing, Patty is there. Last year, June Walker, an employee of Saint Mary's College was diagnosed with cancer. Patty called on all the athletes to come together and sign cards of encouragement for June. This spring, Patty participated in a group effort to raise money and aid for the earthquake victims in Haiti by fasting for a 24 hour period. She does not do these things for the personal attention, but for the greater good of those in need.
After four years at Saint Mary's College, Patty Duffy will leave here with many accomplishments as she enters the field of nursing. She leaves behind the challenge for all of us to continue to make Saint Mary's a better place; to make those around us better; to find the good in everyone; and more importantly she inspires us to become better friends, better teachers, better coaches, and above all - better people.
This nursing major from Chicago, Illinois is the daughter of Chic and Bill Duffy. It is with great honor that we recognize Patty Duffy with the 2010 Don Miller Belles Spirit Award.
Marvin Wood Outstanding Senior Athlete Award - Ashley Peterson

The Marvin Wood Outstanding Senior Athlete Award is presented to the outstanding senior athlete.
In 2000, the athletic department named the Outstanding Senior Athlete Award in honor of Coach Marvin Wood.  Coach Wood was an outstanding former basketball coach who finished out his career at Saint Mary's College.  His commitment, passion, and love for his athletes through the years inspired the nationally acclaimed movie, "Hoosiers" which highlighted the Cinderella basketball success story early in his coaching career. Coach Marvin Wood's former athletes describe him as a beautiful person inside and out.  They say his passion, faith, dedication and commitment to his players made their athletic experience at Saint Mary's a truly fulfilling and lifelong treasure for each of them.  It is with these thoughts in mind that we honor you, our outstanding senior athlete.

Coach Wood embodied positive leadership, passion for his sport, and love for his athletes.   He valued players with a strong work ethic; players that excel not only in their sport but, also in the classroom; players that make their teammates better through the example they set.   This year's recipient is the type of player that Coach Wood would have been proud of!
To have one great year takes hard work, but to have a consistently dominating career comes from dedication and belief in yourself and your abilities.  This year's Marvin Wood award winner has had one of the most illustrious athletic careers of any athlete at Saint Mary's College.  Her accolades range from team records to national awards. 
Ashley Peterson has made her mark on the Saint Mary's College Softball program.  She has been a four-year starter on the team and has played in 129 games so far in her career. Her first season, she finished with the best batting average on the team and was named Third Team All-Region. In just her sophomore season, she broke the single season hits record with 55 hits, helping her team to a second place finish in conference and the second highest win total in program history.  That would be the first of back-to-back seasons hitting .500.  She would be named First Team All-MIAA, which was followed by being named First Team All-Region and finally, with Second Team All-American honors.  She set conference records for most hits, doubles, and total bases in 2008 which still hold today. Thanks to those amazing numbers, she was only the second Saint Mary's softball player to become the conference batting champion with a .580 average.
Her junior season saw much of the same.  Ashley had another stellar year, finishing with a .500 batting average and 53 hits, just two shy of the previous record-breaking year.  She also added six home runs to her career total, bringing her within four of the career home run record.  Her efforts garnered another First Team All-MIAA award as well as her second consecutive First Team All-Region honor.
This year, Ashley has been better than ever.  She is currently hitting .505 with 53 hits bringing her career total to 207. 80 of those hits have been for extra bases! She has already broken the career record for hits, doubles, RBIs, and home runs. Fittingly, she broke the career hits record with a home run in the top of the seventh inning against conference rival Albion College to help bring the team within one and a last inning comeback win.  Following that week's games, she was named the MIAA Position Player of the Week for the fourth time in her career. She hit .700 with six doubles and five home runs en route to that honor. She is poised to lead nearly every offensive category, making her among the greatest softball players to ever compete at Saint Mary's College and  NCAA Division III.  Besides setting career records this year, she is currently tied with teammate Hayley Bojorquez for the single season RBI record at 42. Her total number of records broken is currently at seven.
Ashley has truly shown how confidence and hard work can lead to great things.  She has led her team to amazing accomplishments through her career and hopes to help them bring home a conference tournament championship this season.  It is pretty incredible what she has accomplished and she has truly set the bar high for the softball program.
This nursing major from Lansing, Illinois is the daughter of Bruce and Chris Peterson. It is with great honor that we recognize Ashley Peterson with the 2010 Marvin Wood Outstanding Senior Athlete Award.