2011 Senior Athlete Awards
2011 Senior Awards
Every year, the Saint Mary's College Athletic Department hosts an awards ceremony honoring the senior athletes who have been a part of the Department over the past years.  In addition to each senior athlete receiving a watch to commemorate their time spent participating in Belles' Athletics, a select few seniors are recognized with special awards, including the Don Miller Belles Spirit Award and the Marvin Wood Outstanding Senior Athlete Award.
Listed are the 2011 honorees.  To learn more about the award and read the citation of each award winner, please click on the individual's name.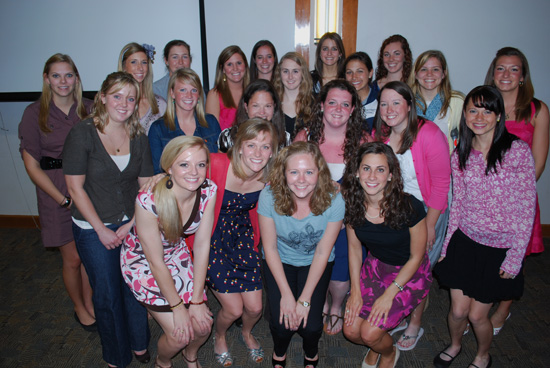 Belles Varsity Club Appreciation Award -  Sister Louisita Welsh, CSC
Improvement Award - Lauren Easton
Competitive Spirit Award - Kristy Kucharski
Impact Award - Rosie O'Connor
Leadership Award - Catie Salyer
Leadership Award - Ellen Huelsmann
Athletic Integrity Award - Mary Therese Lee
Mary Fran Meekison '40 Service Award - Anne Maguire
Academic and Athletic Achievement Award - Sam Wassel
Don Miller Belles Spirit Award - Liz Wade
Marvin Wood Outstanding Senior Athlete Award - Mary Kate Boyce
Belles Varsity Club Appreciation Award - Sister Louisita Welsh

The Varsity Club Appreciation Award is presented annually to a member of the Saint Mary's community for extraordinary contribution to the Saint Mary's Department of Athletics.
We had an empty seat on our benches, in our huddles and in the stands this year.  That seat is usually filled by a little lady with a big presence! 
A rough battle with a serious lung infection kept Sister Louisita away from us for most of this year.  Her absence made our entire department realize even more what a gift she is to us and to our student-athletes.  Sister Lou is the athletic department's very own Lumen Christi.  She brings such spirit and light to our department.  She has a smile for all those that she meets.  Her caring manner is felt by all who come in contact with her.  Sister Lou is our welcome wagon greeting new parents as they come to watch their daughters compete for the first time.   She is our biggest fan understanding how hard our coaches and our athletes have worked to achieve success. 
Sister Lou is an alumna, so she is a Belle through and through.  When she returned to Saint Mary's to serve as the assistant to the Vice President for Mission, we very quickly snatched her up as well!   She started as the team chaplain to basketball; then, the volleyball team demanded a share; it wasn't long after that that everyone wanted her, so Sister Lou was named as our department chaplain and has served in that role for the last ten years!
Her contributions to athletics are immense!  Sister Lou gathers us and grounds us prior to our competitions.  Her prayers, although always reverent, range from quite serious to quite entertaining!  There have been several times that she had lead us in prayers that have requested that, "Hope College NOT win" or that the, "Officials call the game to the satisfaction of our players and our coaches".  We gladly joined her in those prayers.
Sister Lou is competitive, but does a great job of keeping things in perspective and pointing out to us the little victories even in defeat.  She is that voice of reassurance and support.  Despite the fact that she had the fight of her life to beat that lung infection, Sister Lou continued to keep athletics in her thoughts and prayers.  She knew when our competitions were and always wanted an update if not a play by play re-cap!  Sister Lou deeply cares for and loves all of us and we deeply care about and love her!
I am happy to also share with you that Sister Lou has informed us that her "sabbatical" is over and plans to join us in full force this coming fall. 
It is with great honor that we present Sister Louisita Welsh with our 2011 Varsity Club Appreciation Award.
Improvement Award - Lauren Easton

The Improvement Award is presented in recognition of demonstrated improvement and special contribution to Saint Mary's Athletics over a four-year period.
Being a student-athlete at Saint Mary's is a challenge, and as a coach, there are oftentimes when athletes need to be motivated. However, every once in a while an athlete will come along and no matter the day, the load of homework, or lack of sleep, they are ready to work because they want it that badly. Over the past four years, Lauren Easton continually 'showed up' and brought her game face to practice.
Lauren came in from a small high school program, as the lone female member of the cross country team. Many athletes might have thrown in the towel, especially in a sport where there is a lot of solo time out on the road, but not Lauren. She came in with a large freshman class in a year that the Belles cross country program was beginning to see some major improvements, highlighted with the berth of an individual advancement to the national meet. During her freshman season, fresh off of a year without teammates to push her, Lauren ran near the middle back of the pack for the greater part of the season.
During her freshman and sophomore seasons her 5k times typically fell within the 23:00 window and her 6ks were in the high 27:00 to 28:00 time frame. However, surrounded by newfound friends and a passion for perfection, Lauren did not let her first two seasons define her. Instead she came back with the knowledge of what it takes to improve as a runner.
Returning to campus as a junior, Lauren had benefitted from some great senior leaders and a team that was more focused than ever at breaking into the top three of the conference. It was going to be an entire team effort, and Lauren was there leading the way with her hard work. Junior year would be a big break out season for Lauren, one in which she was able to start putting the pieces of a great race together. Her 5k plummeted to 21:16 and her best 6k was now a 26:18. Although the team finished fourth that year, it was apparent that this group was willing to do the work to get that extra place.
Lauren spent the summer before senior year working in the heat and humidity of Washington, D.C. In order to maximize her workouts, Lauren woke up for 5:00 and 6:00 am runs. She followed the summer training plan and sprinkled in numerous 5ks, which helped prepare her for a season of competing and added to her massive t-shirt collection! The hard work paid off, and Lauren returned to campus in the best shape of her collegiate career.
The 2010-2011 cross country season was highlighted by many firsts and milestones for both Lauren and the team. Individually, she broke two more time barriers. On a beautiful 5k course at Calvin, she ran a 20:50, breaking 21:00 for the first time. In addition, she ran under 26:00 for all of her 6ks during the season, with a PR of 25:26. These individual accomplishments assisted the team in achieving their goal of breaking into the top three, finishing third in the conference for the first time in school history.
Lauren is a hard working and competitive athlete. She loves the toughness of sport and feeds off of intensity. Over a four year period she has cut roughly 3:00 off of both her 5 and 6k times. Similarly, she has grown with and contributed to the success of the team. The 2010-2011 roster had the largest depth of talent on a team to date and Lauren more than competed with the best of them. Coach Jackie Bauters has been very impressed by her work and achievements.
A native of Pittsburgh, Pennsylvania, she is the daughter of Lorraine and Jim Easton and will graduate in May as a double major in psychology and political science with a 3.86 GPA. After graduation she will continue to combine her love for sports and interest in psychology by pursuing a Master's Degree in Sport Psychology at Georgia Southern University. We are proud to present the 2011 Improvement Award to Lauren Easton.
Competitive Spirit Award - Kristy Kucharski

The Competitive Spirit Award is presented in recognition of demonstrated passion and love for the sport through work-ethic, desire to succeed, and commitment to teammates.
One of the most competitive and legendary runners in recent history, Steve Prefontaine, once said, "A man can fail many times, but he isn't a failure until he begins to blame somebody else." These words cannot be truer when thinking of this year's Competitive Spirit Award winner, Kristy Kucharski.
As a talented track athlete, Kristy was nervous to go out for collegiate cross country, especially after a less-than-favorable high school cross country experience. In running, there are 'trackies' and distance runners. While they all do the same thing at the end of the day, run, runners know the two often go about their sports very differently. Self-identifying as a track athlete, Kristy found it challenging to switch gears to long distance running and missed the rush she found in sprinting. As a result, freshman year was tough for Kristy.
Despite the struggles, Kristy poured her heart and soul into the cross country team. She was an excellent teammate and had a strong work ethic. The turning point in Kristy's collegiate career came about in a random drop by meeting to Coach Bauters' office. In that meeting, Kristy informed Jackie that she realized what she needed to do. She loved track, but she knew it was time to embrace cross country. She wanted to improve and help the team. Coach Bauters saw this as an indication Kristy's potential could begin to materialize.
Ready for the start of a new outlook on cross country, Kristy returned to campus for a fresh start. She saw success in her sophomore season and earned a spot on the travel team to the NCAA Regional Meet. Her work ethic continued to pay off as her junior season was marked by dropping more than two minutes off of her 5k times. Her efforts and teamwork meant another trip to the regional meet.
Heading into senior year, the goals remained high: finish in the top seven, run at the regional meet. Although Kristy wanted it, she worked diligently for it, but unfortunately it did not happen. Throughout Kristy's collegiate career, she has overcome many barriers. Running is a mentally challenging sport, and Kristy is still discovering how to overcome those hurdles. Not achieving all of her goals did not detract from Kristy's ability to assist the team. During periods of racing frustration, Kristy's work ethic in practice would only magnify. At the end of the season when informed that two sophomores would be traveling for the regional meet instead of her, Kristy simply replied, "It is ok coach, I've been there before and they deserve it."
As always, Kristy took the highs and lows with grace and respect towards her teammates. There is no doubt she wanted to achieve the same success for herself, but realized it was not her time. Throughout it all, Kristy remained dedicated to her team and coaches, whether it was helping lead sprint workouts when called upon or working with an underclassman. Kristy has served her team as a SAAC representative and chaired the Valentine's Day party. Her love for the sport is evident in her continued racing endeavors and work at Metro, a local running store, where she keeps the team up-to-date on the latest shoes and gadgets. 
She has exemplified a competitive spirit by continuing to strive for personal achievement and accepting her limits along the way rather than passing blame. She will undoubtedly continue to grow as a runner as she gains confidence that comes with experience.
A native of South Bend, Indiana, she is the daughter of Gene and Sandy Kucharski and will graduate with a Bachelor of Arts degree in English Writing. We are proud to present the 2011 Competitive Spirit Award to Kristy Kucharski.
Impact Award - Rosie O'Connor

The Impact Award is presented to the senior athlete who elevates the intensity and focus of a game beyond what statistics can measure.
Rosie O'Connor came to Saint Mary's as a rather brash freshman with a flare for trying impossible shots-most of the time she pulled them off. It tended to be all or nothing very early in Rosie's career. But, she soon realized the team would need her to become a more consistent leader on and off the course. She did just that.
Rosie developed into one of the most consistent players Saint Mary's golf has ever had over a four year career. She is one of only three players in Saint Mary's history to play every one of her college tournaments in the top five. She has never finished outside of the top 15 in a MIAA event and was the league medalist and MVP her sophomore season. She has been an integral part of two top ten finishes at the NCAA Championships and plans to lead the team to a championship at this year's nationals.
Earlier this season, she set a new collegiate career low as she tied for medalist honors at the Southwestern Invitational with a day two score of 76. A three-time All-MIAA honoree and 2008 MIAA MVP, she was named an All-Region golfer in 2009 by the National Golf Coaches Association. Rosie has been a medalist at an individual round or tournament six times over the past three seasons.
Rosie has always had a knack for putting up a good score when the team needed a boost. She would always be the first to tell the team where we stood in the rankings and how our opponents were fairing. She seemed to know what it would take to get the team to the next level and encouraged everyone to strive for the goal no matter the odds. Her desire to win and make an impact is as strong as you will find in any Saint Mary's athlete.
Rosie's legacy at Saint Mary's will live on in many ways. It will live on in stories like "remember when Rosie hit one shot over that tree?" It will live on in the championships she helped win. Most importantly, it will live on in the way Rosie raised the bar of the level of intensity and impact for which all future Belle golfers will look to attain.
She will graduate with a Bachelor's of Business Administration with concentrations in Marketing and International Business. She is the daughter of Ray and Susan O'Connor.  It is with great honor we award the 2011 Impact Award to Rosie O'Connor.
Leadership Award - Catie Salyer

The Leadership Award is presented for outstanding leadership, commitment, and dedication.
College coaches usually expect to hear their athletes want to improve athletically. However, every once in a while an athlete will surprise you. She will want to do more than be a better athlete, but also mature as a leader. This desire illustrates that she has the best interest of the team at heart. The success of the team is more important than individual success, creating more opportunity for team growth. This year we recognize Catie Salyer with the Leadership Award for embarking on the journey of becoming a strong leader and guiding the cross country team to their best finish in school history.
Over her four year career as a Belle, Catie has left an impressionable mark on the cross country program. In fact, she is often the face that comes to mind when thinking about Belles cross country. To score in cross country requires placing in the top five for the team. Throughout her four years, Catie has scored for the team in all but four races, three of which occurred during a sickness-laden junior season. Only one of those finishes was out of the top seven. She is the only member of the 2011 graduating class to compete in the NCAA Regional Meet all four years. Yet, throughout all of these personal accolades, the focus has remained how to get the team to the top.
The team has benefitted greatly from Catie's team focus. Being in the lead pack comes with its own perks and drawbacks. Regardless of the workout, the lead pack typically sets the tone and pace for the team that day. As a result, in order to maximize the efforts of the team, it is important for the lead pack to especially be in sync with the purpose of the workout. Despite best intentions, runners often get ambitious when they start to feel good in workouts and push the pace, losing the objective of the practice. Catie has done a great job of harnessing her teammates and keeping them focused.
It is not always evident for outsiders to recognize the leaders of a team. However, her teammates and coaches realize the large contributions Catie has provided to the cross country team during her four years and especially as a senior captain. Catie has inspired, encouraged, and picked up her teammates around her. To summarize the comments of one fellow senior teammate,
"Catie was always there to listen to me if I needed to talk, whether it was about running, school or anything else. She was a great captain for our team."
Personally, it has been exciting to watch Catie grow and develop. She came in with the rough tools for being a great leader: ambition, drive and persistence. Over the years, she has supplemented those assets with patience and listening. These tools have been invaluable to her teammates and coaches. Some coaches may dislike being challenged, and while it may not always be comfortable, I commend Catie for continuing to respectfully challenge me. It has been rewarding to work with Catie and I have no doubt that we are just beginning to see what she is capable of accomplishing as a leader in the future.
A native of Indianapolis, Indiana, she is the daughter of David and Cara Salyer and will graduate in May with a Bachelor of Arts Degree in English Literature. We are proud to present the 2011 Leadership Award to Catie Salyer.
Leadership Award - Ellen Huelsmann

The Leadership Award is presented for outstanding leadership, commitment, and dedication.
Leadership comes in many forms.  There are vocal leaders; there are those that lead by example; there are servant leaders…and the list goes on.  To be an effective leader, one must be in tune with her teammates.   Her teammates must know without a doubt that she is dedicated and committed to the team or they will not look to her for leadership.  Our leadership recipient has left no doubt in the minds of her teammates or her coaches that she is committed to their needs, their improvement, and team success.
Women need to connect before they can effectively compete together.   Ellen Huelsmann, our leadership award recipient, has made it her cause to create a family-type atmosphere for her volleyball team.  Teammates are teammates.  They are not classified as first year, sophomore, junior, or senior.   She knows her teammates for who they are not what year they are.  She welcomes them and lets them know that they are valued members of the squad.  She models the servant leadership role.  As a senior, it is not beneath her to help clean the bus after away trips, make sure that the camera and the med kit are packed, or see that the dreaded laundry is taken down to the laundry room.  She assumes the responsibility of ensuring that the little things are taken care of for the good of the team.
Ellen also leads by example.  She does not tell people what to do; she shows them what to do.  She lifts her teammates' standards by the high standards that she sets for herself.  She selflessly assumes whatever role her team needs and her coaches ask her to fill.  This year, Ellen was needed to fill an attacking role, requiring her to come out of her comfort zone in the back row and play the front line as well.   She willingly accepted the challenge, and in true Ellen fashion, became a threat to her opponents by her steady, reliable play, and her commitment to never give less than 100%. 
Ellen is not the loud, demanding type; she is the quiet, unassuming, dependable type of leader.  She is composed.  When things on the court get tense, she is the one that is looked to for reassurance.  Her teammates rely on her calmness in clutch situations.  In fact, this is where she most shines!  She finished this season a close second in service aces and third in digs on her team.  In fact, most players have four years to tally their career statistics; Ellen did not play her first year so only has  three years  of cumulated statistics to apply to her career stats.  Amazingly, in those three years, she ranks 15th overall in both service aces and in total digs in a program that has a 34 year history of cumulated statistics!
Ellen came into the college game as a defensive specialist.  She leaves as an accomplished defender and attacker.  And, more importantly, she leaves Saint Mary's College Volleyball a better program by giving of herself and modeling to her teammates positive, selfless leadership. 
A native of Breese, Illinois, she is the daughter of Kathy and Mikel Huelsmann and will graduate in May with a Bachelor of Science in Biology.  We are proud to present the 2011 Leadership Award to Ellen Huelsmann.
Athletic Integrity Award - Mary Therese Lee

The Athletic Integrity Award is presented to the senior athlete who best exemplifies honesty and respect for herself, her teammates and opponents, and the game itself.
Longtime coach and NBA executive Red Auerbach is quoted as saying, "The only correct actions are those that demand no explanation and no apology." An athlete's integrity should go unnoticed as it is integral to the sport itself. All should strive to follow the moral and ethical principles of their sports so as to carry themselves and their teams to a higher standard. It is sportsmanship, it is respect for yourself, your opponent and the game, it is all that makes athletics great. Sometimes, like today, an athlete's actions in and out of her competitive arena are noticed for all the right reasons. Today, we recognize Mary Therese Lee with the 2011 Athletic Integrity award.
Something like integrity cannot necessarily be quantified. It does not show up on a stat sheet. It does not make itself known in a final box score. One thing is definite, however, you know it when you see it. MT has it. Her ability to demonstrate an exceptional level of character is evident both on and off the court. She may not be the most decorated player, but that has not kept her from achieving success. In fact, she led her team in singles wins and total wins this season.
At the end of her first three seasons on the Saint Mary's tennis team, she has been honored with the Best Attitude Award and has twice been the recipient of the Belle Spirit Award. Her work ethic and drive have led her to go from being a player who sometimes contributed in doubles play to earning a spot in both singles and doubles play in every match. She has since gone on to dominate matches. 
In tennis in particular, something like integrity can mean the difference in holding the advantage over an opponent or gaining momentum. In a sport where the players make the calls between "in" and "out", integrity can easily take a backseat to competitive nature. In MT's case, however, there is little doubt of who wins between honesty and opportunity. She plays it out. She has a smile on her face for herself and her teammates. She cheers and competes to the end. 
Her coach Dale Campbell says, "MT has always been there for her team, whether contributing with her energy, hustle and aggressive play... cheering for her teammates... or scaling a gate to look for lost items.  She has been a great leader by example to her team and fellow competitors in the way she carries herself.  I would hope that my own children could learn from watching MT.  We will miss her so much."
Her approach to competition and upholding the goodness in sport carries over into many aspects of MT's way of life. If you have ever seen her play one of any number of intramural sports, you can see the "it" of integrity. From lending a helping hand to lift someone up from the basketball court to being the first to say "good game", she plays the way sports were meant to be played.
Outside of tennis, MT has been involved in the College's Toastmasters Club and the Young Executives Club. She has studied in Rome, has participated in Dance Marathon - a student-organized fundraiser for Riley Children's Hospital in Indianapolis, and has been an international student mentor. This year, she is one of her team's representatives on the Student-Athlete Advisory Committee. 
A native of Libertyville, Illinois, she will graduate in May with a Bachelor of Arts Degree in Business Administration with concentrations in both marketing and finance.  The daughter of Robert and Nancy Lee, it is with great pleasure that we award Mary Therese Lee with the 2011 Athletic Integrity Award.
Mary Fran Meekison '40 Service Award - Anne Maguire

The Mary Fran Meekison '40 Service Award is presented for extraordinary service to Saint Mary's College and the local communities.
There are four core values at the root of Saint Mary's: Learning, Community, Faith/Spirituality and Justice. These values are emphasized in the classroom and throughout the campus, and this year the focus is on the core value of faith/spirituality. It is fitting that the recipient of this year's service award is deeply committed and serves our community through her faith and spirituality.
Cross country runner Anne Maguire's Catholic faith has played an integral role in some of the organizations to which she has devoted her time over the years. Specifically, on campus she has been actively involved in both the SMC for Life student group as well as Peer Ministry. As the recent co-president of SMC for Life, she has helped plan, implement, and provide programming for students on campus. In addition, she has made the trip to Washington, D.C. for Right to Life week as part of the organization. Through her work as a Peer Minister, Anne has assisted campus ministries by being a Eucharistic Minister, reader, leading prayer groups; and participating in numerous other offerings on campus. In doing so, Anne has been able to give back to many Saint Mary's students who utilize the chapels as well as engage in faith based group discussions.
In addition to sharing her faith with the Saint Mary's community, Anne has also developed her service through her experiences with the nursing program. As we may suspect, successful nurses truly care for their patients and have that intangible characteristic that makes you feel good when they are around. Anne's involvement in the nursing program has opened many other doors for her to lead in the Saint Mary's community as well as on a larger scale. When the Nursing Department began the summer program in Uganda, Anne became very involved in the mission and helped found the Belles for Africa club which helps raise funds for schools and clinics in Uganda.
During the summer before her senior year, Anne made the trip to Uganda herself, seeing firsthand the need of the remote communities. She worked in the clinic assisting in any way possible, with regular inpatient care, assisting with the delivery of babies, and helping manage the influx of people in the clinic. Upon leaving Uganda, Anne was full of new excitement and passion for her mission to help others through nursing and life. As a senior, she has been a Peer Mentor for other nursing students. Anne is able to share her experiences and help guide her peers through the challenges of the strenuous nursing program. For her efforts, Anne was recognized by the Office of Civil and Social Engagement with the Sister Kathleen Anne Nelligan, CSC Award for Spiritual Service.
Finally, this senior is recognized tonight because she was a valuable member of the cross-country team. While Anne wasn't a scorer for the team, her contributions were felt through the support she provided her teammates. If there was ever a regional meet she could make it to, Anne would be the first to offer up Odessa, her minivan, to take teammates out to support those running. We are so glad she returned to cross country twice, once after studying abroad in Rome, and again after a summer in Uganda.
A native of Indianapolis, Indiana, she is the daughter of Joseph and Rita Maguire and will graduate with a Bachelor of Science degree in Nursing, with a 3.79 GPA. After graduation, Anne will continue her mission to serve others as she pursues a nursing position.  We are proud to present the 2011 Mary Fran Meekison Service Award to Anne Maguire.
Academic and Athletic Achievement Award - Sam Wassel

The Academic and Athletic Achievement Award is presented for outstanding academic and athletic achievement and future promise as a Saint Mary's graduate.
Sometimes you meet an athlete and you just know they are going to be different, they have that extra ounce of pixie dust to make them magical—or in this case—the power of the force. This was the case in meeting our 2011 recipient of the Academic and Athletic Achievement Award, Samantha Wassel.
Embarking on her freshman cross-country season, Sam was a small ball of energy, ready to take on anything. In her first collegiate race she battled the hills and Big Bertha of Zolner Golf Course to bring home an individual title. In recent history, only one other athlete, Megan Gray, has captured an individual title for the cross country program. Needless to say it distinguished her as an athlete and created anticipation for her future development.  The 2007 season was solid. Posting a 19:39 in the 5k, she held the fifth fastest 5k time in school history, second only to Megan Gray's four top times.
Unfortunately though, sometimes the hardest lessons and biggest growing opportunities come when you least expect them. Suffering a serious fracture in the post-season that required extensive rehab, Sam was forced to miss competing during her sophomore season. Despite being sidelined, she was as much of the team as ever and grew as an athlete and teammate. Not being able to train or compete provided valuable lessons and the drive to rebound her junior season.
Coming back with a very atrophied "baby quad" was figuratively and literally an uphill battle, and Sam fought tirelessly. Like always, Sam was dedicated to the work. She did all of the rehab exercises, and continued to ask for more exercises, anything she could do to help make improvements. In the end, with patience and diligence she slowly improved throughout the season. She not only landed a spot in the regional meet but finished the 6k course with a 25:19, finishing fourth for the team.  
Senior year was a good final chapter to her running career at Saint Mary's, although it might not have been the one she dreamed of as a freshman. Sam scored for the team in five of six races and competed at the regional meet once again, despite the young talent that has since joined the team. Sam has been a true example of resiliency to her teammates.  In many ways, as her injuries continue to heal, we are just beginning to see the tip of Sam's potential resurface.  In fact, this winter she competed in her first marathon and blew the Boston Qualifier time out of the water, running a 3:15.
So while I have been continually impressed by her perseverance and dedication to training, it has possibly been even more remarkable to witness her academic achievements. Sam is one of the most giving individuals with her time and has helped countless teammates study for chemistry tests or proof read their papers. Basically, if you have a question—almost regardless of the class—Sam will try to help you, she's just that good.
Beginning her academic career as a chemistry major, Sam excelled but it did not satisfy her creative side and she decided it was time to make a change. With a newfound focus on creative writing, Sam has shared with us imaginative and hilarious stories. Her secret buddies for meets received some of the most prized possessions, individualized stories of greatness---I still have my Wonder Woman book and will always cherish it. Her humor and wit have illuminated smiles on faces many a 6am practice and there is no doubt there is an illustrious writing career in her future, so publishers beware!
Ultimately, what I would like to say to Sam is how proud I am of her. In the past six years coaching, Sam is one of the finest women I've had the honor of coaching. I feel so fortunate to have shared her journey for the past four years and am so proud of the way she has handled the adversity and hurdles she has encountered,  which makes her accomplishments that much more amazing. This December, Sam graduated early as an English writing major. She has been on the Dean's List for each of the seven semesters she has been at Saint Mary's.  Carrying a 3.987 cumulative GPA, Sam will undoubtedly impress us with her wit as she takes the podium at graduation as the class of 2011 Valedictorian. A native of New Carlisle, Indiana, she is the daughter of Nancy and Dave Wieczorek and graduated in December with a degree in English writing. We are proud to present the 2011 Academic and Athletic Award to Sam Wassel.
Don Miller Belles Spirit Award - Liz Wade

The Don Miller Belles Spirit Award is presented to the person who best exemplifies the winning spirit of the College's athletic program.
In 2008, the Belles Varsity Club Award was re-named the Don Miller Belles Spirit Award in his honor as a longtime math professor and assistant softball coach for the Belles. His life was taken by pancreatic cancer, but his legacy lives on through the many lives he touched both in the classroom and on the softball field.  Coach Miller displayed true dedication and passion for Saint Mary's College and her Belles.  This award is presented each year at the Senior Athletic Banquet to the student-athlete who best exemplifies the winning spirit of the athletic program.
In the history of Saint Mary's Athletics, there have been thousands of athletes walk through the doors of Angela leaving their mark. They all have sacrificed for their teams and coaches. They all have put in countless hours of blood, sweat and tears in order to compete. They have pushed themselves and their teammates beyond their limits. They all have represented Saint Mary's with much pride. Some have left here as valedictorians, All-conference players, All-Americans, MVPs, and more. They leave behind their legacy for those to follow and ultimately succeed them. Tonight's recipient has certainly left her mark in the record books for Saint Mary's—but more importantly she leaves us with the challenge to inspire others as she has... just as Don did.
Liz Wade is a positive force to be reckoned with. She leads by example. During her time as a college basketball player, Liz became the first sophomore ever in the conference to be named the MIAA Defensive Player of the Year at the conclusion of the 2008-09 season. Last winter, Liz was the first player in program history to tally 100 steals and 100 assists in the same season. This past season, she has become the program's all-time leader in steals (308) and has become the first player to amass more than 300 career steals and 300 career assists. She has collected at least one steal and one assist in 89 of her 101 career games. She was recognized as second team All-MIAA this winter. She graduates as a part of the senior basketball class with the most wins in school history.
Liz has a quiet soul that generates so much fire and passion that she truly inspires others to be better. On the court, she has the ability to change the momentum of a game to favor the Belles in a single possession. Off the court, she has the power to light up a room just by walking in and saying hello. She genuinely cares for your well being. It is no wonder she is a nursing major!
Her compassion extends even to her opponents as she often would compliment them on their performance. Without a doubt, she is a class act who is well respected by her peers and opposing coaches. Liz has an undeniable passion for Saint Mary's athletics. She is often seen at other sporting events on campus cheering on her fellow athletes to victory. Her passion extends off the athletic fields as well. Just recently, Liz spent her spring break in Honduras on a service trip gaining hands on nursing experience while assisting with surgeries and other medical procedures.
A native of Palos Park, Illinois, she is the daughter of Jennifer and Bob Wade and will graduate in May with a degree in Nursing. After graduation, Liz plans to work at the Little Company of Mary Hospital back home. We are proud to present the 2011 Donald Miller Belles Spirit Award to Liz Wade.
Marvin Wood Outstanding Senior Athlete Award - Mary Kate Boyce

The Marvin Wood Outstanding Senior Athlete Award is presented to the outstanding senior athlete.
In 2000, the athletic department named the Outstanding Senior Athlete Award in honor of Coach Marvin Wood.  Coach Wood was an outstanding former basketball coach who finished out his career at Saint Mary's College.  His commitment, passion, and love for his athletes through the years inspired the nationally acclaimed movie, "Hoosiers" which highlighted the Cinderella basketball success story early in his coaching career. Coach Marvin Wood's former athletes describe him as a beautiful person inside and out.  They say his passion, faith, dedication and commitment to his players made their athletic experience at Saint Mary's a truly fulfilling and lifelong treasure for each of them.  It is with these thoughts in mind that we honor you, our outstanding senior athlete.

Coach Wood embodied positive leadership, passion for his sport, and love for his athletes.  He valued players with a strong work ethic; players that excel not only in their sport, but also in the classroom; players that make their teammates better through the example they set.  This year's recipient is the type of player that Coach Wood would have been proud of!
To have one great year takes hard work, but to have a consistently dominating career comes from dedication and belief in yourself and your abilities.  This year's Marvin Wood award winner has had one of the most prolific careers in the history of Saint Mary's College golf.
Mary Kate joined the golf team her sophomore year and made an immediate impact by leading the team to an automatic NCAA bid in the spring of 2009 and helping the Belles to a 10th place finish at the 2009 National Championship.  That was just the beginning of great things to come.  Through hard work and desire to be the best, Mary Kate worked tirelessly over the next two years to make her weaknesses become her strengths and is now one of the best players in the nation.
Mary Kate's career achievements are almost too numerous to mention but the highlights include being the 2010 MIAA tournament medalist, having the lowest score ever recorded in conference play (72), being selected to the 2009 and 2010 All-MIAA first team, being a 2010 NCAA All-American and twice being named as a NGCA Academic All-American.
On the course she is a fierce competitor and has the drive to be a champion. Yet, she has the character it takes to call a penalty on herself, which in fact she has done.  Like all great leaders she never doubts her abilities and always bounces back from adversity.
Mary Kate tied an NCAA record this spring by shooting 66.  Two weeks later, in 40 mph Texas winds, she had her worst day as a Belle with 94.  "That was a big slice of humble pie today coach," she said to me.  The next day she bounced back with a 75 to lead the team to an important victory. 
As a co-captain of this year's team, Mary Kate has been a great role model and inspiration to the nine underclassmen. She always seems to have the ability to put the team on her back and help inspire her teammates to great play when it is needed the most.  She has set a precedent of what a great player and leader can do for a team at Saint Mary's College.
In summation, she possesses something not often found, a combination of outstanding academics, physical ability, personal character, and competitive spirit at an unsurpassed level. Which is why, Mary Kate Boyce, a finance major from Oak Lawn, Illinois and the daughter of Matt and Cathy Boyce, is honored with the 2011 Marvin Wood Outstanding Senior Athlete Award.