2012 Senior Athlete Awards
Every year, the Saint Mary's College Athletic Department hosts an awards ceremony honoring the senior athletes who have been a part of the Department over the past years.  In addition to each senior athlete receiving a watch to commemorate their time spent participating in Belles' Athletics, a select few seniors are recognized with special awards, including the Don Miller Belles Spirit Award and the Marvin Wood Outstanding Senior Athlete Award.
Listed are the 2012 honorees.  To learn more about the award and read the citation of each award winner, please click on the individual's name.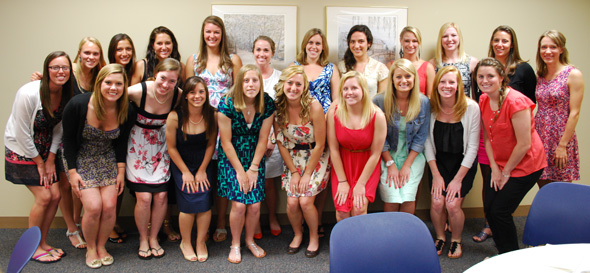 Belles Varsity Club Appreciation Award -  Barry Bowles
Helen Holland Voll '17 Award - Patsy Mahoney
Improvement Award - Jessica Centa
Leadership Award - Lauren Enayati
Sportsmanship Award - Christine Brown
Competitive Spirit Award - Kate Mitchell
Impact Award - Patsy Mahoney
Composure Award - Angela Gillis
Academic and Athletic Achievement Award - Joanne Almond
Don Miller Belles Spirit Award - Kristen Nelson
Marvin Wood Outstanding Senior Athlete Award - Audrey Dalrymple
Belles Varsity Club Appreciation Award - Barry Bowles

The Varsity Club Appreciation Award is presented annually to a member of the Saint Mary's community for extraordinary contribution to the Saint Mary's Department of Athletics.
There has been a member of our community that we have gone to time and time again for assistance, and have never been turned away.  Some people would probably hide under their desk when they see us coming, but Barry Bowles has always welcomed us with a smile and a "glad to help" attitude!
Barry understands that student-athletes have unique needs.  They miss meals in the dining hall due to travel for competitions and even practices.  He has worked with us year after year to continue to make the process and choices of boxed lunches for travel easier and healthier.  Barry has worked out meal options to overcome the challenges that are unique to our swim team with their practice times and conflicts with the campus meal schedule.  Although he probably thinks his willingness to listen to our challenges and assist us with solutions is "no big deal", the impact his assistance has had on the daily lives of our student-athletes has been immense.
In order to promote attendance at our events, Barry has brought the dining hall out to our fields.  He and his crew bring out the grill and cook up a feast!  The most recent tailgate was held on Holy Thursday.  At this event, he went above and beyond and offered free meals to our team, our opponents, and all fans – home and visitors alike!  The atmosphere of sportsmanship and camaraderie that this created was truly special.  It also helped to take the sting out of the loss for Calvin fans that day as our softball team soundly defeated them in both games of the doubleheader!
Barry has partnered with us on our service events of Pink Week and Dig for the Cure by providing us with beautiful pink desserts. He has an impressive presentation set up in Angela Athletic Facility of donated cakes, Rice Krispies Treats, cookies, brownies, and punch for us to sell.  All proceeds from these sales are donated to our sponsored cause.  When our visiting schools see the wonderful spread of desserts and hear that our dining hall has provided these desserts in support of our service events, they are in awe.  Unfortunately, this type of support and community is not the norm on other campuses. 
Further, Barry has worked hand in hand with our Belles for Fitness coordinator.  He had allowed her to set up table tents to advertise this wonderful wellness program.  He has volunteered his time to walk them through his Mind and Body website.  Barry has even set up power point presentations to show our Belles for Fitness participants how to navigate the dining hall website to maximize the benefits of healthy eating with their fitness program.
Saint Mary's College is a special place; and, it is because of people like Barry that the legacy of giving and community is strong.  It is with great honor that we present our 2012 Varsity Club Appreciation Award for extraordinary dedication and support of Saint Mary's College Athletics to Barry Bowles.
Helen Holland Voll '17 Award - Patsy Mahoney

The Helen Holland Voll '17 Award is to a Saint Mary's woman that embodies commitment and dedication to the college Intramural and Club sport programs.
The Helen Holland Voll Award was established in 1941 to honor a Saint Mary's woman who embodies commitment and dedication to the Intramural and Club sports programs. 
Athletes often hang around Angela outside of their practice hours because it is like a second home on campus. Nothing could be truer for Patsy Mahoney. If she is not on the basketball court or in the art studio, she's probably working in her make-shift office in Angela. Over the past two years, Patsy has served as the Intramural Intern and helped bring new life and participants to Intramurals.
When numbers were low, Patsy reached out to friends and previous Intramural captains, recruiting more teams for each season. Our Intramural numbers are higher than they have been in years. Besides actively recruiting participants, Patsy thought outside of the box to come up with new offerings like Minute to Win It games, fashioned after the television show. In addition, she proposed a grade-school classic, Bombardment, a twist on the game of Dodgeball, which proved to be an instant favorite.
Beyond her creativity, Patsy has been invaluable to the Intramural program because of her willingness to work. The winter has the highest participation, falling right in the middle of basketball season. Despite the busy time, Patsy was always willing to work Intramurals, even after late practices. There were definitely times when she had to be sent home to ensure her time intensive art projects were completed and she slept.
Patsy was easy to work with and always did what she was asked to without a complaint. Patsy helped design our t-shirts, posters and brackets for championships—which were always a nightmare to schedule! She also had the responsibility of overseeing the rest of the Intramural staff, resolving conflicts on the court, and closing up the gym after hours of competition. We could always trust that things would run smoothly under Patsy's direction. Her no-nonsense attitude and laid back style will be greatly missed.
Patsy graduates in May with a Bachelors of Arts in Studio Art. A native of Nashville, Tennessee, she is the daughter of Mary Catherine Dean and Bob Mahoney. We are proud to present the 2012 Helen Holland Voll Award to Patsy Mahoney.
Improvement Award - Jessica Centa

The Improvement Award is presented in recognition of demonstrated improvement and special contribution to Saint Mary's Athletics over a four-year period.
One of the best parts of being a coach is seeing your players come full circle at the end of their careers. As freshmen, they come into your program quiet, overwhelmed, and completely out of their comfort zone. Through the seasons, you see the development and maturity that comes with the battles, bruises, defeats, and wins. Specifically, this once unpolished yet talented player arrived and became a force to be reckoned with.
Jessica Centa became the quiet killer.  A woman of very few words, she let her game do all the talking. As a freshman, she didn't fit the mold when you think about your typical post players on a basketball court. Standing at 5'9, her coach tried to move her to a guard position - talk about eyes wide open—both hers and Coach Henley's!  That attempt to play a guard lasted for about an hour that day in practice four years ago. She stuck with the post position, knowing she was not only one of the shortest in the paint, but also fifth on the depth chart in her freshman season behind four All-MIAA performers.
With continued work and improvement, she became one of the most physical post presences this program has ever seen. She was so physical that, at times, her own teammates did not want to go against her in practice. Her junior year was a breakout year for her as she really began to turn heads.  By the time she was finished with her career, she had garnered both MIAA Athlete of the Week honors as well as Second Team All-MIAA accolades. 
Centa found her niche with the ability to keep an offensive possession alive. A kid who refused to be out-worked for rebounds, she notched more offensive rebounds than defensive rebounds in each season of her career. No one has done that in a Saint Mary's uniform since at least 1994.
Being out-sized in the post, Centa's athleticism had a chance to shine through. If you were ever able to watch her play, you know exactly what we are talking about any time she drained a turn-around jump shot from the free throw line.  She even found a way to jump over taller opponents to save an errant pass only to turn it into points.  Her athleticism also came through in her ability to get to the free throw line against some of the top players in the nation. When she got to the line, she took full advantage of the opportunity. She finished first in the MIAA in free throw percentage shooting 88 percent while holding a streak of 27 consecutively made free throws from January 14 through February 15 this past season. She also was the only player to have started the last 52 games in-a-row.
Voted captain by her peers, Jessica Centa embraced the basketball program and helped the Belles to a very impressive four year run as she and her fellow seniors tied the school record for career wins by a class this year. 
Known for her practical jokes on teammates, they voted for her every year, behind her back, for the Most Improved Team Player award…which she received three years in-a-row. It was not until Coach Henley announced she could no longer win it, that the award returned to its proper place. How fitting it is that tonight she leaves here with the Improvement Award.  
A native of Plymouth, Indiana, she is the daughter of Tom and Kristin Centa and will graduate with a Bachelor of Science degree in Biology. We are proud to present the 2012 Improvement Award to Jessica Centa.
Leadership Award - Lauren Enayati

The Leadership Award is presented for outstanding leadership, commitment, and dedication.
Good leaders do what is expected of them. They arrive early and leave late. They clean up the bus after a game. They make sure the team wears the correct clothing for practices and games. They lead vocally and by example, because that is what is asked of them. Great leaders are harder to find and do more than what is expected of them. They inform the coaches when there are problems within team. They get to know each person and find out what motivates them or, more importantly, what does not. They put in extra time and recognize that a person cannot be great by doing the bare minimum. It is what you do when no one else is watching that makes you a great leader.
Lauren Enayati has been an outstanding leader on the softball team since her first game. It was moments before the game when she realized she would be the lead-off hitter. This position in the line-up is essential to setting the tone of the game. The lead-off hitter is responsible for determining what the pitcher throws, testing the defense, and motivating the hitters following her. Lo has taken on that role for four years and has been phenomenal. She continued to get better each season, earning Second Team All-MIAA honors as a sophomore, and then garnering First Team All-MIAA honors her junior year. She has a career batting average of .355, and has committed only eight errors in her entire career.
Lo has been a leader both at the plate and on the field. She has been the center fielder, making her the captain of the outfield; taking charge of fly balls and making incredible catches look easy due to her amazing speed. She has consistently kept runners honest by always knowing where to go with the ball. Her speed on the bases may be her greatest strength on the field. She has turned countless base hits into doubles and led the team in stolen bases during every season of her career.
Lauren's leadership on the field paled in comparison to how she led off the field. Lo asked over and over again for leadership training. She took her role as a motivator and captain to heart and worked hard to understand and respect each of her teammates. She has put in countless hours behind the scenes, which has not gone unnoticed by her coaches, teammates, or members of the Athletic Department. When the team struggled over the years with players quitting, injuries, or tough losses, Lo helped to pick up the pieces and find a way to right the ship. She has incredible mental toughness and holds the team to a high standard. She sets the bar even higher for herself, and it is that level of personal accountability that has led her teammates to respect and follow her.
A native of Crete, Illinois, she is the daughter of Terri and Rod Hunter. She will graduate in May with a degree in Nursing and plans to work in a critical care unit in a hospital in Chicago. We are proud to present the 2012 Leadership Award to Lauren Enayati.
Sportsmanship Award - Christine Brown

The Sportsmanship Award is presented for sportsmanship, fellowship and contribution to the College.
The Sportsmanship Award is presented to someone who not only demonstrates the act sportsmanship in the athletic endeavor, but also shows fellowship with teammates, other athletes, and the student body.  It also considers a student-athlete's contribution to the betterment of the College. This award is given to the student-athlete who does not just preach the mission of the College and the MIAA, but promotes it through practicing the virtues of sportsmanship on and off of the athletic fields of play.
During competition, a true sportsman shows respect for the game, her teammates, and her opponents.  She must be humble in victory and graceful when falling in defeat.  She must be as happy with a teammate's success as her own. She must never give up regardless of how dire the situation may appear.  This year's winner displays all of the traits one worthy of this award must show when representing the Belles around the country in her sport.
But that is only a small part of why Christine Brown is the recipient of this year's award.  She came to campus like most other freshmen, a little shy to meet others and slightly unsure of her path.  Within a year, Christine found her calling through golf and serving the College through many different venues.  So many callings, in fact, her coach had to constantly remind her to remember to take time for herself.
She has been a member of the Student Diversity Board since 2009.  She has been an integral part of the Diverse Students' Leadership Conference for three years, helping design a conference to increase the awareness of diversity and address the critical issues facing today's minority college students. 
Christine has been the Athletic Commissioner for the Saint Mary's Student Government Association since 2010.  She spent countless hours working on ideas and events to help promote school unity and spirit between athletic teams and the student body.  Through the Student Government Association, Christine was part of numerous committees and focus groups aimed at improving a student's overall experience here at Saint Mary's.  We are sure she will be pleased when she returns to campus sometime in the near future and sees some of her ideas brought to fruition.  We believe her legacy will be here long after she graduates.
She was a member of the McCandless Hall Council her sophomore year and is currently in her second year as a Resident Advisor, keeping the peace and helping younger classmates with the everyday struggles of college life.
Christine has been a member of the golf team for four years and was an integral part of the Belles fourth place finish at the 2010 National Championship.  She is a captain on this year's team and is currently preparing to lead her team into the NCAA Championships.
She will be sorely missed not for not only what she has done for the golf team but for all she has done to help make Saint Mary's College a better place now and in the future.
A native of Canfield, Ohio, she is the daughter of Gary Brown and Victoria Korb and will graduate with a Bachelor of Arts in Business Administration with a concentration in Marketing and a minor in Advertising.  Upon graduation, she will be working for the Disney Corporation in Orlando, Florida, continuing her work of helping everyone have a "magical day."  We are proud to present the 2012 Sportsmanship Award to Christine Brown.
Competitive Spirit Award - Kate Mitchell

The Competitive Spirit Award is presented in recognition of demonstrated passion and love for the sport through work-ethic, desire to succeed, and commitment to teammates.
Passion for the sport is essentially why every Saint Mary's athlete participates. The desire to win, the challenge to achieve goals, and the pride felt in overcoming adversity best exemplify this year's award winner. Kate Mitchell has battled and conquered adversity to become a competitive and driven softball player.
Kate visited Saint Mary's half a dozen times before finally arriving on campus as a freshman. She seemed excited to be here and was sold on both the school and the softball program. Like many students, however, Kate felt the pain of being far from home and convinced her family after the first semester she would be transferring. Her dad asked her to stick it out for the entire year and play at least one semester of softball. Kate, being the strong-willed and often stubborn person that she is, stayed to finish out the year. She went on to be a four-year starter on the softball team, a member of the Student Athlete Advisory Committee, a student trainer during the fall semesters, and often popcorn maker with teammate Kristen Nelson. If you need to find Kate, just look in Angela she is sure to be there in one capacity or another!
Kate has come a long way as a softball player. She was the starting third baseman her first year, but found herself struggling at the plate. Instead of giving up, she dedicated extra time to the art of hitting. She came in on her own to take cuts off of the tee, progressed herself to front toss, and then the pitching machine. She was often frustrated, but has become a stronger player thanks to the challenges she has had to overcome. Just when hitting seemed to be the greatest challenge, her sophomore year the team was in need of a first baseman. Kate, full of versatility, seemed to be the natural fit for the position. She had a great glove and possessed the ability to instill confidence in each of the infielders. Kate had a fantastic year. Her hard work and effort paid off as she garnered Second Team All-MIAA honors with a .400 batting average in conference games.
Kate played another year at first base, committing only one error all season and hitting .357, her best year to date, until her injury occurred. Kate injured her knee sliding in a game against Trine University. Thankfully, it was not a serious injury, but serious enough to sideline Kate for the next three doubleheaders, including one against MIAA opponent Adrian College. Adrian was 24-0 at the time, and it was the chance of a lifetime to beat the only undefeated team remaining in any level of collegiate softball. Kate was disappointed, but it was at that moment that she showed how she could put the team above herself. She helped out her back-up at first base, she tried to steal the coaches' signs, and most of all stayed positive for the team as they handed Adrian their first loss of the season. Kate has always been the one to bring a smile to someone's face or lighten the mood with a joke. Her laugh is a bright spot at tough times, and she brought everything she could to the games she could not physically play in. She incurred another injury this season, preventing her from playing in a few more games. Kate was able to take what she had learned last year and worked diligently with Jason, our Athletic Trainer, to get back on the field. Though already bogged down with the stresses of school and sports, Kate was able to find time to come in at least twice a day for treatments. Her hard work and dedication paid off once again, as she returned to play a week earlier than expected.
A native of Swarthmore, Pennsylvania, she is the daughter of Mike and Patty Mitchell and will graduate in May with a degree in Political Science. She plans to attend law school following graduation. We are proud to present the 2012 Competitive Spirit Award to Kate Mitchell.
Impact Award - Patsy Mahoney

The  Impact Award is presented to the senior athlete who elevates the intensity and focus of a game beyond what statistics can measure.
Every coach has a player that can be identified as the "calm in the storm." This player does not panic when the game is on the line. They know exactly what is needed and they rise to the occasion. Coaches need this type of player in the game. Every coach also has a player that is the storm! You never know what you are going to get or how bad it is going to be. Most times, you do not even see it coming.  It is almost impossible for the same player to be both... unless we are talking about Patsy Mahoney.
Patsy spent the first two-and-half seasons as "the storm". Along the way, Patsy just flat out "grew up" in the basketball program. She struggled early on to find her way. Over time, she discovered the art major and all was right with the world!
Emotionally, Patsy has matured. One of the most brash athletes, Patsy had a flare to somewhat defy authority. Her competitive spirit sometimes got the best of her. On more than one occasion, it was uncertain if Patsy was going to make it through the week, or even the season for that matter. You might say her attitude and approach to basketball needed some adjusting.
But as the saying goes, "What does not kill us, makes us stronger!" Patsy channeled her passion in the right direction and became a force to be recognized. Regardless of statistics, every opposing coach we faced knew the name Mahoney. Teams had to prepare for her long range ability as well as her flare to draw a foul – however dramatic it may have been. Defenses had to find her every time down the floor before she hurt them with the ball. She truly has been a difference maker.
Patsy's breakout game was during her freshman year when Saint Mary's took down #1 ranked Hope College on January 3, 2009. The only freshman in the starting lineup, Patsy dropped 18 points and grabbed nine rebounds to help Saint Mary's to its first win over Hope College ever in MIAA play. The victory over #1/#3 Hope (#1 USA Today/ESPN; #3 d3hoops) was the first win for the Belles over a nationally ranked opponent since joining the ranks of NCAA Division III over a decade ago. 
In her four years, Patsy has been ranked nationally for her free throw percentages and became the fifth player in school history to have 100 assists in a season. On December 29, 2011, Patsy became just the tenth player in school history to score her 1,000th point and concluded the season as the third player ever to have 300 career assists and 1,000 points. She finished the year in MIAA statistics this past season ranked fourth in scoring, third in assists, tenth in free throw percentage, and sixth in steals. A two-time MIAA Player of the Week this year, she scored at least ten points in 13 of the Belles' league contests, including a career-high 29 points in a win over Olivet. In fact, Patsy has scored at least one point in every single game she has played in.
She joins her senior teammates as one of the most successful classes in program history as they tied the school record for career wins by a class this year.  There is no doubt Patsy has left her mark on the basketball program.
A native of Nashville, Tennessee, Patsy is the daughter of Mary Catherine Dean and Bob Mahoney and will graduate with a Bachelor of Arts in Studio Art. We are proud to present the 2012 Impact Player Award to Patsy Mahoney.
Composure Award - Angela Gillis

The Composure Award is presented to the person who shows unparalleled poise and self-control in the face of pressure and competition.
Sports incite emotions. With the highs of competition come the lows. Many players cannot remain composed enough to deal with these emotions. They become consumed by them and result in taking themselves out of the game. Rarely, there will be that player who is the "Rock" of the team. The person everyone can look at and know if the game is on the line, they want that player to take the last shot, anchor the last relay, or throw the last pitch. Angela Gillis is the "Rock" of this year's senior class.
Angela came to Saint Mary's as a celebrity of sorts in the area. She was an incredibly successful softball player, competing not only on her high school team, but nationally as a member of the Central Team in the Little League World Series. She pitched as well as played the infield. She was an all-around solid softball player. Her choice to continue her softball career here at Saint Mary's made for a great addition to the softball program.
Angela took on the role as the game two pitcher and had instant success. She started the year 10-0, incurring her first defeat in a heartbreaking 4-3 loss against powerhouse Alma College. Angela used her incredible knowledge of the game to outsmart hitters. She did not throw the ball with blazing speed; instead, she moved the ball efficiently and got hitters to chase bad pitches. She worked the corners of the plate and gave up only 18 walks in 527 batters faced!
While Angela is a valuable pitcher, she is even more beneficial as a second baseman. In the last two seasons, Angela has played mostly second base, committing a mere four errors in nearly 250 chances. Seeing her make a mistake is a rarity. Any time the ball is hit to her, the defense is confident she will make the play, whether it be a routine ground ball or a diving play up the middle. 
Angela is the person you want to throw the last pitch. The one everyone wants to have the last at-bat of the game. The teammate you look to after you just made an error. She makes the game look effortless. She controls her emotions and conveys a quiet confidence. Watching her play, you would think she had ice in her veins. She never gets flustered and unless one knows her very well, you would never know if something is bothering her. It takes a lot to get her to even crack a smile, often only happening when a player makes a ridiculous comment or Coach Sullivan screams on the sidelines about one of her many "sick" pitches. Off the field, it is obvious Angela has many emotions. She is gracious, kind, generous, and thoughtful. It is easy to see from the support of her family, who hardly ever miss a game, where she has learned to be such an amazing person. It is even more apparent in her son, Dylan. She is truly a dedicated and committed woman, completing her degree, playing four years of collegiate softball, and raising an incredible, if precocious at times, son. Angela's success in everything she has done can be nothing but motivational for all who follow her.   
A native of Granger, Indiana, she is the daughter of Pete and Cindy Gillis and will graduate in December with a degree in Communicative Disorders. She plans to go to grad school for her master's in Speech and Language Pathology and become an SLP focusing in the area of Augmentative and Alternative Communication intervention techniques for adults and children unable to express their own wants and needs. We are proud to present the 2012 Composure Award to Angela Gillis.
Academic and Athletic Achievement Award - Joanne Almond

The Academic and Athletic Achievement Award is presented for outstanding academic and athletic achievement and future promise as a Saint Mary's graduate.
Vince Lombardi once said, "It is time for us to stand and cheer for the doer, the achiever, the one who recognizes the challenge and does something about it." As a freshman, our academic and athletic achievement award recipient stated the following team weaknesses in a pre-season questionnaire, "Not all of our conversations, attitudes, and lifestyle choices focus on making the team stronger." Here was a doer, an achiever who wanted to make a difference by demonstrating the attitudes, actions, and choices necessary to become an even better team. Joanne Almond immediately started working on elevating the cross country team to new levels of greatness.
During her career, Joanne scored in every meet for the Belles except one—the Manchester Invite near the end of her sophomore season. After that race she would never finish below second on the team for the remainder of her career. The ability to perform at a consistently high level and lead her team for two more years is beyond impressive. It takes a lot of hard work and dedication. Unsurprisingly, she was awarded the Best Mental Attitude Award by her teammates as a sophomore for her resilience, determination, and competitiveness.
Discovering an iron deficiency that summer, Joanne was dedicated to her health and rebounded well.  She accomplished her junior pre-season 5k goal of breaking 20:00 in the first 5k race of the season. The early success was a surprise to Joanne. She struggled to re-assess her goals, and while still successful, she battled a long season of mental turmoil of seemingly missed opportunities. However, we do know one thing about strong student-athletes. They know how to come out on top. Armed with her newfound fitness and goals, Joanne left for her last offseason on a mission. The result: summer training that would pave the way for a memorable senior season in which she led the team across the finish line for every race—except for the one where she stopped to tie her shoe.
Joanne's times steadily improved over her four years. As a freshman she ran a season best of 20:29 in the 5k to racing an impressive 18:42 for the 5k by her senior year, dropping a 1:47 off her total time. Joanne's 18:42, or 6:01 mile pace would be good enough for the second best mark ever in the 5k by a Belle. Joanne dropped the same amount of time (1:47) in the 6k race over her four years. In her last race as a Belle, Joanne ran a personal best of 22:58 in the 6k. It is no wonder she was voted the Most Valuable Runner by the team as a senior captain.
Joanne has continued to propel the team in the right direction by being an advocate of study tables and supporting her teammates in their classes. Like many of her teammates, holding the highest team GPA is one of Joanne's recurring goals that surfaces at the start of each season. During every year of Jo's career, the team has garnered this distinction. Carrying a 3.92 GPA, Joanne embodies scholarship. During her four years, she has been a Moreau Presidential Scholar, named to the MIAA Academic Honor Roll each year and is an Academic All American. As an accounting major and math minor, she has been recognized by the Business department in several capacities. Joanne is the recipient both of the First Year Student Award and more recently the recipient of the Crowe Horwath Award, given to the accounting senior for outstanding achievement in personal and advanced topics in income tax.
Joanne has shared her gifts and talents with her peers as a Financial Accounting Tutor and a tutor in the Writing Center. Her academic success has been supplemented through her involvement in the Lady Accountants of Tomorrow.  All of her experiences paid off, landing her a competitive internship at Deloitte this past summer, and ultimately a job with them starting in January 2013. During the "down" time from graduation to the start of her job, Joanne will be sitting for her CPA exams and has accepted our offer to serve as our Saint Mary's assistant cross country coach this upcoming fall!
A native of Lafayette, Indiana, she is the daughter of Rosemary and Jim Almond. We are proud to present the 2012 Academic and Athletic Award to Joanne Almond.
Don Miller Belles Spirit Award - Kristen Nelson

The Don Miller Belles Spirit Award is presented to the person who best exemplifies the winning spirit of the College's athletic program.
In 2008, the Belles Varsity Club Award was re-named the Don Miller Belles Spirit Award in his honor as a longtime math professor and assistant softball coach for the Belles. His life was taken by pancreatic cancer, but his legacy lives on through the many lives he touched both in the classroom and on the softball field. Coach Miller displayed true dedication and passion for Saint Mary's College and her Belles. This award is presented each year at the Senior Athletic Banquet to the student-athlete who best exemplifies the winning spirit of the athletic program.
To be an NCAA Division III athlete, one must have passion for their sport. This passion is the reason every athlete in this room competes. There is no money involved, nothing financially to entice players, just a love of the game that cannot be measured. The chance to compete and win at a higher level drives our athletes. While every athlete at Saint Mary's shows this love of their sport, some go above and beyond and encapsulate everything that makes our Athletic Department successful.
Kristen Nelson embodies the spirit of the Saint Mary's Athletic Department. She bleeds blue and white. She loves this school and shows it every chance she gets. Kristen has not only been a four-year starter for the softball team, she also played a year of soccer when the team was in need of a goalkeeper. She consistently supports other programs, whether it is by leading the cheering section, convincing Coach Henley she is trying out for basketball next, or making popcorn for games, and is well-known by nearly every coach and athlete in the Department.
Kristen came to the softball team as an outfielder. She had great speed and, thanks to her coaching background, great knowledge of the game. When the team's shortstop went down with an injury, Kristen stepped in to play the infield. She never complained, in fact, she actually welcomed the new challenge. As a sophomore, the team needed a third baseman, so she graciously moved to her fourth position in only two years. She has started all but one game of her career and truly found her niche in the ninth spot in the batting line-up. While most teams tend to write off the last hitter in the line-up as the weakest batter, Kristen surprised everyone with her doubles, and sometimes triples, to the outfield gaps.
As a senior, she had the best season of her career. She led the team in batting average, triples, slugging percentage, and on base percentage. Kristen's career batting average was a .322. She has been the spark plug of the softball team offensively. She brought her own brand of swagger to the field, along with her strategically placed eye black, a ritual worth watching for those who think of eye black as merely a tool rather than the essential intimidation accessory Kristen would argue it actually is.
It was not just her play on the field that made her a valuable teammate. She grew so much as a player and leader, and once she figured out that she was a significantly better player when she was having fun, she made a concerted effort to always have a positive attitude. She picked up her teammates when they were down, she started many of the team's rallies, and she did it every time with a smile on her face. That smile made Kristen more valuable than any of the hits she had or catches she made. She is the kind of player every coach wants to have, and her love of the sport is what truly makes her a great softball player and teammate. Her gritty play and passion for her sport are both things that Coach Miller would have admired about Kristen's approach to the game of softball, making it only fitting that she receive this award.
A native of Grand Rapids, Michigan, she is the daughter of Julie and John Nelson and will graduate in May with a degree in Business Administration. She plans to pursue a business career for a sales or management track position. We are proud to present the 2012 Don Miller Belles Spirit Award to Kristen Nelson.
Marvin Wood Outstanding Senior Athlete Award - Audrey Dalrymple

The Marvin Wood Outstanding Senior Athlete Award is presented to the outstanding senior athlete.
In 2000, the Athletic Department named the Outstanding Senior Athlete Award in honor of Coach Marvin Wood.  Coach Wood was an outstanding former basketball coach who finished out his career at Saint Mary's College.  His commitment, passion, and love for his athletes through the years inspired the nationally acclaimed movie, "Hoosiers" which highlighted the Cinderella basketball success story early in his coaching career.  Coach Marvin Wood's former athletes describe him as a beautiful person inside and out.  They say his passion, faith, dedication and commitment to his players made their athletic experience at Saint Mary's truly fulfilling and a lifelong treasure.  
Coach Wood embodied positive leadership, passion for his sport, and love for his athletes.  He valued players with a strong work ethic; players that excel not only in their sport, but also in the classroom; players that make their teammates better through the example they set.  Not only is this year's recipient an incredibly talented athlete, but Audrey Dalrymple is the epitome of the attributes that Coach Wood highly valued. 
Swim coach Mark Benishek will tell you she is one of the strongest leaders he has ever coached.  He shared that, "Audrey holds herself to the highest standards in and out of the pool.  This is one of the reasons every swimmer on our roster looks up to her as an athlete and a role model.  Audrey always puts the team before herself.  This display of leadership and care is what makes her truly stand out."
Teammate Liz Palmer describes Audrey as "a person who leads by example and always gives her all in everything she does."  Further, Liz states, "I have truly never seen her settle for anything less than her best.  As a teammate, she constantly pushes me to give my all.  When we are in the water, her drive and determination are contagious.  From inspirational talks to pump up quotes and cheers, Audrey motivates all of us to be better swimmers and better people."
Audrey is one of the most talented swimmers to ever grace our program.  As a freshman, she competed at the NCAA Division III Swim Championships.  While there, she won her heat and set a school record in the 400 IM - ultimately finishing 22nd in the nation in that event.  She completed her trip to nationals that year with a 17th place finish in the 200 breaststroke and 26th in the 100 breaststroke.  Including her sophomore year when she studied in Ireland during her spring semester, Audrey has earned a "B" cut qualifying time for the NCAA Division III Championships each year.  Her ability to consistently perform at the highest level is demonstrated by the fact that she has won at least one event at every Division III dual swim meet that she has competed in, adding up to nearly fifty first place finishes!  She even notched a win against NCAA Division I Valparaiso University this season.  Audrey has shown similar success at invitationals.  She has earned a spot in the "A" final or championship heat at least once at every invitational that she has competed in during her collegiate career.  Audrey has re-written the record books with four individual school records and three relay school records.  She is just the second swimmer in program history to earn All-MIAA distinctions in three or more seasons. 
That same drive that Audrey displays in the pool is also applied in the classroom.  Audrey is a student first.  So much of her energy goes into her academic performance that it is amazing she has anything left to give athletically.  She is a biology major/chemistry minor with a 3.52 grade point average.  She is an Academic All-American and has also earned MIAA academic honors.  She has enriched her college experience further by studying abroad in the spring semester of her sophomore year.  In the summer of 2011, she served as a research intern in Nicaragua; and, this summer, she has been asked to lay the foundation for a new program in Lima, Peru modeled after our Ghana program.  She will work in a clinic and a school addressing women's health issues.  A better ambassador could not have been chosen to pave the way for this new program which will benefit Saint Mary's students for years to come.   Following her time in Peru, Audrey has been asked to return to Nicaragua to help develop sustainable farming and solar panel energy for the eco-lodge on the island.
Audrey's example of leadership, balance and excellence would have made Coach Marvin Wood very proud.
A native of Grand Rapids, Michigan, Audrey is the daughter of David and Mary Dalrymple.  We are proud to present the 2012 Marvin Wood Outstanding Senior Athlete Award to Audrey Dalrymple.