Saint Mary's Teams, Student-Athletes Honored by MIAA for Academic Success
NOTRE DAME, Ind. - Three varsity teams and nearly forty student-athletes earned MIAA academic honors as announced by the league office on June 30.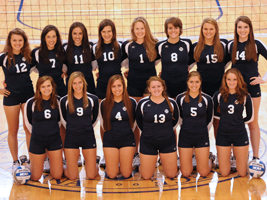 The volleyball team had the highest GPA among
the eight Belles varsity sports.Three of the College's eight varsity programs maintained at least a 3.30 cumulative GPA to earn MIAA Team GPA recognition, joining 65 teams from across the conference to gain the honor. Leading the team honors was the volleyball team with a 3.52 grade point average. The Belles tennis team was recognized for their 3.42 team GPA while the cross country squad also made the list with a 3.35 team grade point average.
Thirty-eight Saint Mary's student-athletes were recognized with the MIAA Academic Honor Roll distinction by holding a 3.50 cumulative GPA or above for the entire 2013-14 academic year. Each of the College's eight varsity teams had at least two members named to the honor roll list.
Twenty of this year's honorees had achieved MIAA Academic Honor Roll status in a prior year while eleven Belles earned the recognition in their first year with Saint Mary's varsity athletics. Graduating soccer player Jordan Diffenderfer was one of 70 student-athletes across the MIAA to earn the Academic Honor Roll distinction in each of their four years competing in the conference.
Each of the College's eight varsity teams had better than a 3.00 cumulative grade point average in 2013-14 while the athletic department posted a cumulative 3.279 GPA last academic year.

2013-14 MIAA Team GPA Award
Saint Mary's Volleyball (Toni Elyea), 3.520
Saint Mary's Women's Tennis (Dale Campbell), 3.420
Saint Mary's Cross Country (Jackie Bauters), 3.350
2013-14 MIAA Academic Honor Roll
* denotes number of years on MIAA Academic Honor Roll
Cathy Baxter*, LX Fr (East Grand Rapids, Mich./East Grand Rapids HS)
Brittany Beeler*, CC Fr (Spring Lake, Mich./Spring Lake HS)
Shanlynn Bias**, BB Sr (Griffith, Ind./Griffith HS)
Rosie Biehl*, SO Fr (Chesterton, Ind./Chesterton HS)
Alexi Bown*, GO Sr (Belvidere, Ill./Boylan Catholic HS)
Sarah Burke**, SB So (Homewood, Ill./Homewood-Flossmoor HS)
Sarah Callis**, SB So (Pittsboro, Ind./Brownsburg HS)
Victoria Connelly***, SB Jr (Crown Point, Ind./Crown Point HS)
Angela Dainelli*, SB So (South Bend, Ind./Riley HS)
Allie Danhof**, CC So (Grand Rapids, Mich./GR Catholic Central HS)
Katlynn Dee*, LX Fr (Chicago Heights, Ill./Marian Catholic HS)
Jordan Diffenderfer****, SO Sr (Rockford, Mich./Rockford HS)
Shannon Elliott**, TE Jr (Plymouth, Ind./Plymouth HS)
Taylor Etzell***, VB Jr (Northfield, Minn./Northfield HS)
Mary Catherine Faller***, TE Sr (Green Bay, Wis./Notre Dame Academy)
Andrea Fetters*, TE So (West Milton, Ohio/Milton-Union HS)
Jen Georgeson*, VB So (St. Charles, Ill./St. Charles North HS)
Meaghan Gibbons*, VB Fr (Dallas, Texas/Ursuline Academy)
Samantha Grady**, VB Jr (Corrales, N.M./Bosque HS)
Katie Hecklinski*, VB So (South Bend, Ind./Saint Joseph HS)
Audrey Kiefer***, TE Jr (Hinsdale, Ill./Fenwick HS)
Jackie Kjolhede**, TE Jr (Novi, Mich./Northville HS)
Krista Knapke**, BB So (Clayton, Ohio/Northmont HS)
Melanie Kuczek*, VB Jr (Deerfield, Ill./Deerfield HS)
Kathryn Marshall*, CC Fr (Dayton, Ohio/Chaminade Julienne HS)
Meredith Mersits**, VB Jr (South Bend, Ind./Saint Joseph HS)
Sarah Neeser*, LX So (Granger, Ind./South Bend Saint Joseph HS)
Maggie Pacana*, CC Fr (Bolingbrook, Ill./Montini Catholic HS)
Ariana Paul***, BB Jr (Valparaiso, Ind./Valparaiso HS)
Kati Schneider***, VB Jr (East Sparta, Ohio/Canton South HS)
Rachel Schulte**, SO So (Okeana, Ohio/Oldenburg Academy)
Eleni Shea**, BB So (Fort Wayne, Ind./Bishop Dwenger HS)
Anna Stollhans*, SO Sr (Okemos, Mich./Okemos HS)
Lauren Telford*, LX Fr (Lakewood Ranch, Fla./Sarasota Cardinal Mooney HS)
Sarah Thompson*, CC Sr (New Carlisle, Ind./New Prairie HS)
Mollie Valencia**, SO Sr (West Melbourne, Fla./Melbourne Central Catholic HS)
Courtney Wright***, SO Jr (Williamston, Mich./Williamston HS)
Katie Zielinski*, GO So (Mishawaka, Ind./Penn HS)