2013 Senior Athlete Awards
Every year, the Saint Mary's College Athletic Department hosts an awards ceremony honoring the senior athletes who have been a part of the Department over the past years. In addition to each senior athlete receiving a watch to commemorate their time spent participating in Belles' Athletics, a select few seniors are recognized with special awards, including the Don Miller Belles Spirit Award and the Marvin Wood Outstanding Senior Athlete Award.
Listed are the 2013 honorees. To learn more about the award and read the citation of each award winner, please click on the individual's name.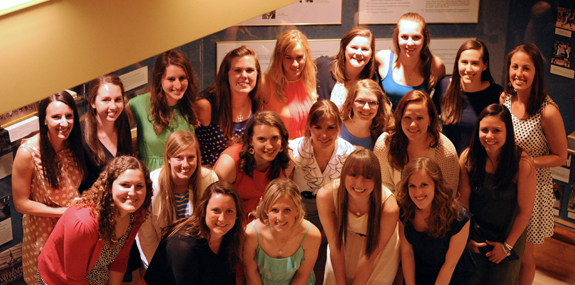 Belles Varsity Club Appreciation Award - Jason Kolean
Improvement Award - Sarah Copi
Improvement Award - Liz Litke
Competitive Spirit Award - Emily Sherwood
Impact Award - Maddie Meckes
Leadership Award - Genevieve Spittler
Athletic Integrity Award - Angela Nebesny
Academic and Athletic Achievement Award - Elizabeth Majewski
Don Miller Belles Spirit Award - Liz Palmer
Marvin Wood Outstanding Senior Athlete Award - Morgan Bedan
Belles Varsity Club Appreciation Award - Jason Kolean
The Varsity Club Appreciation Award is presented annually to a member of the Saint Mary's community for extraordinary contribution to the Saint Mary's Department of Athletics.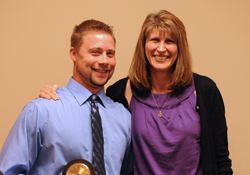 "Other duties as assigned." These are the words that are found in the fine print usually at the very end of a person's job description. They are often looked past as insignificant; to be certain, after this spring, members of the athletic staff will be reading the fine print much closer.
Going into this spring golf season, our program was without a coach. After a search failed to yield a suitable candidate to lead our strong program, we decided to assemble an interim staff and re-open the search in May.
Several staff members took on extra duties so that the program would not miss a beat until a full-time coach could be hired. Assistant coach Jackie Potter stayed on to assist with practices. Our volleyball coach, Toni Elyea, took over the recruiting duties. Dale Campbell, our tennis coach who is also a PGA certified instructor, assisted whenever possible as a swing coach. Ashley Steffey, our athletic trainer intern, stepped up to help even more with event and practice coverage. Our basketball coach, Jenn Henley, became the director of golf operations making travel arrangements, ordering equipment, and - the biggie - making sure the golfers were well-fed; and finally, Jason Kolean, our athletic trainer, took the lead role as the designated interim head golf coach. This interim staff demonstrated outstanding dedication to the program and to our golfers.
As much as this was a team effort, Jason Kolean really went above and beyond in leading this team. We ordered a golf rule book as a reference for Jason. Day one, he read it cover to cover and actually absorbed it. He became a true student of the game. He learned rules from both an NCAA and MIAA standpoint and put a tremendous amount of time into learning how to run an effective practice, host a conference golf event, and manage a sport program. Overnight, Jason went from a recreational golfer to an instructor/coach.
Although Jason had to learn to manage athletes from a totally different perspective, he made this transition from support staff to head coach look seamless. He did a great job of earning the trust of the current team members. He set up individual meetings with each golfer to get to know their goals and begin to understand what motivated them individually and as a team. He showed them respect and, in turn, earned theirs. An opposing league coach, who does not often hand out compliments, even commented on the outstanding job that Jason did with the program this spring.
As a first year coach, Jason had a very successful season. A team goal set this spring was to score a 325 or less. This was accomplished with a team score of 322 at their first spring outing under Jason's leadership. On top of accomplishing their team goal, half of the team either tied or scored their personal collegiate best low round. Two golfers even broke into the 70s! In their second spring invitational in St. Louis, the Belles finished ninth out of 20 teams in a field that featured eight nationally-ranked teams from NCAA Division III, NAIA, and NJCAA. Capping off the spring season, the Belles finished second at the NCAA Automatic Qualifier with three of our golfers finishing in the top ten.
As much as Jason was our interim golf coach, he was still our head athletic trainer. Jason is a person of strong integrity and, because of this, he did not allow either of his positions to suffer. He managed to maintain quality care for all of our student-athletes. He continued rehab sessions with our injured athletes, updated their coaches on restrictions and limitations, arranged our annual spring athlete screenings, and covered home events when he was not scheduled with the golf team. Coach Jenn Henley said it best, "That is who Jason is. When he commits, he is all in!" Jason's positive manner and disciplined approach has laid a solid foundation for our next golf coach to build upon.
It is with great honor that we present our 2013 Varsity Club Appreciation Award for extraordinary dedication and support of Saint Mary's College Athletics to Jason Kolean.
Improvement Award - Sarah Copi
The Improvement Award is presented in recognition of demonstrated improvement and special contribution to Saint Mary's Athletics over a four-year period.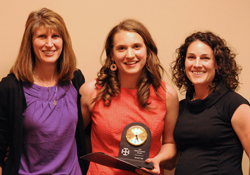 The journey of self-discovery can be a long one, and for many the starting line is college. It is during those years that students learn independence, responsibility, their vocation, and sense of purpose in the world. Ernest Hemingway has been quoted saying, "There is nothing noble in being superior than your fellow man; true nobility is being superior to your former self." Through her four years of self-discovery, nothing could be more accurate of our 2013 Improvement Award recipient, Sarah Copi.
In August of 2009, Sarah came out for the cross country team with a heart of gold but fears of plenty. Even with the support of eight other first-years and seasoned teammates, she struggled to find her place. Sarah tried to adjust to the endless changes found in college. Running was hard. The first 6k she competed in as a Belle registered a 28:37. Her first 5k was better paced than the 6k, but equated to just breaking the 23:00 minute barrier. Despite what even she would deem lackluster performances as a first-year, Sarah possessed the drive to improve.
After her freshman season, breakthroughs were in abundance both on and off the course. With the willpower to train through the off-season, she saw steady improvements in her races during her sophomore year and broke well into the 25:00 minute range in the 6k. Junior year was a mix of highs and lows. By the end of that season, she had run a lifetime best in the 6k with a time of 25:05; however, it took a lot of time in the pool nursing some nagging injuries to get there!
The summer before her senior year, Sarah headed to Uganda for six weeks to enhance her teaching skills and challenge herself. Not surprisingly, training in Uganda is very different than training in the Midwest. Unlike the fairly flat, paved terrain at home, running in Uganda meant running up and down a plethora of red dirt hills. As she trained, packs of barefoot school children would sometimes chase her for a few minutes or for a few miles. Her little training buddies were welcomed to help pass the miles in the summer heat and humidity of Uganda. Her diligence while abroad paid off. Sarah capped off her senior season with a personal best in her final race as a Belle at the NCAA Division III Regional meet by running a 24:54 6k, which translated into an overall finish 37 places better than the previous year's finish. In all, Sarah bettered her 6k time by nearly four minutes since her freshman year, or a minute per mile quicker!
Beyond being an asset and leader for the cross country team, Sarah has led in many other capacities on campus. She has represented cross country on Student-Athlete Advisory Committee for the past three years. The Residence Hall Association has utilized her skills as she has held the positions of Regina Hall President, Executive Secretary, Vice President, and finally President of RHA. Additionally, her work in the school systems extends beyond her student-teaching. For the past three years, she has volunteered as a tutor through the College Academy of Tutoring program at various local schools.
A native of St. Joseph, Michigan, she is the daughter of Denise and Andrew Copi and will graduate in May with a degree in elementary education and a minor in early childhood development. After graduation Sarah plans to pursue a teaching job in the southwest Michigan area. We are proud to present the 2013 Improvement Award to Sarah Copi.
Improvement Award - Liz Litke
The Improvement Award is presented in recognition of demonstrated improvement and special contribution to Saint Mary's Athletics over a four-year period.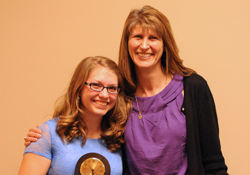 Many times in life, improvement cannot necessarily be gauged very easily. Professional improvement is not marked in personal-best times or lifetime records. Personal improvement is much the same. But in the beauty that is athletics, improvement is not only achieved through hard work, dedication, and commitment, but it can be measured in ways unlike any other realm of life.
In her first dual meet of her collegiate career, Liz Litke swam in exactly one individual event - the 100 butterfly. Having been just a year behind one of the program's most prolific swimmers, it is no wonder that Little Liz did not immediately swim the stroke that would prove to be her most successful - the breaststroke.
During her junior season, Liz made significant cuts in time in each of her individual events from the beginning of the season to the MIAA Championships. Until her junior season, she had not competed in the 200 breaststroke for the Belles. In just one month - from January to February - she cut almost ten seconds off of her time to finish in 12th place at the conference championship meet. Likewise, she posted improved times while earning points in the consolation finals of the MIAA championship event in the 100 breaststroke and the 100 butterfly.
On Senior Day this year, Liz nearly won both the 100 and 200 breaststroke for the Belles - something that may have not seemed within the realm of possibility just two seasons earlier when she had not competed in either event as a freshman. She sprinted her way to a first place finish in the 100 breaststroke on Senior Day by three-tenths of a second. Later in the meet, she was just narrowly edged out by less than six-tenths of a second in the 200 breaststroke with what was one of her fastest times in that race to date.
She was not done there. Appropriately, Liz left it all in the water in her final two individual events of her career. She had the fastest swims in the breaststroke in her collegiate career at this past February's MIAA Swimming and Diving Championship. At the meet, she swam a 1:15.74 in the 100 breaststroke during her leg of the 400 medley relay. That time was not only an improvement upon her time from the previous year's MIAA Championship, but it was also more than six seconds faster than her slowest time in the event during her college career.
The following day at Championships, she had back-to-back personal best times in the 200 breaststroke. After swimming a 2:46.29 in the preliminaries, she finished 14th in an event she had only just started competing in collegiately the year before after cutting more than nine-hundredths of a second off of her time earlier that same day with a 2:45.38. That time was more than a 13-second improvement upon her finish in January 2012 when she swam a 2:58.54 in a dual meet against Olivet.
Very few people can walk away from their sport after their final competition knowing that they have in fact done the best they have ever done before. Liz Litke is one of those very few.
A native of Cloquet, Minnesota, she is the daughter of Joy and Mike Litke and will graduate with a Bachelor of Arts degree in elementary education with a minor in Spanish. A Dean's List and MIAA Honor Roll honoree, she plans on traveling to Africa to begin her teaching career in Ghana. We are proud to present the 2013 Improvement Award to Liz Litke.
Competitive Spirit Award - Emily Sherwood
The Competitive Spirit Award is presented in recognition of demonstrated passion and love for the sport through work ethic, desire to succeed, and commitment to teammates.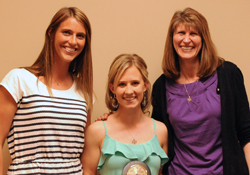 Division III athletes play their sport because they love it. They have a passion to better themselves on and off the court and field. They work hard to succeed and genuinely enjoy participating in athletics. This year's award winner shows her passion and love of her sport in every swing, dive, and slide on the softball diamond. Emily Sherwood has shown incredible determination and heart for the Saint Mary's softball team these last four years.
Emily began her career as a second baseman on the softball team. She played half of the team's games at second and was pinch hit for most of the year. She was struggling at the plate and had only three hits her first year. As a sophomore, Emily became the team's starting shortstop and wanted desperately to be in the hitting line-up. She worked tirelessly during the off-season after her freshman campaign and made a lot of adjustments to her swing. Her perseverance won her a spot in the line-up and she ended the season with 22 hits and a batting average nearly .130 points higher than the year before. Fittingly, she was awarded Most Improved Player at her team's end of season awards.
Emily's junior year brought her even more success. She was a solid hitter and had begun to use her strength to hit more for power. She also cut down on her errors at arguably the toughest position on the field. She had more hits, runs, at-bats, doubles and RBIs than any other season in her career. She also enjoyed an eleven-game hit streak throughout the year.
Emily's final season has been her best. She finished the year hitting .300 while hitting the first two triples and homeruns of her career. She had the game-winning hit against Calvin College and the game ending hit in a mercy rule win over Manchester.
While Emily's hitting certainly improved throughout her career, more importantly, she became a defensive spark plug on the field. Emily's amazing plays were countless, and a ball never got past her without a cloud of dust flying after a diving attempt to stop it. Emily's jersey at the end of a game was all one needed to see to know how determined she was to make the play.
None of Emily's teammates ever questioned her work ethic. She was a player who always hustled, even when no one was watching. Her enthusiasm for softball was evident in her play, and she put her heart and soul into the game. Emily was an excellent leader by example, and her excitement on the field brought out intensity in her teammates that cannot be measured.
A native of Saint Paul, Minnesota, she is the daughter of Jon Sherwood and Mary Hermes and will graduate in May with a degree in nursing. We are proud to present the 2013 Competitive Spirit Award to Emily Sherwood.
Impact Award - Maddie Meckes
The Impact Award is presented to the senior athlete who elevates the intensity and focus of the game beyond what statistics can measure.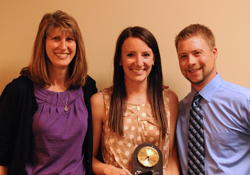 This senior athlete has not only influenced the outcome of many games throughout her career, but has also made significant contributions to the Athletic Department. Whether on the field, in the classroom, or rehabbing in the athletic training room, Maddie Meckes is as intense and focused as anyone we have ever had the pleasure of knowing.
Coach Joyce said it best, "Maddie is one of those extremely competitive individuals who wouldn't care if the game was 'go fish' or college soccer. This competitive nature and desire to succeed has resonated within the program." Maddie got to know our Athletic Trainer Jason very well her junior year after she injured her ankle during an away soccer game. She immediately contacted him and was in the training room the next morning, ready to do whatever was needed to get back onto the field. From the moment that she could bear any weight on her ankle, she was pushing to play. The fact that she only missed three games after the injury is a testament to her strong will and tough nature.
Over her career, Maddie has played in 75 of the team's 78 games, again missing only those three games due to the ankle injury her junior year. Her senior year, she served as captain. Maddie tallied nine goals and five assists over her career. She has been a consistent central midfielder and a centerpiece to build a successful program around. Seeing the team go from seven wins combined her first two years, to 23 total wins her junior and senior seasons shows the great amount of influence she has had as a team leader and impact player. Her outstanding play in the midfield has been defined by her composure, control on the ball, timely passing, powerful long range shooting, and deft service on corner kicks.
Maddie's spirited play has given us many memorable moments throughout her four years here. Not one to turn away from a physical contest, Maddie, along with an opposing Olivet midfielder, received a yellow card for overly intense physical play. Not more than 47 seconds after the card, she hurled a 30 yard shot past the Olivet goalkeeper to put her opponent out of contention. Maddie's outstanding corner kicks have been a specialty and have led to several goals, but none more important than against Calvin this past season. A spot-on kick led to a game tying goal with only ten seconds left in the game, earning Saint Mary's a valuable point in the playoff hunt. Moreover, Coach Joyce described Maddie's goal at Trine this past year as one of the best goals he has ever seen in his time here at Saint Mary's College. A late goal from 45 yards out, but probably would have been good from 60, put the Belles up 1-0 and let the air out of a hopeful Trine team.
Not only has Maddie impacted play on the field, but she has had a great influence within the Athletic Department and at Saint Mary's College in general. As Student-Athlete Advisory Committee President, Student Diversity Board Vice President, and member of the Student Academic Council, she has kept herself quite involved. Maddie has also studied abroad in France, made the MIAA Academic Honor Roll and Dean's List every semester, and last summer was a team leader in LeadAmerica in Washington, D.C.
A native of Danville, Kentucky, Maddie is the daughter of Tim and Paula Meckes and will graduate with a double major in political science and French with a minor in economics. After graduation, Maddie will be moving to the Washington, D.C. area to work for a political event planning company. We are proud to present the 2013 Impact Award to Maddie Meckes.
Leadership Award - Genevieve Spittler
The Leadership Award is presented for outstanding leadership, commitment, and dedication.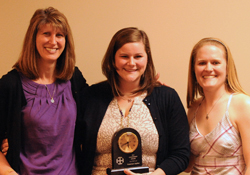 Leadership can be defined in a myriad of ways and is as multifaceted as the different members of a team. It can mean serving as a liaison between a head coach and teammates. It is demonstrated through words and actions both in and out of practice, competition, and team functions. A true leader expects the best out of herself, her team, and her coach while doing all she can to ensure the best is achieved by all.
Genevieve Spittler is one of those leaders not only when it comes to the Saint Mary's swimming and diving team but in all facets of her life. A team captain during her senior year, she has worked to be the voice of the team when needed. Having a coach whose position was part-time and whose office was not on campus, Gen continually stepped up to serve as a connection between the Athletic Department and her team. A member of the Student-Athlete Advisory Committee, Gen represented her team and her College on the conference level as one of two Belles on the Michigan Intercollegiate Athletic Association SAAC to discuss conference and national legislation.
In the pool, she did all she could to lead by example while also filling the role as an encourager. From swimming alone in a race as the only competitor to posting the third-fastest time in the 200 butterfly in the history of the program, Gen strove not only to do her best but to also keep her teammates mentally strong throughout the season.
Gen's teammates describe her as organized, encouraging, passionate, and committed. It did not go unnoticed how she swam on her own time when her nursing clinicals forced her to miss practice. She was seen as a leader in and out of the pool and according to one of her teammates, she was a constant support and pushed her to achieve her best every day.
Outside of athletics, her leadership has been honed through various activities and experiences. She has learned to communicate and work with people from China to Uganda and numerous places in between. Throughout her four years here, she has served as the President of both the Student Nursing Association and the Le Mans Hall Council. She has given her time as a Peer Mentor for the Nursing Department – a role that helped her connect with incoming nursing students and help guide them on their path to becoming a nurse. She also gave of her time for her fellow students through the Student Government Association, Residence Hall Association, Belles Against Violence Advisory Committee, and Alumnae Board.
She has been named to the Dean's List on four occasions and has earned the distinction of being on the MIAA Academic Honor Roll twice. Gen has been active in the Intercultural Leadership Program through Saint Mary's Center for Women's Intercultural Leadership. The program requires monthly and bi-monthly meetings, a minimum of 50 hours of community-based learning, and mentoring from a local community leader and an international leader for one year each. She continues to demonstrate that she is trying not only to be the best leader she can be, but that she is dedicated to learning how to become that leader. Just as there is no one definition of leadership, there is no limit to the growth and development of leadership. Gen is proof of that.
A native of Wheaton, Illinois, she is the daughter of Maribeth and Philip Spittler. She will graduate in May with a degree in Nursing with minors in biology and gender and women's studies. We are proud to present the 2013 Leadership Award to Genevieve Spittler.
Athletic Integrity Award - Angela Nebesny
The Athletic Integrity Award is presented to the senior athlete who best exemplifies honesty and respect for herself, her teammates and opponents, and the game itself.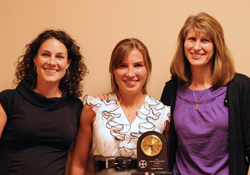 The legendary basketball coach, John Wooden said, "Discipline yourself, and others won't need to." While it sounds so simple, being a person of integrity means one of many things, including not taking the easy road out. Defined, integrity is the "adherence to moral and ethical principals; soundness of moral character; honesty." Not all leaders have integrity, but those that lead with integrity make great leaders. That sentiment holds true of our 2013 Athletic Integrity Award recipient, Angela Nebesny, who is better known to the cross country team as "Mange".
Even in Mange's earliest coach/athlete meetings during her freshman season, her integrity was evident. While many athletes may twist some white lies about the amount of summer conditioning completed, Mange owned up to her training shortcomings and recognized how she could improve moving forward. She always took responsibility for her actions or inactions.
What does it mean to have an athlete with integrity on a team? It means not questioning her ability to lead and being of sound character for those around her. Does this mean that she is flawless? No. Rather, it means that when the tough times come, she is ready to face the music, do the right thing, and remedy any missteps taken. A person of integrity helps provide a moral compass for others.
This fall, the cross country team elected a panel of senior leaders rather than a traditional captain to benefit from the breadth of gifts within the senior class. While Mange is not the most vocal of leaders, she does wonders with her actions. Her teammates and coaches have seen something special in her - the ability to touch others in very meaningful ways.
Teammate and training buddy Allie Danhof described Mange as "an excellent role model to me as a freshman. She led by example and gave small words of encouragement that inspired me to push myself farther in every workout. Mange not only displayed leadership during athletics, but also during her academic studies. She is someone you want as a teammate because of her commitment, kindness, and humor."
As a junior, Mange was presented the Coaches' Award for her unquantifiable gifts to the team. She has been a solid constant for the Belles cross country team for the past four years. She does not have a flare for the dramatic, nor does she come to practice full of highs and lows. She is reliable. This reliability carries into all aspects of her life: her demeanor, her approach towards others, her academics, and her racing. In fact, she fittingly received the "Team Pacer Award" this year from a teammate for 'always nailing the pace during workouts which helped the pack be more successful.'
In summary, Angela's integrity can be best described by a well circulated quote:
   Watch your thoughts, they become words.
   Watch your words, they become actions.
   Watch your actions, they become habits.
   Watch your habits, they become character.
   Watch your character, it becomes your destiny.
A native of Indianapolis, Indiana, Angela will graduate in May with a degree in nursing. After graduation, she plans to sit for the boards and look for a nursing position in the Indianapolis area. The daughter of Andy and Marcia Nebesny, it is with great pleasure that we award Angela Nebesny with the 2013 Athletic Integrity Award.
Academic and Athletic Achievement Award - Elizabeth Majewski
The Academic and Athletic Achievement Award is presented for outstanding academic and athletic achievement and future promise as a Saint Mary's graduate.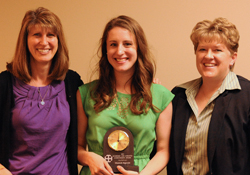 Tennis great Arthur Ashe once said, "You are never really playing an opponent. You are playing yourself, your highest standards, and when you reach your limit that is real joy." Hopefully our Academic and Athletic Achievement Award recipient has exceeded all of her highest standards and will look towards graduation with excitement of what is yet to come. If there ever was a student-athlete determined to continually challenge herself in and out of the classroom, it is our 2013 Academic and Athletic Achievement Award recipient, Elizabeth Majewski.
As a recruit, Elizabeth was an across town 'trackie' who was nervous of running collegiate cross country - a far departure from the 400 meter she specialized in during high school. However, with some encouragement, she took the leap of faith to convert to long distance racing - a distance nearly fifteen times the length of her ideal race!
Elizabeth's success as a cross country athlete is not marked by blazing school records or All-MIAA honors. Rather, the true success is her transformation from a long-distance fearing, "I will always be a track athlete" mentality, to a scoring senior who just completed her first marathon. That is an incredible feat. As a freshman, she clocked her best 6k time in at 26:42. Over the course of her career, she slowly notched seconds off her races. She completed her fastest finish at the MIAA Jamboree as a senior, which was her only true race on the Belles' home course, in a time of 24:47 for the 6k distance. She was able to knock off nearly two minutes during her time as a Belle.
While the path to cross country success was not easy, Elizabeth has always made her successes in the classroom look easy. She came into Saint Mary's with a very concrete vision for her education over the next four years. This vision included immersing herself in coursework, growing as a student, and preparing herself for continued education.
Sometimes it is hard to see how dedicated students are to their academics, but this is not true in Elizabeth's case. This year at the cross country banquet, she received the "Love of Saint Mary's Professors Award" from one of the first-year athletes for "her ability to talk about how incredibly awesome her professors are during every practice". The award is an excellent reminder of her passion and excitement for learning. It also illustrates the positive impression she will be leaving on her teammates.
Outside of her core curriculum and cross country, Elizabeth's Saint Mary's experience has been enriched through various activities including her semester abroad in Ireland, serving as the Residence Hall Association Secretary, being involved in Dance Marathon, and taking on the role of co-editor over the past two years for the Avenue, which is the Saint Mary's student-run publication of prose.
Elizabeth has been on the Dean's List every semester throughout her career as a Belle. She has also been named to the MIAA Academic Honor Roll all four years. A native of Osceola, Indiana, she is the daughter of Angela and Dave Majewski. Elizabeth will graduate in May as an English literature and history double major with a minor in Film Studies and a cumulative GPA of 3.95. After graduation, Elizabeth will continue to follow her professional aspirations at Wake Forest University to begin work on a master's degree in English. We are proud to present the 2013 Academic and Athletic Achievement Award to Elizabeth Majewski.
Don Miller Belles Spirit Award - Liz Palmer
The Don Miller Belles Spirit Award is presented to the person who best exemplifies the winning spirit of the College's athletic program.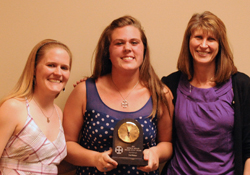 In 2008, the Belles Varsity Club Award was re-named the Don Miller Belles Spirit Award in his honor as a longtime math professor and assistant softball coach for the Belles. His life was taken by pancreatic cancer, but his legacy lives on through the many lives he touched both in the classroom and on the softball field. Coach Miller displayed true dedication and passion for Saint Mary's College and her Belles. This award is presented each year at the Senior Athletic Awards Reception to the student-athlete who best exemplifies the winning spirit of the athletic program.
You would be hard-pressed to find a student-athlete in this room with a spirit as big as this year's honoree. In fact, her spirit is just as "big" as her nickname. "Big" Liz Palmer is someone who lights up a room, a gym, or a pool just by walking in. She has that undefinable spark that emanates from within in all she does. From helping prospective students in their discernment of whether or not Saint Mary's is the right fit for them in her work as a Student Ambassador to helping develop and enrich the spiritual lives of her peers through her service with Campus Ministry, Liz is a shining example of our College's core values and embodies all that NCAA Division III athletics stands for.
To be a distance swimmer, passion must be one of an athlete's foremost traits. Countless laps and repeats with nothing but your own thoughts to build or break you is something few athletes have experienced. From her best swim of her career to her worst, there is one thing that could never be broken throughout these past four years in the pool – Liz's heart. After flashing a smile of accomplishment, or perhaps relief after a race, it would not take long to see her on the pool deck cheering on her teammates wholeheartedly regardless of how her own race may have ended. Her focus continued to be not on herself, but on others and helping them to achieve their best through her spirit and beaming positivity.
Liz's character is perhaps best demonstrated through her own words. When asked what her Division III experience has meant to her, this is just a portion of what Liz had to say:
Being a DIII athlete has been an honor, privilege, and blessing that has allowed me to discover myself and develop confidence and leadership skills. As a swimmer, I have discovered the rewards of hard work and determination; I have learned how to conquer challenges; I have felt passion intensify when our team reaches a goal; most importantly, I have learned that teamwork and support are essential aspects of life. My Saint Mary's athletic family taught me how to dive wholeheartedly into life.
Liz has continued to dive wholeheartedly into life. Much like Coach Miller, she has a deep-rooted dedication and passion for all she does and her heart has driven her to make a big impact over the past four years. She has served as a swim team representative on the Student-Athlete Advisory Committee, as a College Academy of Tutoring volunteer, and as a Campus Ministry Intern. During the past few summers, she has been a camp counselor, life guard and swim instructor, and boating and canoeing director at Point O'Pines Camp for Girls in New York.
A native of Grand Blanc, Michigan, she is the daughter of Nancy Dodds. She will graduate with degrees in biology and psychology with a minor in religious studies. This summer, she plans on studying coral health and fish species in the reefs surrounding Little Corn Island off the coast of Nicaragua. We are proud to present the 2013 Don Miller Belles Spirit Award to Liz Palmer.
Marvin Wood Outstanding Senior Athlete Award - Morgan Bedan
The Marvin Wood Outstanding Senior Athlete Award is presented to the outstanding senior athlete.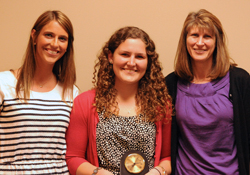 In 2000, the athletic department named the Outstanding Senior Athlete Award in honor of Coach Marvin Wood. Coach Wood was an outstanding former basketball coach who finished out his career at Saint Mary's College. His commitment, passion, and love for his athletes through the years inspired the nationally acclaimed movie, "Hoosiers" which highlighted the Cinderella basketball success story early in his coaching career. Coach Marvin Wood's former athletes describe him as a beautiful person inside and out. They say his passion, faith, dedication and commitment to his players made their athletic experience at Saint Mary's a truly fulfilling and lifelong treasure for each of them. It is with these thoughts in mind that we honor you, our outstanding senior athlete.
Coach Wood embodied positive leadership, passion for his sport, and love for his athletes. He valued players with a strong work ethic; players that excel not only in their sport but, also in the classroom; players that make their teammates better through the example they set. This year's recipient is the type of player that Coach Wood would have been proud of!
It takes incredible dedication to compete in athletics all four years of one's collegiate career. Add to that a host of injuries without missing a single game and you can find this year's Marvin Wood award winner. Her accolades will keep her in the record books of the Saint Mary's Softball program for years to come.
Morgan Bedan has been a game changer for the softball team during her career. She has been a four-year starter, starting all 149 games behind the plate that the Belles have played since the 2010 season. She began her career recording her first hit, a homerun, in her very first at-bat. She finished that season third on the team in homeruns, slugging percentage, and RBIs. She was named the team's Most Valuable Defensive Player after picking off two base runners and throwing out six runners attempting to steal. Following her first successful season, Morgan became one of the most respected catchers in the league. Her sophomore year, Morgan guided the team to its sixth consecutive 20-win season and was named Team Most Valuable Player. She hit .400 on the year and led the team with the most runs scored, total bases, and was tied for team-high honors in doubles.
Morgan's junior season saw much of the same. She had another stellar year, guiding the team to the second-best win total in program history and yet another berth into the conference tournament. She led the team with doubles, moving her into second in career doubles behind only two-time All-American and former Marvin Wood recipient Ashley Peterson. She also tallied the 100th hit of her career. She now stands in fifth for best hit total of any Saint Mary's softball player. Her play that year garnered her All-MIAA Second Team honors.
This year, Morgan moved into fifth place in career RBIs and finished her career tied for eighth in homeruns. She had 41 multi-hit games in her career and was the winning catcher 87 times wearing a Saint Mary's uniform. Her batting average over four years was an impressive .332. She threw out 16 base runners attempting to steal bases on her. She has caught 952.1 innings, been a part of 2,857 outs, faced 4,471 batters, and caught well over 14,000 pitches while having only committed 22 errors in four years.
Morgan has persevered through two surgeries, countless hours of rehab, and many not-so-happy glares from her coach in the dugout. To so many coaches, she has been the face of Saint Mary's softball over these last few years. Her presence on and off the field will be greatly missed. She leaves her teammates better now than before she met them, and she leaves the Saint Mary's softball program in great hands thanks to her tireless effort to continue a winning and positive team culture.
This political science major, and Spanish and economics minor, from Grosse Pointe Park, Michigan is the daughter of Rick and Fran Bedan. After graduation, Morgan plans to begin her position with the governor of Michigan in his Appointment and Constituent Affairs divisions. It is with great honor that we recognize Morgan Bedan with the 2013 Marvin Wood Outstanding Senior Athlete Award.