2014 Senior Athlete Awards
Every year, the Saint Mary's College Athletic Department hosts an awards ceremony honoring the senior athletes who have been a part of the Department over the past years. In addition to each senior athlete receiving a watch to commemorate their time spent participating in Belles' Athletics, a select few seniors are recognized with special awards, including the Don Miller Belles Spirit Award and the Marvin Wood Outstanding Senior Athlete Award.
Listed are the 2014 honorees. To learn more about the award and read the citation of each award winner, please click on the individual's name.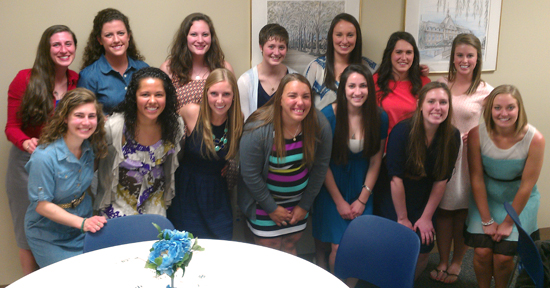 Belles Varsity Club Appreciation Award - Karen Johnson
Competitive Spirit Award - Mollie Valencia
Impact Award - Jessica Biek
Academic and Athletic Achievement Award - Mary Catherine Faller
Mary Fran Meekison '40 Service Award - Jordan Diffenderfer
Don Miller Belles Spirit Award - Shanlynn Bias
Marvin Wood Outstanding Senior Athlete Award - Callie Selner
Belles Varsity Club Appreciation Award - Karen Johnson
The Varsity Club Appreciation Award is presented annually to a member of the Saint Mary's community for extraordinary contribution to the Saint Mary's Department of Athletics.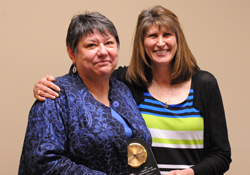 In To Kill a Mockingbird, Atticus Finch says, "You never really understand a person until you consider things from his point of view... until you climb inside of his skin and walk around in it." Never having been a collegiate athlete herself, this type of understanding is precisely what our Belles Varsity Club Appreciation honoree has been striving for over the past several years.
The Saint Mary's College Athletic Department is a bustling place. On average, it serves 125 student-athletes per year, 150 fitness club and club sport athletes, 325 intramural participants, approximately 80 student employees, and a fitness center that sees usage of over 3000 people per month. The Athletic Department hosts around 50 home contests per year and our teams are on the road for at least 70 competitions per year. Jumping into our arena, Vice President of Student Affairs Karen Johnson took whatever opportunity she could to "walk in our skin" to develop a better understanding of the challenges and the needs of our department so that she can better serve us.
It started with transportation. We did not have a reliable fleet of vehicles and had an even less reliable fleet of drivers. If we did not have a hired driver, our coaches were behind the wheel for three to six hours following long competitions. This was exhausting for the coach and was definitely not in the best safety interest for either our athletes or our coaches. Upon her arrival at Saint Mary's, Karen saw to it that these days would be behind our department and that we would contract out for safe, reliable transportation.
When Karen saw that over half of our coaches were sharing one room in McCandless Hall as an office, she had office space built in Angela. This brought all of our coaches under one roof providing each member of our staff with their own space to make recruiting calls and meet with their athletes. This addition also brought the athletic trainer's office out of the locker room - pretty important since, for the first time, our athletic trainer was a man.
Overseeing event management in athletics was new to Karen, but it is something that we deal with on a weekly basis. Very early in Karen's tenure, we served as host school for the MIAA Swim Championships up in Jenison, Michigan. This is one of the largest championship events that the MIAA sponsors, and to top it off, it is a three-day event. Our primary responsibilities were staffing, training, and coordinating the volunteers. When hosting an event two hours from our home base, getting volunteers was no easy task. Karen came to our rescue by volunteering to travel with us and manage the ticket sales at the door all day, every day for the entire event. She was a one-woman show as all other volunteers were needed on the pool deck to time lanes. It took incredible fortitude for Karen to manage the ticket sales as we imposed strict limitations on her intake of her drink of choice, ice tea, as bathroom breaks were limited to lunch and dinner times.
When our teams travel outside of the region, it probably looks like a vacation; but, the planning, fundraising, coordinating, and supervision required in scheduling and seeing these trips to fruition takes a lot of time and energy from start to finish. When her schedule allows, even if it means giving up her personal break time, Karen has traveled with our teams on short and long trips alike. Traveling with a team offers the unique opportunity to not only get to know the Belles on a different level, but to also see a day-in-the-life firsthand. She gained a deeper appreciation of how athletics represent the College, and our teams gained a loyal fan through her willingness to go the extra mile to support us.
If her actions do not speak loud enough of her support, just look in her closet. She has purchased Saint Mary's athletic attire from each sport so that there is no mistaking that wherever she is seen, she is "walking in our skin"! Karen even implemented "Spirit Day" in the Division of Student Affairs to encourage all staff within our division to show their Belle pride by wearing Saint Mary's gear on Fridays.
It is with great honor that we present our 2014 Varsity Club Appreciation Award for extraordinary dedication and support of Saint Mary's College Athletics to Karen Johnson.
Competitive Spirit Award - Mollie Valencia
The Competitive Spirit Award is presented in recognition of demonstrated passion and love for the sport through work-ethic, desire to succeed, and commitment to teammates.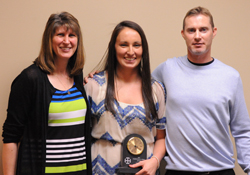 It is a scene that pans out each academic year. A freshman arrives on campus. She is excited about her new school and joining her team while daydreaming about many successes in her sport. When her team has a less-than-ideal start, as was the case for the soccer team four years ago, that vision of success and accomplishment can fade. This year's Competitive Spirit Award recipient would not let that start dictate her career or how her journey with the soccer team would end. On many instances, Mollie Valencia saw to it personally that the Saint Mary's soccer team would be a force the MIAA could not ignore.
The start of that journey was not an easy one. Through the first seven games of Mollie's career, the Belles were 0-7 and had been out-scored 25-2. Midway through September, the team picked up a 1-0 win at home against Illinois Tech. Two games later, Mollie scored the game-winner and added an assist as the Belles claimed a 3-0 victory over Franklin. After another rough stretch, the Belles were able to snap an eight-game losing skid with a win at Trine in the season finale to avoid a last-place conference finish. It was not exactly a dream start to a four-year career.
Despite the team's record that season, there was more than a glimpse into the competitive nature of Mollie and her desire to make herself and her teammates better. Coach Joyce recalled a practice from Mollie's freshman year. In a lopsided scrimmage, he pointed out the score to the team losing in hopes of inspiring a better effort. A teammate quickly rationalized the score by citing "Coach, they have Mollie". Her drive and determination to elevate the performance of those around her was clear from that first year onward.
Things changed quickly for the Saint Mary's soccer team. In Mollie's final three seasons in a Belles uniform, the soccer team won at least ten games each year and turned the program around. As a sophomore, the team went 10-10 and ended the season with a big 3-0 win at home against Hope. In the last two years, the Belles have posted a record of 23-12-5. Moreover, the Belles have recorded 21 shut out victories since the 2011 season. Mollie either scored or assisted the game-winning goal in nine of those 21 wins.
Coach Joyce credits much of the competitive improvement with the soccer team to Mollie. For four years, she was one of the hardest working players, day in and day out, in practice and games, in season or out of it. That hard work, competitive drive, and dedication to her team was evident on the soccer field. When the team needed that spark, Mollie was often the one who came through when it mattered most. Of her 11 career goals, eight of them were game winners. Two of the most memorable goals came in a pair of 1-0 wins against Kalamazoo her junior year. Mollie scored a dramatic header with two minutes left in regulation when the Belles played at Kalamazoo in September. In the team's final game of the season, she tallied the lone goal on a free kick - much to the Kalamazoo coach's chagrin - in another 1-0 win over the Hornets to lift the Belles to a fourth-place finish in conference standings.
Not only did Mollie have a knack for scoring in big situations, but she also had the ability to set up her teammates for great levels of success. Six of her ten career assists were on game-winning goals. The last of those assists came in an epic 3-2 double-overtime win at Adrian this year on the Bulldogs' Senior Day.
Mollie's skill, competitiveness, composure, work rate, and selflessness on the field have become the team's identity. She has been named a team most valuable player twice, was a Second Team All-MIAA selection three times, served as a team captain for two years, and was the cohesive glue on the field that will be sorely missed.
A native of West Melbourne, Florida, Mollie is the daughter of Missie Cannon-Valencia. She will graduate in May with a degree in accounting with minors in mathematics and finance. Mollie will continue her education with a master's in accounting, will get her CPA, and will work for a public accounting firm. We are proud to present the 2014 Competitive Spirit Award to Mollie Valencia.
Impact Award - Jessica Biek
The Impact Award is presented to the senior athlete who elevates the intensity and focus of the game beyond what statistics can measure.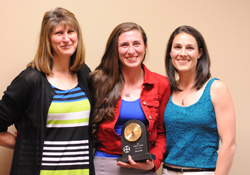 Coaches love the opportunity to coach athletes with raw talent. However, sometimes getting the athlete to recognize their talent can be the hard part. Jessie Biek has an undeniable gift when it comes to running. And, by the grace of God as a junior, Jessie ran in her first season of cross country ever. In two short years, Jessie Biek has made a profound impact on the Saint Mary's cross country program. Many of her teammates may not even realize that she is still 'green' when it comes to formal running. She makes it look that easy.
On a regular basis, Jessie demonstrated what it meant to give 100%. Being new to cross country, she was naïve about how to race the distance. In her first collegiate 5k, the Calvin Invite, Jessie led the entire field for the first kilometer—despite a stacked field of nationally-ranked powerhouses. To some it may have seemed like poor racing strategy. But in Jessie's case, it illustrated what it looked like to be fearless and to have a burning desire to succeed. When the gun went off, Jessie ran, hard. Her desire to succeed overshadowed any doubts or fears that often disrupt great racing. She demonstrated vulnerability and pushed the limits of what was thought possible. This example alone may be one of the greatest gifts Jessie has bestowed on the cross country team.
Beyond the example Jessie set in workouts and meets, she has positively impacted the team through her constant encouragement and overall character. Whether at a meet or in a hard interval practice, regardless of whether you could see her or she was across a field, she could always be heard encouraging her teammates with a "Go Belles". Jessie helped create a more relaxed training environment for her teammates, easing some of the competitive stress that comes with distance racing. It was hard to over think a race or miss the beauty of a training run with her present.
During post-race cool downs, it was customary for the team to share individual highlights and accomplishments from the race. Jessie loved hearing about her teammates' successes but always needed to be prodded to share her own. Running and the outcome of a race was never about her, even though she frequently had good reason to boast. Despite her talent, she is one of the most humble athletes you will ever meet. Training partner and first year teammate Brittany Beeler might have summed up Jessie's intangible impact best. She said, "Jess is one of the most genuine people I have ever met. She has been a role model for me, not only because of her abilities on the cross country course, but because of her attitude, humility, and determination to always do her best. I feel so blessed and am so thankful to be her teammate."
From a performance perspective, no other Belle in the history of the program has ever achieved anywhere near the amount of success and accolades in their first two years with the program. Jessie was on pace to rival the honors of two-time national qualifier and near All-American Megan Gray Piper. In all fifteen races that Jessie donned a Saint Mary's uniform, she was the first Belle to cross the finish line. During the 2013 season, she garnered an individual title at the Manchester Invite by outkicking the home team favorite by two seconds with a new best time in the 6k race. In the conference championship meet, Jessie finished ninth behind eight national qualifying runners. Her MIAA Championship finish combined with her Jamboree performance yielded a spot on the All-MIAA Second Team. She is only the sixth Belle to make an All-MIAA team. Her time of a 22:46 for the 6k course was the second-fastest ever run by a Belle at an MIAA event. Amid a talented 2013 NCAA Great Lakes Regional, Jessie finished 23rd out of 240 runners and became only the third Belle in program history to earn All-Region honors. In her last meet, the Regional, she ran a personal best of 22:35 in the 6k. On the cool down after that same race, Jess apologized for not making it on to the national meet. Such is the way of Jessie Biek. She never wanted to let her teammates or coaches down. She never did.
A native of Cassopolis, Michigan, Jessie is the daughter of Jon Biek and Julie Schroeder-Biek and will graduate with a degree in elementary education and a minor in math. After graduation, Jessie will be running the Bayshore Marathon, her first, in Traverse City, Michigan, with over a dozen other alumnae as she continues the job hunt for a teaching position in the area. We are proud to present the 2014 Impact Award to Jessie Biek.
Academic and Athletic Achievement Award - Mary Catherine Faller
The Academic and Athletic Achievement Award is presented for outstanding academic and athletic achievement and future promise as a Saint Mary's graduate.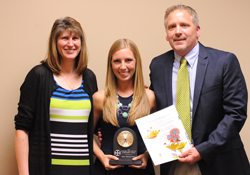 Tennis great Arthur Ashe once said, "You are never really playing an opponent. You are playing yourself, your highest standards, and when you reach your limit that is real joy."
Hopefully, our recipient has exceeded all of her highest standards and will look toward graduation with excitement of what is yet to come. If there ever was a student-athlete determined to continually challenge herself in and out of the classroom, it is our 2014 Academic and Athletic Achievement Award recipient, Mary Catherine Faller.
Mary Catherine Faller, MC to her teammates and coaches, came to Saint Mary's as a quiet, yet determined first year student. Coming off a successful high school senior year playing on a state championship team in Green Bay, Wisconsin, MC did not miss a beat. Her freshman year, she quickly worked her way into a significant role on the team playing the #3 singles position and #1 and #3 doubles behind only a few seniors. She had 23 wins combined in singles and doubles during that first season alone.
With the graduation of some of her teammates and her continued progress, she earned the #1 position her sophomore year at both singles and doubles. She was also voted a captain by her teammates that year based on her work ethic and achievement. She took on a great deal of responsibility being the captain as a sophomore, but she never flinched. Her teammates saw her dedication at practices and the mental toughness she displayed in her matches. This was also recognized at the conference level as she was named First Team All-MIAA as a sophomore for her success at both #1 singles and #1 doubles.
Mary Catherine went on to earn First Team All-MIAA honors during her junior season and Second Team All-MIAA accolades as a senior. Earlier this week, she was honored by her MIAA competitors with the 2014 Sue Little Sportsmanship Award. MC has been a three year captain for the tennis team and continued to grow in her leadership. She has won over 70 matches in both singles and doubles at Saint Mary's, which is significant, especially based on the fact that most of these matches were at the #1 flight for her team.
On the academic side, Mary Catherine has made the Dean's List five semesters and will have earned MIAA Academic Honor Roll three of the four years of her career. She has a cumulative GPA of 3.75 with a 4.0 in her major of communicative sciences and disorders. In fact, MC has had a perfect 4.0 the last four semesters. In addition, Mary Catherine has served as the Vice President of the National Student Speech-Language-Hearing Association, the Vice President of the Saint Mary's chapter of Psi Chi International Honor Society, Treasurer of the Class of 2014 Class Board, and has been a member of both the Student-Athlete Advisory Committee and Friends with Sisters. MC also participated in the Ecuador Study Abroad Program in the summer in 2012 and will take part in the European Summer Study Program during the summer of 2014.
A native of Green Bay, Wisconsin, she is the daughter of Gerry and Cecile Faller. Mary Catherine will graduate in May with a bachelor's degree in communicative sciences and disorders while minoring in psychology. She will continue to follow her professional aspirations at Northwestern University as she will enter their Doctorate of Audiology program. We are proud to present the 2014 Academic and Athletic Achievement Award to Mary Catherine Faller.
Mary Fran Meekison '40 Service Award - Jordan Diffenderfer
The Mary Fran Meekison '40 Service Award is presented for extraordinary service to Saint Mary's College and the local communities.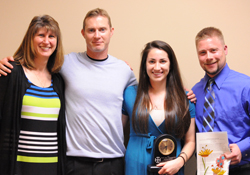 Saint Mary's College Athletic Hall of Fame inductee Mary Fran Shaff Meekison graduated in 1940 – well before women had even close to the competitive opportunities that we enjoy today. As an athlete, it was fortunate for Mary Fran that the College was dedicated to the philosophy of mens sana in corpore sano: a sound mind in a sound body. Because the College held physical activity in such high esteem and offered sports for women, she was able to participate in basketball, track, tennis, and field hockey. She even continued to play competitive tennis until the age of seventy-seven as a member of the USTA. Besides her passion for sport, Mary Fran's life revolved around serving others. She was dedicated to the Saint Mary's community by serving as a faithful class reporter for over sixty years and also served as a member of the Alumnae Board. In 1991, President William Hickey awarded her the prestigious Saint Mary's College President's Medal for her outstanding community service. This year's Mary Fran Meekison honoree is a young lady with impeccable integrity that has had a tremendous impact on both the success and the culture of the soccer program.
Jordan Diffenderfer has certainly made her mark on the field for the Belles over her career. Jordan's first year with the soccer program had its share of challenges: a new coach and no returning goalie on the roster. They finished the season with a record of 3-16; however, led by their new coach and energized by a determined and talented squad, they turned the program completely around that very next year with a 10-10 finish. This was their first ten-win season since 2005. Jordan led the team in scoring with seven goals, and she continued to provide many memorable soccer moments for her teammates and coaches that include a couple of overtime game-winners. Her junior year, with twenty seconds left on the clock in double overtime against Rochester, she landed the game winning goal. This past season against Kalamazoo, late into overtime she deflected a clear attempt by their goalkeeper at the edge of the 18-yard box back toward the goal. She then raced around the goalkeeper to tap the ball into the empty net - exciting moments in an impressive career! In her four years with the program, Jordan has tallied sixteen goals and five assists.
Perhaps more impressive, have been Jordan's contributions off of the field. She is solid in the classroom having earned MIAA Academic Honor Roll each of her four years. She has also been named to the Dean's List, which requires a GPA of 3.6 or above six times. Her ethics and morals exemplify a Belle to the highest of standards and have really shaped this team in recent years. As someone devout in her faith, she complements her devotion with service. While all teams engage in community service events, Jordan's dedication has truly gone above and beyond. Jordan serves as a weekly volunteer at the South Bend Homeless Shelter tutoring children. She is the Saint Mary's representative for the Notre Dame Friends of the Orphans Club. She is a mentor for the Campus Ministry Accountability Group, and she is a leader with FIDES – Freshmen in Discipleship, Evangelization and Service. And finally, if this were not already enough, she holds a leadership position with the interfaith group 'Iron Sharpens Iron' at the University of Notre Dame.
Jordan has represented the athletic department and soccer team in the most exemplary fashion. She is a young lady who embodies the principles and mission Saint Mary's was founded upon, especially as it relates to social responsibility. The soccer program, Saint Mary's College, and the community are much richer through Jordan's service and influence.
A native from Rockford, Michigan, Jordan is the daughter of Tim and Teresa Diffenderfer and will graduate with a degree in Spanish with minors in Italian and business administration. After graduation, she plans to take a year off to do service in a Spanish speaking country with future plans of attending law school. It is with great honor that we present the 2014 Mary Fran Meekison '40 Service Award to Jordan Diffenderfer.
Don Miller Belles Spirit Award - Shanlynn Bias
The Don Miller Belles Spirit Award is presented to the person who best exemplifies the winning spirit of the College's athletic program.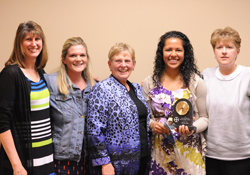 In 2008, the Belles Varsity Club Award was re-named the Don Miller Belles Spirit Award in his honor as a longtime math professor and assistant softball coach for the Belles. His life was taken by pancreatic cancer, but his legacy lives on through the many lives he touched both in the classroom and on the softball field. Coach Miller displayed true dedication and passion for Saint Mary's College and her Belles. This award is presented each year at the Senior Athlete Awards Reception to the student-athlete who best exemplifies the winning spirit of the athletic program.
This year's recipient is not the loudest cheerleader or the team comedian. You do not hear her complaining about aches and pains nor the toll her body has been through over the past four years as a collegiate athlete. She is not the type of person that gets in your face and demands your best performance as a way of motivation. Because of her quiet nature, you may not know she is in the same room with you. But make no mistake, you will remember Shanlynn Bias for her kind heart, infectious smile, passion for her sport, and desire to succeed.
Shanny came into this basketball program like most freshmen - eyes wide open and mouth shut. She worked hard to contribute to a veteran team. Her work ethic was undeniable. Her attention to detail and desire to learn made her stand out. This "old soul" was starting to energize an entire team to be better and achieve more. Throughout her career, Shanny played in 102 games. She scored 972 points and grabbed 332 rebounds. Her efforts were recognized by the MIAA as she was named one of the top 12 players in the conference at the end of her junior and senior seasons.
Shanlynn has never been satisfied with being good. She was always asking for areas to improve on and ways to help others. Her basketball stats never truly defined who she is. This two-time captain continuously put others first while managing her own priorities last. When the team lost a game, Shanny took a personal responsibility for it. She came back the next day and worked even harder while also inspiring her teammates to do the same.
Her goodwill extends to all parts of campus. She is actively involved in many clubs and organizations such as peer mentorships, Biology Club, Beta Beta Beta Biological Honor Society, and the Student Activities Board. She has also served as a Student-Athlete Advisory Committee member, the SAAC Vice President, and the SAAC President. Shanny has also participated in the European Summer Study Program and still managed to find time for student employment. Shanny unknowingly has the ability to capture your heart and make you cheer her on no matter the task at hand. She exemplifies the spirit of this Athletic Department.
A native of Griffith, Indiana, Shanlynn is the daughter of Jenny and Les Bias. She will graduate with a Bachelor of Science degree in Cellular Molecular Biology. After graduation, Shanlynn will pursue her master's degree in Public Health at Indiana University-Purdue University in Indianapolis. We are proud to present the 2014 Don Miller Belles Spirit Award to Shanlynn Bias.
Marvin Wood Outstanding Senior Athlete Award - Callie Selner
The Marvin Wood Outstanding Senior Athlete Award is presented to the outstanding senior athlete.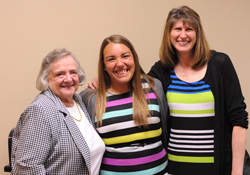 In 2000, the athletic department named the Outstanding Senior Athlete Award in honor of Coach Marvin Wood. Coach Wood was an outstanding former basketball coach who finished out his career at Saint Mary's College. His commitment, passion, and love for his athletes through the years inspired the nationally acclaimed movie, "Hoosiers" which highlighted the Cinderella basketball success story early in his coaching career. Coach Marvin Wood's former athletes describe him as a beautiful person inside and out. They say his passion, faith, dedication and commitment to his players made their athletic experience at Saint Mary's a truly fulfilling and lifelong treasure for each of them. It is with these thoughts in mind that we honor you, our outstanding senior athlete.
Consistency over four years has been a true benchmark for our outstanding senior athlete. In a sport where failure, particularly on offense, is the expected outcome, this year's Marvin Wood award winner has had an uncanny knack for success. In contrast, she made the opposition "fail" twice as often as she "succeeded". Without a doubt, she has raised the bar even higher in an already successful program.
Callie Selner was quiet and timid as a freshman on the softball team. She came to Saint Mary's with a wealth of high school success, but she was also a freshman pitcher behind a pair of juniors in that same position. Midway through a strong first year, Callie gave a glimpse of what was to come over her career when the Belles faced off against nationally-ranked Adrian. The thirteenth-ranked Bulldogs had entered the day as the lone program in all levels of collegiate softball without a loss. Callie and the Belles had other things in mind. She pitched a three-hit shutout against an Adrian team that averaged over seven runs per contest as the Saint Mary's Belles gave the Bulldogs their first loss of the year. Not bad for a freshman.
Callie truly turned some heads and gained attention during her breakout sophomore season. She posted a school-record 17 wins with a 1.94 earned run average while starting all 40 games as a pitcher or designated player. She had 31 games with at least one hit and 17 games with at least one run batted in on her way to 46 hits and 32 RBIs. Her seventeenth win, a 2-1 victory over Alma, sent the softball team to their sixth MIAA Tournament in nine seasons. She was named MIAA Pitcher of the Week after that win and went on to garner All-MIAA First Team honors.
Last season, Callie continued to prove she could "get it done" on both sides of the field. Again, Callie took the opportunity to shine against Adrian. She allowed three runs over nine innings while pitching, but it was her performance at the plate that made the difference. She went 5-for-5 with four runs batted in and ended the game on a walk-off three-run home run when the Bulldogs were trying to intentionally walk her. She posted a blistering .429 batting average while picking up 11 pitching wins. Callie struck out a career-high 122 batters and walked only 24. She picked up another MIAA Pitcher of the Week accolade and was again named to the All-MIAA First Team.
This year, Callie became the program's all-time win leader and moved in to the top five in Saint Mary's softball history in both runs batted in and doubles all with a single hit - a game-winning ground rule double in the Belles' last game of their spring break trip. In the circle, she matched her career-high strikeout total by fanning 13 batters in back-to-back games on that same trip. In the last pitching start of her career, Callie became the third player in program history to collect 100 RBIs as the Belles knocked Alma out of the MIAA Tournament.
These past four years have led to an accumulation of success on both sides of the field that is quite remarkable. Callie has pitched over 508 innings in more than 90 appearances, faced 2,264 batters, and holds the school records for pitching wins in a season, pitching wins in a career, and strikeouts in a career. Over the past four years, she walked one in every 17 batters and struck out one in every six batters she faced. In stark contrast, she struck out just 20 times in 438 plate appearances. She has become just the second player in program history with over 100 runs batted in and more than 145 career hits. Just imagine how staggering her totals might have been if the weather would have cooperated. Sixteen games over the past four years were cancelled and never made up.
A business major with concentrations in both finance and marketing from Elkhart, Indiana, Callie is the daughter of Deb Selner. After graduation, she plans on pursuing a position in banking and will attain a master's degree in finance. It is with great honor that we recognize Callie Selner with the 2014 Marvin Wood Outstanding Senior Athlete Award.