Saint Mary's Welcomes New Athletic Training Staff
NOTRE DAME, Ind. – The Saint Mary's College Department of Athletics proudly announces that Ashley Steffey and Katie Bourbonnais have joined the staff in time for the 2015-16 academic year.
Ashley Steffey, ATC, LAT, GT, is director of sports medicine while Katie Bourbonnais, ATC, CSCS, is an assistant athletic trainer. Bourbonnais's position is made possible through the NCAA Division III EthnicMinority and Women's Internship Grant.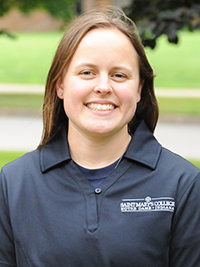 Ashley SteffeyA native of Portage, Michigan, Steffey received her Bachelor of Science in athletic training from Western Michigan University in 2012. While at Western Michigan, she was a three-year member of the women's club lacrosse team and served as a team captain for two years. Steffey was also a member of the Student Professional Association of Sports Medicine and served as president. As a student, she worked closely with the Broncos' Mid-American Conference champion softball team in 2011 as well as WMU's Central Collegiate Hockey Association champion men's hockey team in 2012.
After graduating, Steffey served as the athletic training intern at Saint Mary's during the spring 2013 semester. She then went on to pursue a Master of Science in Applied Exercise Science at Concordia University Wisconsin. At Concordia, Steffey served as the ATC for the Falcons' volleyball, junior varsity hockey, and women's lacrosse teams. In her second year of her master's program, she was named Preceptor of the Year for her work with students in the university's athletic training program.
Additionally, Steffey holds an M1 certification in Graston Technique and has provided medical coverage at Saint Mary's College, Western Michigan, and University of Notre Dame athletic camps.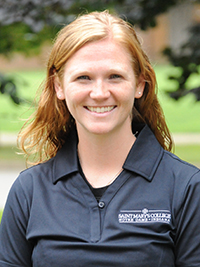 Katie BourbonnaisBourbonnais is a native of Niles, Michigan, and received her Bachelor of Science degree in athletic training from Alma College in 2013. During her time at Alma, she was a four-year member of the varsity volleyball team for the Scots. Bourbonnais was a two-year member of the senior leadership team for the squad and was also named a team captain. She served for two years on the Student-Athlete Advisory Council and was the vice president during her senior year.
Bourbonnais went on to earn her Master of Science in athletic training from Western Michigan University in 2015. She was a graduate assistant athletic trainer at Battle Creek Central High School for two years and completed her research in studying the comparison of CrossFit and traditional strength training programs.
In addition to being a certified athletic trainer, Bourbonnais is also a certified strength and conditioning specialist and holds Fascial Movement Taping Level I and II certifications.
Both Steffey and Bourbonnais started their positions on August 3.