Saint Mary's Receives NCAA Internship Grant
NOTRE DAME, Ind. - The Saint Mary's College Department of Athletics was one of 18 NCAA Division III members to receive the 2015 Ethnic Minority and Women's Internship Grant.
According to the NCAA's website, the grant is a two-year grant program that provides funding for entry-level administrative positions at Division III institutions and conference offices to encourage access, recruitment, selection and the long-term success of ethnic minorities and women.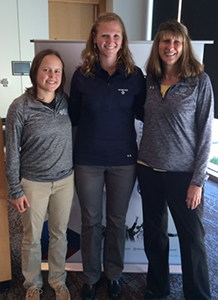 Ashley Steffey, Katie Bourbonnais,
and Julie Schroeder-Biek pose for a
photo at the NCAA Headquarters.Director of Athletics Julie Schroeder-Biek initiated the proposal process for the College when it became apparent that the success of the Faith Always, Action Now campaign would result in the construction and renovation of the College's outdoor athletic fields for the 2015-16 academic year. The project will keep the Belles teams off of the on-campus fields throughout the fall and possibly through the spring season for the upcoming academic year.
"Since we employed only one athletic trainer, providing care for our teams practicing off campus became a real concern," said Schroeder-Biek. "I met with our grant writer, Patty Doyle, to explore grant options for us to fund an assistant athletic trainer position. The NCAA has wonderful grant programs, so we looked there first and found the NCAA Women and Ethnic Minority Internship Grant program."
She and former head athletic trainer Jason Kolean put together a job description and started the application process last year. The two worked together to structure the position to make it a valuable experience while providing the intern with the knowledge and skills to grow professionally.
"Because we are a small department, we felt that we could provide very individualized professional training in the field of athletic training while also offering a broader experience that would include exposure to the full functioning of an athletic department."
The final decisions of the grant recipients were announced in March, and Saint Mary's made the cut of 18 NCAA Division III members to receive the grant.
"When I received the email from the NCAA informing me that we were grant recipients, I was ecstatic," said Schroeder-Biek. "Our intern will be invaluable to us by assisting in the care of our athletes, and I am confident that we will be able to bring her into our departmental family and offer her the experience, support, training, and resources that will prepare her for her next steps."
Katie Bourbonnais, a native of Niles, Michigan and a former Division III student-athlete at fellow Michigan Intercollegiate Athletic Association (MIAA) conference member Alma, has accepted the internship position and began her duties on Monday, August 3.
"It feels great to be back at an MIAA school," said Bourbonnais. "It feels like home."
With the internship grant, Bourbonnais receives education development funding which will be used for future certifications and classes to help her gain more knowledge in the athletic training and strength and conditioning fields.
"As a former Division III student-athlete, I feel as though I can relate and therefore help out our student-athletes here at Saint Mary's since I know the feeling of balancing school and sports."
Schroeder-Biek, Bourbonnais, and Ashley Steffey, the College's head athletic trainer, attended a two-day orientation at the NCAA headquarters in Indianapolis to meet the other 2015 internship grant recipients.
"We did an activity to get to know what each of our personality types were and how to work with each exact personality type," said Steffey. "It turns out that Julie, Katie, and I are very similar and that we work together very well!"
"It was also great to be able to network with other schools and learn about different Division III athletic programs," added Steffey. "I think the best part about the orientation was the opportunity to get to know Katie better. She's a great person, and I'm excited to have her on board!"