2015 Senior Athlete Awards
Every year, the Saint Mary's College Athletic Department hosts an awards ceremony honoring the senior athletes who have been a part of the Department over the past years. In addition to each senior athlete receiving a watch to commemorate their time spent participating in Belles' Athletics, a select few seniors are recognized with special awards, including the Don Miller Belles Spirit Award and the Marvin Wood Outstanding Senior Athlete Award.
Listed are the 2015 honorees. To learn more about the award and read the citation of each award winner, please click on the individual's name.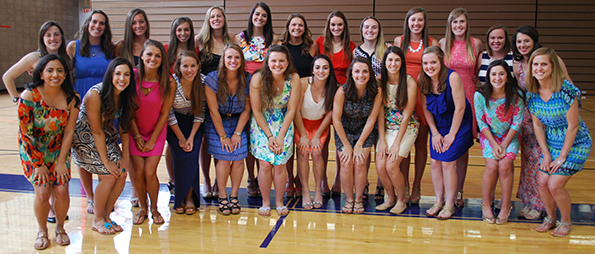 Helen Holland Voll '17 Award - Grace Harvey
Improvement Award - Samee Chittenden
Competitive Spirit Award - Shannon Elliott
Competitive Spirit Award - Melanie Kuczek
Impact Player Award - Mary Kate Hussey
Leadership Award - Taylor Etzell
Athletic Integrity Award - Courtney Wright
Academic and Athletic Achievement Award - Kati Schneider
Don Miller Belles Spirit Award - Chanler Rosenbaum
Marvin Wood Outstanding Senior Athlete Award - Kerry Green
Helen Holland Voll '17 Award - Grace Harvey 
Established in 1941 to honor a Saint Mary's student who embodies committmet and dedication to the recreation programs in the Saint Mary's College athletic department.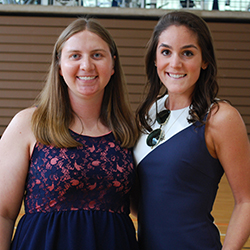 The Helen Holland Voll Award is not presented every year. In fact, in the past fifteen years, it has been presented less than five times. Only students who have proven themselves truly committed to a recreation program are worthy of receiving such an established award. The commitment and dedication Grace Harvey has demonstrated in founding the Yoga Club makes her, beyond question, a worthy recipient.
On a Friday in January of 2013, it happened. The athletic staff noticed more students than usual filing in and heading over to the aerobic area. They just kept coming. It was quite confusing to see such a large gathering of students congregating in that small space on a Friday – a day that we do not hold physical education classes. The class was led through a dynamic workout by a student who had the group quite engaged and motivated. When this group gathered again the next week, with even greater attendance, we approached the instructor to find out what was going on. This is when we met Grace.
After several discussions, it was decided that the best route to continue the classes was for Grace to form a Yoga Club. She answered all the questions and addressed all concerns which arise when students begin the process of seeking to establish a new club. She formulated a proposal; she wrote up a constitution. She worked tirelessly to get the club officially up and running.
The first year, the Yoga Club boasted 38 members. The next year, it had an impressive 125 students on their roster. This year, with over 150 active members, it is hands down our largest athletic club on campus. As the club was starting out, three classes per week were offered. Now that it has more than tripled its membership, the club offers at least six sessions per week. Grace started as the only instructor. Through the years, she has grown the pool to four certified yoga instructors in the club.
She has networked with other organizations and assisted them with their programming. Grace is highly sought after by others such as Dance Marathon, the Love Your Body Week committee, and Residence Advisor hall programs to lead yoga events for them. Grace is always willing to assist her fellow students.
As the founder and the president of the Yoga Club, Grace has ensured that the club will continue after her graduation. She has grown the organization to a very healthy level of active membership. She returns two current students who are certified instructors – one of which is Grace's sister, Christine, who will become the new president when Grace graduates this year. She has proven herself an outstanding leader. In fact, Grace received the PricewaterhouseCoopers Leadership award in the fall from the business department largely for her leadership in establishing the Yoga Club.
Grace is the daughter of Mary and Stuart Harvey from Edina, Minnesota. She is an accounting major who will be working for Deloitte next year in Chicago. We are proud to present the 2015 Helen Holland Voll Award to Grace Harvey.
Improvement Award - Samee Chittenden
Presented in recognition of significant improvement as a student-athlete over a four-year period of time.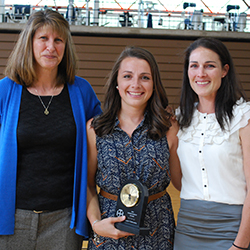 Barbara Bush said, "You just don't luck into things. You build them step by step, whether it's friendships or opportunities." Collegiate athletes have many opportunities to let their light shine and unveil their potential. This year's Improvement Award recipient found a way to continually develop, step by step, into a key member of for her team, both athletically and as a leader.
Back in the fall of 2011, Samee Chittenden joined the cross country team as the lone first-year. While many first-years may have become intimidated by the upper class team members, Samee seized the unique opportunity and grew closer to them rather than setting herself further apart. Her upper class teammates adopted and mentored her through the trials and tribulations of being a first-year.
Her friendships on the team enabled her to take risks early on and as such, learn to stretch and dream for bigger, better things. The support and encouragement she received from her relationships on the team strengthened her resolve to work harder. Samee consistently ran in the 27-minute range for her 6ks throughout much of her freshman year. By seasons end, at the MIAA Championship meet, she posted a season best 25:34 – an improvement of nearly 90 seconds. In the first meet of her sophomore season, Samee put her hard work from the summer to the test. At the Knight Invitational, she finished second for the Belles and turned in a personal record of 20:33 in the 5k. After another summer of hard work, she improved yet again. She returned to the Knight Invitational and ran a 19:42 - nearly two minutes faster than her freshman year!
Her senior year, Samee was unanimously voted in as a captain by her peers. She knows the Saint Mary's cross country way, and has illustrated it time and time again. While Samee did not always score for the Belles during her senior season, she continued to improve and illustrate to her team the commitment needed of each team member. Every day, she showed up at practice ready to work hard. In her final race donning the French cross, Samee finished in total Samee fashion. She crossed the line with a remarkable second place finish on the team and a lifetime PR in the 6k, with a time of 24:12.
Perhaps Samee's most striking improvement during her four years though is how her confidence has soared. In all avenues of life, she has found that with passion and effort, all things are possible. Her persistence and grit will undoubtedly take her many places!
A native of Spring Lake, Michigan, she is the daughter of Joe and Mary Chittenden and will graduate in May with a degree in social work. After graduation, Samee plans to attend Grand Valley State University for her master's degree in the same field. She will also complete her first marathon in Traverse City on May 24. We are proud to present the 2015 Improvement Award to Samee Chittenden.
Competitive Spirit Award - Shannon Elliott
Presented in recognition of demonstrated passion and love for the sport through work ethic, desire to succeed, and commitment to teammates.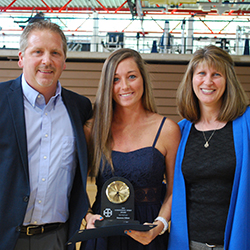 The previous statement and definition of this award could not be truer than it is for this individual. She hurdled many obstacles, defeated the odds, and matured in a manner to be truly successful. Her work ethic is second to none. She wanted to be on the court more than anything. She even got upset with our athletic trainer, Jason Kolean, if he was not in the training room ready to go for her several rehab stints. We all know her desire to succeed, because if she was not winning or playing at her best, she would let us know. She has truly been a committed teammate and student-athlete for the past four years. Shannon Elliott has endured more than we have time to say to become a well-rounded, talented, and extremely competitive tennis player.
In Shannon's first season, she earned a reputation as a fighter. The Belles were in their second match of a double-header in Orlando on a hot day and had already won their first match. They were up against St. Scholastica, who they had not beaten in many years. With the overall score tied, Shannon's match was the only one remaining. Despite being ill at the time, she fought through the heat to win 6-4 in the third set to secure the team victory.
Shannon had to fight through injuries throughout the 2013 season. On spring break in Florida, she was in significant pain during a particularly tough match. Despite the pain, she did not quit. Even though she did not come out on top, she showed once again just how competitive her spirit has been. She wanted to win and do whatever she could for the team. Later in that same season, she had another win-clinching singles match against Alma in a 5-4 victory for the Belles, which avenged a loss the year before to the Scots.
In the spring of 2014, Shannon again showed her fight for the Belles. She played a three-and-a-half hour singles match to win 6-4, 6-7, 7-6 against regionally-ranked Coe College. Shannon and fellow senior Jackie Kjolhede came off the court simultaneously to clinch another 5-4 victory.
This spring, Shannon battled several new injuries while still having the problems of the old ones. She may have led all athletes over her career in visits to the training room. However, she was never the one to say something could not be done. Coach Campbell asked many times how she felt before singles play, even though he knew what she was going to say. Shannon had the same response every time by stating "I'm okay." Thanks to collaboration between coach Campbell and Jason along with Shannon's desire to compete, she won over 80 victories in singles and doubles throughout her career as a Belle.
Coach Campbell said, "Shannon had so many challenges throughout her career. However, I believe she had as much will to win and determination as any player we have had at Saint Mary's. She was a team player and took great pride in doing her share to help us win."
A native of Plymouth, Indiana, Shannon is the daughter of Julie and David Shook and Todd Elliott and LeAndra Rennaker. She will graduate in May with a degree in business with a concentration in marketing and management as well as a minor in mathematics. Shannon will continue her education at mortuary school and is not sure as to which of the several accepted schools she will attend just yet. We are proud to present the 2015 Competitive Spirit Award to Shannon Elliott.
Competitive Spirit Award - Melanie Kuczek
Presented in recognition of demonstrated passion and love for the sport through work ethic, desire to succeed, and commitment to teammates.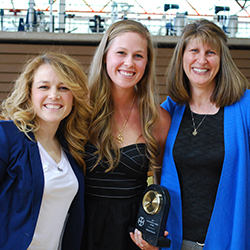 There are athletes that play their sport, and do so quite well; and then, there are athletes that compete in their sport. They take the game to the next level. These athletes step onto the court expecting to win. They are prepared mentally and physically. They have put the time in during the off season to improve their level of fitness. They thrive on challenge.
Melanie Kuczek is this athlete. The energy that she creates in the competitive arena inspires her teammates to lift their own game. They have confidence knowing that she is going to do everything within her power to help her team to succeed. She will close every block. She will run a convincing fake attack to draw a blocker away from her teammates; and, her teammates know that when she gets her hand on the ball, it is going down with power for the kill.
Melanie transferred to us from Lewis University second semester of her freshman year. She made an immediate impact on the volleyball program. Her friendly personality blended well with the team, and her powerful style of play in the middle attacking position was a very welcome addition to the roster. In a conference that over the past three years can boast two NCAA Division III Volleyball National Champions and one national runner-up, we can truly say that we compete against the best. Having Mel run the first line of defense for us at the net while also serving as a powerful weapon in our own offensive arsenal, she proved that she can compete with the best and frustrate the heck out of them!
Her coach, Toni Elyea, states that, "Mel is a player that comes in ready and focused to do damage. Her level of play is confident and she is a joy to watch." In her career, Mel has been named the Saint Mary's Athlete of the Week six times in three seasons, while also being recognized as an MIAA Player of the Week her senior year. In her time as a Belle, she had the highest kill percentage on the team and was our strongest blocker. As a senior, she was third in the conference in total blocks and tenth in both kills per set and attack percentage. After only three seasons at Saint Mary's, she ranks third in career blocks.
Mel is an outstanding student-athlete who has earned Dean's List honors for the past five semesters. She has also been named to the MIAA Academic Honor Roll for the past three years. She is a founding member of the Students Supporting Autism organization. And, this past year, she served as a Big Sister in the athletic department's peer mentoring program.
The daughter of Ted and Cheryl Kuczek, Melanie is from Deerfield, Illinois. She will graduate this spring with a Bachelor of Arts degree in elementary education with a concentration in mild intervention. It is with great honor that we recognize Melanie Kuczek with the 2015 Competitive Spirit Award.
Impact Player Award - Mary Kate Hussey
Presented to the senior athlete who elevates the intensity and focus of a game beyond what statistics can measure.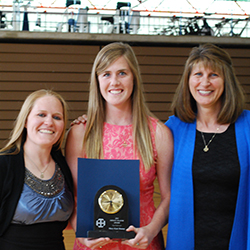 There are many colloquialisms in sports which try to emphasize the importance of defense. Perhaps that is true because in many instances, it is difficult to back up just how important defense is with statistics. In some sports, defense can be easy to quantify. In basketball, a player's number of steals is a benchmark of her intuition and ability on defense. In softball, a pitcher's number of strikeouts is nearly as important as an earned run average in showing her defensive effectiveness. In soccer, however, it is a bit more challenging to put down on paper. But to those who have watched Mary Kate Hussey play for the past four years, that importance, that impact of defense was easy to see.
It also did not take long for other schools to notice how much of an impact player Mary Kate would become. In the Belles' first five games of this senior class's career, the team posted a 5-0 record and allowed just one goal. Those five wins were just the start of what proved to be the best four-year span in terms of wins and shutouts for the Saint Mary's soccer program. Her poise, confidence, and control with the ball at the ever-crucial position of center back was key to not only stopping the other team's best players, but also to the team's ability to turn defense into offense.
This season, Mary Kate's impact on both ends of the field could not have been more evident. In the second game of the year, she willed her team back into contention against visiting Mount St. Joseph by scoring the game-tying goal in the second half of play. Two weeks later, she scored on a perfectly-timed header late in the first half to tie the Belles' contest against visiting Kalamazoo. Her most dramatic and perhaps impactful goal of her career, however, was yet to come.
In mid-October, the Belles hosted perennial MIAA power Calvin on a cold and rainy Saturday afternoon. With the game tied at 1-1, MK was on the receiving end of a corner kick just a few steps off of the goal line. She elevated and headed home what proved to be the game-winner for the Belles in the 59th minute of play. That 2-1 win over Calvin gave the Belles the first regular season sweep against the Knights since Saint Mary's joined the MIAA.
Even though her impact in the backfield may not have always translated into stats on paper, her ability to change the game did not go unnoticed by the opposing coaches in the conference. Over her career, Mary Kate has been named the MIAA Defensive Player of the Week once and was a three-time All-MIAA honoree. In the past 17 years, only two defensive players from the Saint Mary's soccer program have been named All-MIAA in three of their four seasons. Mary Kate Hussey is one of those players. Without a doubt, she made her presence known and helped the Belles regain their spot as a force to be reckoned with in the conference and beyond.
A native of Elmhurst, Illinois, Mary Kate is the daughter of Dan and Kathy Hussey. She will graduate in May with a degree in chemistry and a minor in math before finishing her chemical engineering degree from the University of Notre Dame next year. She then plans on entering the Operations Management Leadership Program with General Electric Aviation. We are proud to present the 2015 Impact Award to Mary Kate Hussey.
Leadership Award - Taylor Etzell
Presented for outstanding leadership, commitment, and dedication.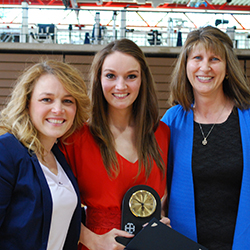 At Saint Mary's, we believe that participation in athletics builds leadership skills and is the perfect forum to practice those skills. We bring in speakers, and we work with our athletes mentoring them to become better leaders. A lot of energy is put into developing good leadership on our teams because this skill is that important.
Student-athletes that support their fellow teammates, model good sportsmanship, and uphold the ideals of our program are critical to building a solid team culture. Positive, committed players who will not hesitate to speak up to hold their teammates accountable to the standards of the program are a necessity to sustain this culture. We need student-athletes who do not think twice about putting the team's needs ahead of their own. We are fortunate to have Taylor Etzell – she does all of this and more.
Roles change for athletes through the years. Players graduate and positions open. New players come in and compete for positions. There is a constant ebb and flow on teams. Taylor had been a three-year starter on the volleyball team; but in her senior year, she found herself in more of a support role than a performance role on the squad.
As difficult as this change was for Taylor, it was an opportunity for all of us to see her true character and commitment. Rather than lead from the court, she lead from the sideline. No one cheered louder for her teammates; no one lived more in the moment. Taylor was always ready to lift her teammates with encouraging words and a high five. She never failed to be an engaged leader that continued to contribute. This is true leadership. It is not selfish. It does not come and go with a title, mood, or position played on the court. Real leaders lead, no matter the situation, and that is exactly what Taylor did.
Taylor's leadership extends beyond the volleyball team to the athletic department, the classroom, and the College. Besides being a two-year captain for the volleyball team, she also earned the Coaches Award. This honor is presented by the volleyball coaching staff to the athlete that the leads by example both on and off the court. She has been a four-year student worker in Angela Athletic Facility and recently stepped up to fill a need that we had in athletics by becoming our announcer for both basketball and lacrosse games. She has been a peer mentor for first year students for the past two years. She serves as a managerial accounting tutor, a statistics and business stats tutor, and as a SPARK financial tutor. Taylor is also the treasurer of the Student Diversity Board.
In the Business Department, Taylor has also made her mark as a leader in the field of accounting. She received the Bridget Anderson/KPMG Award for Excellence in the Principles of Accounting sequence; the Deloitte Award for Excellence in Intermediate Accounting; and the Ernst & Young Award for the senior "most likely to succeed" in the accounting profession. Earlier today at her department's honors ceremony, she received recognition as a member of the Accounting Honor Society. She also received the Outstanding Achievement Award in Accounting which goes to the top accounting student. It did not stop there. She earned the Academic Achievement Award for the highest GPA with a 3.92 in courses taken in the department. And finally, Taylor was honored by being named as the inaugural Jerome L. McElroy Outstanding Achievement Award for the top student in the department.
A native of Northfield, Minnesota, Taylor is the daughter of Mark Etzell and Amy Machacek and will graduate with a degree in accounting. She will begin her job with the Financial Industry Regulatory Authority in the Chicago district office after a much anticipated trip to Europe following graduation. We are proud to present the 2015 Leadership Award to Taylor Etzell.
Athletic Integrity Award - Courtney Wright
Presented to the senior athlete who best exemplifies honesty and respect for herself, her teammates and opponents, and the game itself.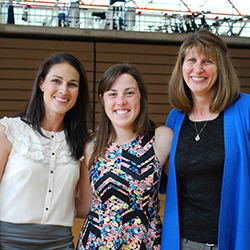 Integrity is just one of many adjectives which can be used to describe the recipient of this award. Three other words which also come to mind are attitude, commitment, and effort. In fact, those three words describe Courtney Wright so well that she was voted by her teammates as the soccer program's recipient of the A.C.E. award – which stands for attitude, commitment, and effort – in each of the past three years.
For anyone who has gotten to know Courtney over the past four years, it comes as no surprise that her teammates would vote her as the recipient of an award named after such traits. She may not have necessarily been the star of the team, but her dedication and hard work were vitally important to the Belles' overall success over the past four seasons. From the first practice to the last and every game in between, Courtney always gave her best effort while maintaining a noticeably positive attitude. It seems only fitting that her two career points on the soccer field are assists. She looked to set up her teammates for success rather than aiming for her own notoriety or personal gain.
Away from soccer, Courtney has been just as dedicated to being an exemplary Belle and models integrity in all she does. She has been involved with a group at Notre Dame called ISI, which stands for Iron Sharpens Iron. With ISI, she has participated in prayer groups, retreats, and other events with faith at the core. She has also engaged some of her fellow Saint Mary's students in the group to aid their faith development. Last summer, Courtney traveled with a Christian youth organization called Young Life to Ethiopia where she and her colleagues spent time serving various missions all in the name of Christ. Her faith is the rock from which she bases many of the actions in her life, and it has guided her to make positive and constructive choices throughout her time at Saint Mary's.
Courtney's academic career at Saint Mary's has been beyond outstanding. She has been recognized by the Michigan Intercollege Athletic Association each year as an MIAA Academic Honor Roll honoree for maintaining at least a 3.5 cumulative GPA. Courtney has above a 3.9 cumulative grade point average and has been named to the Dean's List each semester.
From her first day on campus four years ago, Courtney has made a positive and memorable impact on everyone she meets. From the thoughtful gifts she makes and gives to her friends on their birthdays to keeping those in prayer who ask or need it, she is a leader by her service to the community in which she lives.
A native of Williamston, Michigan, Courtney is the daughter of Terri and Patti Wright and will graduate with a degree in mathematics along with minors in both secondary education and computer science. She plans on getting a high school teaching position in her home state of Michigan after graduation. We are proud to present the 2015 Athletic Integrity Award to Courtney Wright.
Academic and Athletic Achievement Award - Kati Schneider
Presented for outstanding academic and athletic achievement and future promise as a Saint Mary's graduate.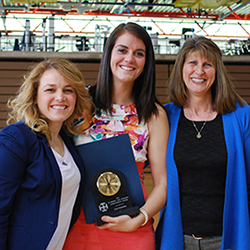 This award epitomizes what the NCAA Division III student-athlete is all about: someone who is fully integrated into her college experience and has achieved at the highest levels both academically and athletically. Kati Schneider could be the NCAA Division III poster child.
Kati has made an immediate and long-lasting impression on our volleyball program. She demonstrated that she could compete with the top volleyball players in the nation since, for the past two years alone, she has competed regularly against the last two defending national champions. Kati was named as either First Team or Second Team All-MIAA in three different seasons for the Belles. In her senior season, on fourteen different occasions, Kati finished the match with double-digit kills and double-digit digs. She is only the fifth player in program history to tally 1,000 kills and 1,000 digs in a career. She has earned MIAA Athlete of the Week honors three times and the Saint Mary's Athlete of the Week six times in her career. Her name is scattered throughout our volleyball record book. She is tied for first in total kills in a match and is second in both kills in a season and in career kills. She is fifth in career digs and fifth in career aces. Kati is the whole package.
Her stellar volleyball career has made quite the mark on our program; however, Kati's achievements have extended far beyond athletics. Academically, Kati has set the bar high. She has been named to the Dean's List every semester of her collegiate career while also earning MIAA Academic Honor Roll accolades each year. Kati is a dedicated student who has a grade point average above a 3.8 cumulative and an even higher GPA in her major.
Since 2011, Kati has served as the President of the National Student Speech Language Hearing Association. At the association's annual convention this year, Kati was presented with one of only four scholarships annually awarded to graduate students in Indiana. Kati will be using that scholarship here as a member of our first graduate class in Speech Language Pathology. Earlier today, Kati received the highest honor bestowed by the Department of Communicative Sciences and Disorders at Honors Convocation - The Ancora Imparo Award - which in Italian means, "I am always learning". In her presentation of this scholarship award to Kati, Professor Susan Latham stated, "I have witnessed first-hand Kati's intellectual development as well as her kind nature in serving others. She contributes to society socially through an understanding and appreciation for individuals with disabilities, and ethically, through sensitivity and faithfulness to examined values. She embraces every challenge as a means to learn more about herself and the world."
A native of East Sparta, Ohio, Kati is the daughter of John and Lori Schneider and will graduate with a Bachelor of Arts in communicative sciences and disorders with minors in gerontology and social work. She plans on continuing her post graduate work at Saint Mary's and will be seeking a Master of Science in Speech Language Pathology. We are proud to present the 2015 Academic and Athletic Achievement Award to Kati Schneider.
Don Miller Belles Spirit Award - Chanler Rosenbaum
Presented to the person who best exemplifies the winning spirit of the College's athletic programs.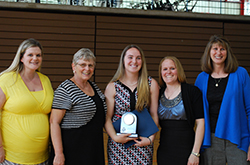 In 2008, the Belles Varsity Club Award was re-named the Don Miller Belles Spirit Award in his honor as a longtime math professor and assistant softball coach for the Belles. His life was taken by pancreatic cancer, but his legacy lives on through the many lives he touched both in the classroom and on the softball field. Coach Miller displayed true dedication and passion for Saint Mary's College and her Belles. This award is presented each year at the Senior Athlete Awards Reception to the student-athlete who best exemplifies the winning spirit of the athletic program.
Coach Miller was someone who set high expectations both for his students and for those he mentored and coached on the softball field. He knew that by helping push people to their limits, he could help them attain and achieve more than they themselves even thought was possible. We can confidently say that Coach Miller would have loved to have had the chance to see just what Chanler Rosenbaum has been able to accomplish not only by finding her own limits, but by having the desire and spirit to push past those limits.
From leading cheers – including her favorite, the Belles Rumble – and being the first to run out on to the floor to congratulate the volleyball team after a big win to traveling to away games to encourage and support her fellow athletes, she has been a key thread to the athletic department fabric. It has felt like Chanler has been a member of every team. In fact, she calls every coach on the staff "coach" – even though she has only played soccer. Despite that fact, we all know her. Coach Henley has described Chanler as someone who bleeds blue in praise of her dedication and loyalty. Coach Moore has called her someone who is always smiling and knows no stranger. Coach Long noted her ability to bring people together while always doing so with a laugh. Our 2013 recipient of this award and assistant lacrosse coach Liz Palmer said that Chanler's contagious energy and incredible leadership makes those around her want to do more and be more.
Chanler has been an indispensable game day worker and sports information student intern. She has dominated many of the department's intramural offerings. She truly wants to be a part of everything, and by doing so, she has made everything she has been a part of immeasurably better than it was before.
It would be unfair to talk about all Chanler has done for the Saint Mary's Athletic Department without mentioning all she has accomplished in her outstanding soccer career. She is the first goalkeeper in the history of the program to be named All-MIAA, and she did that twice. Her sophomore year, she finished the season ninth in save percentage and 25th in goals-against average among all NCAA Division III goalkeepers. In her final three seasons, she was named one of her team's Most Valuable Players. She leaves Saint Mary's among the all-time leaders in saves, shutouts, and goalkeeper wins.
All of those athletic accomplishments are a testament to Chanler's spirit, determination, work ethic, and continual desire to be part of something bigger than herself. Someone once told her "just because it hasn't been done before doesn't mean it's impossible". And just like Coach Miller did, Chanler has challenged the limits of what is possible. We are all fortunate to have been able to see Chanler accomplish things which had not been previously done. She has made an incredible impact not only on the soccer team and the athletic department, but on all whose paths she has crossed during her time here; and Chanler has done it all while being true to the person she is.
A native of Hobart, Indiana, Chanler is the daughter of Kristy and Brian Rosenbaum. She will graduate from Saint Mary's with a bachelor's degree in mathematics. Next year, Chanler will complete her degree in mechanical engineering from the University of Notre Dame. We are proud to present the 2015 Don Miller Belles Spirit Award to Chanler Rosenbaum.
Marvin Wood Outstanding Senior Athlete Award - Kerry Green
Presented to the outstanding senior athlete.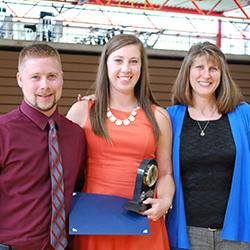 In 2000, the athletic department named the Outstanding Senior Athlete Award in honor of Coach Marvin Wood. Coach Wood was an outstanding former basketball coach who finished out his career at Saint Mary's College. His commitment, passion, and love for his athletes through the years inspired the nationally acclaimed movie, "Hoosiers" which highlighted the Cinderella basketball success story early in his coaching career. Coach Marvin Wood's former athletes describe him as a beautiful person inside and out. They say his passion, faith, dedication and commitment to his players made their athletic experience at Saint Mary's a truly fulfilling and lifelong treasure for each of them. It is with these thoughts in mind that we honor you, our outstanding senior athlete.
Coach Wood embodied positive leadership, passion for his sport, and love for his athletes. He valued players with a strong work ethic; players that excel not only in their sport but, also in the classroom; players that make their teammates better through the example they set. This year's recipient is the type of player that Coach Wood would have been proud of!
Every once in a while, an athlete of such a high talent level comes along and makes everyone around take notice. That athlete may not be the biggest, the fastest, or the strongest, but her ability to play her sport in a seemingly effortless manner captivates your attention. The way that she competes and makes plays you are not even sure you would see at the Division III level draws you in. Even in the direst of looking situations in a game, you had faith that she would somehow make the impossible a reality. That is the kind of athlete Kerry Green has been for the Belles.
From day one, Kerry was a player you could not help but to notice and watch on the soccer field. From her ability to track down a potential breakaway opportunity for the other team to her well-timed slide tackles, she was as good of a defender as Saint Mary's has ever had don the blue and white. Her presence and athleticism immediately elevated the Belles into contenders. With her on the field, the team went from being an oversight on other teams' schedules to a game in which they knew that nothing would be given to them.
In her freshman campaign, the Belles capped off their first 10-win season in six years by shutting out Hope at home as Kerry scored the game-winning goal. The next fall, the Belles set new school records for wins and shutouts in a season while tying the program record for conference wins in a year. As a junior, Kerry helped the Belles to their third-consecutive 10-win record prior to being named the program's first All-Region honoree in 20 years by being named Second Team All-Region. This past fall, Kerry helped lead her fellow SoccerBelle seniors to the most wins and shutouts in a four-year span. Moreover, they are the first class to have defeated every MIAA opponent in conference play at least once during their careers. Kerry's role in that success cannot necessarily be put into words, but that role is also one that was undeniably crucial to all that has been accomplished. When the game was on the line, Kerry was at her best. To see evidence of that, just look at her offensive statistics. All five goals she scored during her career were either game-tying or game-winning goals.
Kerry is the only defensive player since Saint Mary's joined the MIAA to be named first team all-conference three times. She was named as one of her team's Most Valuable Players in each of her four seasons with the Belles. Remarkably, Kerry is the only member of this senior class regardless of sport to play in every possible competition of her four-year career.
A psychology major and art minor from Cincinnati, Ohio, Kerry is the daughter of Dan and Linda Green. It is with great honor that we recognize Kerry Green with the 2015 Marvin Wood Outstanding Senior Athlete Award.