2017 Senior Athlete Awards
Every year, the Saint Mary's College Athletic Department hosts an awards ceremony honoring the senior athletes who have been a part of the Department over the past years. In addition to each senior athlete receiving a watch to commemorate their time spent participating in Belles' Athletics, a select few seniors are recognized with special awards, including the Don Miller Belles Spirit Award and the Marvin Wood Outstanding Senior Athlete Award.
Listed are the 2017 honorees. To learn more about the award and read the citation of each award winner, please click on the individual's name.
Varsity Club Appreciation Award - Randy Rompola
Improvement Award - Lexi Grady
Competitive Spirit Award - Caitlyn Migawa
Impact Player Award - Emily Rompola
Impact Player Award - Meaghan Gibbons
Leadership Award - Emilie Vanneste
Composure Award - Ali Mahoney
Mary Ellen Smith Academic and Athletic Achievement Award - Katlynn Dee
Mary Fran Meekinson '40 Service Award - Liza Felix
Don Miller Belles Spirit Award - Shannon Weyer
Marvin Wood Outstanding Senior Athlete Award - Brittany Beeler
Varsity Club Appreciation Award - Randy Rompola
Presented to a member of the Saint Mary's community for extraordinary contribution to the Saint Mary's Department of Athletics.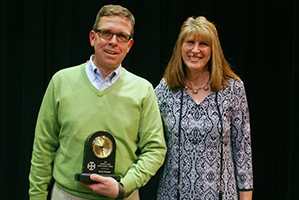 In the world of college athletics, when a coach resigns or gets fired, the assistant coaching staff is usually right out the door with the head coach as new coaches prefer to bring in their own assistants. Well, our honoree broke the mold. Through three soccer coaches and nine years with us, all of our head soccer coaches have asked to retain Randy Rompola.
Sure, Randy comes with a solid resume. Randy has great soccer connections. He has been active in local youth soccer programs coaching for over a dozen years. He has served on the Board of Directors and was past President of the Board of Michiana Echo Soccer Club. He is on the Board of Directors of the Indiana Soccer Foundation; and closing out his soccer resume, Randy has earned the NSCAA Advanced Regional Diploma and the US Soccer National Youth License.
But, there is more to Randy's value than what his resume can show. He cares. Randy has seen our program through its lowest years and through its record breaking, strongest years. He has kept several spring seasons up and running when we were between coaches. He has stepped in to serve as head coach when Coach Joyce's wife went into labor. He has assisted with recruiting – bringing in star senior, Emily Rompola, for one! He has been a committed member of the Belles Varsity Club always remembering the soccer program with a donation; and, he has served the College on Parents Council with his wife Mary Ann for three years now. He has managed all of this with a family and a pretty demanding career as partner with the law firm of Barnes and Thornburg LLP.
One of our athletes noted his impact best on an anonymous program evaluation:
Randy is a great resource to have and is always putting everything he has to this team. I appreciate everything he has done for us. … he has never given up on us and that is something that I am extremely grateful for. I think that one of my favorite parts about Randy is that he keeps in mind the "bigger picture"; he knows that soccer is just a game, and finds ways to connect different aspects of soccer to how we can be successful in life, both as athletes and people.
He is deeply committed to our Belles and to Saint Mary's College. He has been an anchor for our soccer program. He is a leader, a giver, a mentor, and a person of strong integrity. Randy is married to our super fan, Mary Ann Rompola, and is the proud father of soon-to-be two alumnae daughters, Sarah '10 and Emily '17 along with son (Emily's twin), Ryan.
It is with great honor that we present our 2017 Varsity Club Appreciation Award for extraordinary dedication and support of Saint Mary's College Athletics to Randy Rompola.
Improvement Award - Lexi Grady
Presented in recognition of significant improvement as a student-athlete over a four-year period of time.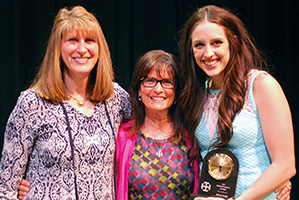 When we think of an improvement award, we look for a player who has started at one level and finished at another. We look for a player who found a way to better herself over the course of a season and a career. Every athlete strives to improve in order to be the best she can be. However, not everyone has stood out to the degree that Lexi Grady did.
Lexi saw limited playing time during her first two seasons for the Belles. She played in 15 matches in her first year on the team. Her sophomore year saw her role grow as she competed in 72 sets over the course of 22 matches. Lexi's junior year was a break out year for her. She played in all but one set of the year and competed in every match for the Belles. That season, she took to the floor as both a setter and a hitter as she stepped in to a big role for the team. Against nationally-ranked and defending national champion Hope, she registered a triple-double with 10 kills, 24 assists, and 10 digs. Less than three weeks later, she added another triple-double at Alma. Her kills, assists, aces, digs, and blocks all skyrocketed as she began to hit her stride.
Her senior year, she took her game to another level. She started out the season as a setter and hitter much like her junior year while helping the team compete against top notch opponents. Midway through the season, she stepped into the role as a six-rotation setter. She helped the Belles to an 11-5 conference record and a third place finish as the Belles matched highest conference finish ever. Her improvement is evident through her statistics and the success of the team as she finished with the eighth-highest total of career assists in the Belles volleyball program history.
The increase in her playing time is a direct result of her dedication and hard work as she continued to get stronger in each facet of the game, but her improvement goes beyond what can be read in a box score or on a stat sheet.
Benjamin Franklin said: "Without continual growth and progress, such words as improvement, achievement, and success have no meaning."
Lexi showed continual growth and progress in each and every year she played for the Belles. She persevered. She blossomed. How her role has evolved over the past four years speaks to her development as a player and a person. Her confidence soared, her leadership matured, her work ethic was top-notch, and she never stopped giving of herself to her teammates. This year she was named a team captain, and her teammates gave her the Belles Volleyball Best Teammate Award.
A native of Corrales, New Mexico, she is the daughter of Scott and Laura Grady. She will graduate in May with a degree in communications and a minor in public relations. We are proud to present the 2017 Improvement Award to Lexi Grady.
Competitive Spirit Award - Caitlyn Migawa
Presented in recognition of demonstrated passion and love for the sport through work ethic, desire to succeed, and commitment to teammates.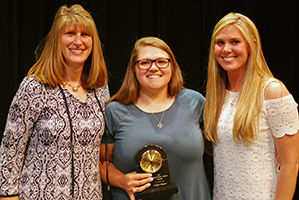 Competitive spirit is what gives talent the life and edge that it needs to perform. It is what inspires individuals and teams to do great things. Coaches are always on the lookout for players with this trait. A team without competitive spirit has no chance of success. Although our softball team is overflowing with such spirit, there is one unique individual with a very unique nickname that feeds her team's drive through her words, her actions, and her style. Caitlyn "Chewy" Migawa is a selfless, passionate, and inspiring servant leader with enough competitive spirit to help her team to one of their strongest seasons in softball program history.
Chewy's first year was also Coach Zache's first year with the Belles softball program. Their journey together started with an unforgettable spring break trip to Florida – lost luggage, a van accident, one player transported to the hospital, and upon arrival to the hotel, they were assigned the wrong rooms. If all of this didn't throw the team a curve ball, it was also the weekend of the Daylight Savings time change. This was the same year that everyone thought Chewy was quiet and reserved. Things have changed a lot over these past four years.
The team has progressively gotten better, working their way up the conference ladder. Chewy's freshman year, the team finished seventh in the conference. Both her sophomore and junior years, the Belles team finished fourth in the league and earned spots in the conference tournament. This year, the softball team posted their best overall record in five years, and their 12-4 conference record tied them with a program-best MIAA record set in 2008. They set a new school record with twelve consecutive wins. The previous record of eleven consecutive wins had stood since the early 1990s.
Chewy will be the first to tell you that this program success can be credited to good coaching and talented teammates. We will tell you that this team has that extra ingredient that inspires them to compete and keeps them connected and playing for each other. One cannot underestimate the power of a good team leader and motivator. Chewy has been this special ingredient. She has served her team as a captain since her junior year. She has the boldness to call out teammates and hold them accountable to the standards of the program; but, she also has the heart of a servant who will do whatever she can to lift and support a teammate in need. Chewy's fun-loving nature draws people to her and keeps the team connected. All one has to do is watch a softball game to see Chewy's spirit in action. At the end of an inning on defense, she gives each of her teammates a high five as they come off the field. After a quick huddle to prepare the team to go hit, her teammates not in the line-up make a quick run to keep warm and ready. Chewy waits for each one. In the line-up or not, it does not matter. Every single teammate and coach gets a high five from her. She is quite often the first off the field on defense and the last in the dugout before going on offense. You see intensity and focus, but you also witness the unifying force that is Chewy. Her competitive spirit wills them to push through the next inning.
She knows a thing or two about willing yourself to push through. Chewy has had her share of injuries. She has had her share of stress. By day, she teaches a roomful of first-graders; and, by night, she is working through her teacher certification tests. The time in-between is focused on softball. She puts all of her stressors aside and gives all that she has to her team. She leaves the field after practices with ice packs on every limb and enough dirt on her uniform to keep our laundry workers gainfully employed for some time. She is passionate about her sport.
Chewy is also involved and passionate about serving her College. She is a member of the Education Club and Project Heal. She was the softball team representative on the Student-Athlete Advisory Committee and most recently served as the SAAC president. In that role, she has taken the lead on numerous service projects. Chewy is a native of Tinley Park, Illinois, and is the daughter of Paul and Michelle Migawa. She will graduate in May with a degree in elementary education with a minor in sociology. She plans to return home to teach and continue sharing her love of the game by coaching softball. We are proud to present the 2017 Competitive Spirit Award to Caitlyn "Chewy" Migawa.
Impact Player Award - Emily Rompola
Presented to the senior athlete who elevates the intensity and focus of a game.
When we think about identifying someone as an impact player, most would assume that player to be a goal scorer or the playmaker who puts up staggering numbers on offense. These are the players whose names are routinely listed on the score sheet and are scattered throughout record books. They are the players the opposing team's coach knows are the key to trying to slow you down in order to have a chance to beat you. There is another side of impact too though that often gets overlooked. To be successful, you need to have an equally strong person on the other side of competition – on defense – to stop the other team's go-to star. For the soccer team, that player has been Emily Rompola.
Emily's impact is not measured in high statistics. In fact, she is seldom mentioned or even recognized on the score sheet. Yet her field presence is a force. Whether she was leading the backline or organizing the team through the midfield, her intensity and focus anchored the Belles' defense. She routinely stepped up on offense to provide our team with an extra spark or set the table with a long service pass for a teammate to score. She was a threat on every area of the field. She was our rock. Her passion to win was unmistakable. Anytime Emily's boots hit the pitch for a match, she had only one thought on her mind, "What do I need to do to help my team win today?"
To maintain this determination while playing for three different coaches in her four-year career with the Belles gets to the core of who Emily is - she is a winner. She has brought the same intense energy to her teams that were experiencing winning seasons as she has these past two years when wins have been scarce. Her drive to compete can be seen in her style of play and in her focus. She routinely played a full 90 minutes and regardless of the score, never wanted to step off the pitch until the match was over. Even days after suffering a substantial injury this past fall, her only thought was to get back in to training to prepare for the next match. There were days where Emily's intensity, focus, and efforts to win left her physically, mentally, and emotionally drained. That type of full effort no matter the score, no matter the circumstances is what elevates athletes to impact players.
In her soccer career, Emily has scored five goals and tallied five assists. She has contributed to 13 shutouts since the 2013 season. She has been named the Saint Mary's Athlete of the Week twice over the past four years and has was named an MIAA Defensive Player of the Week. This fall, she was named to the Belles Invitational All-Tournament team and even christened our new field with its first goal in the team's 4-1 win over Manchester.
Emily approaches her college experience as she has approached the game of soccer – all out. She has excelled in the classroom as a political science major and business administration minor. Twice, Emily has earned MIAA Academic Honor Roll recognition for maintaining at least a 3.30 cumulative GPA for a full academic year. She has studied in Rome the spring semester of her sophomore year, and in the Washington, D.C. program the spring of her junior year. She was in the Model UN Club and was a member of the 2017 Class Board. Emily has also interned with both Senator Joe Donnelly and South Bend Mayor, Pete Buttigieg.
Emily is a native of Granger, Indiana, and the daughter of Randy and MaryAnn Rompola. Emily will graduate this May with a degree in Political Science. We are proud to present the 2017 Impact Award to Emily Rompola.
Impact Player Award - Meaghan Gibbons
Presented to the senior athlete who elevates the intensity and focus of a game.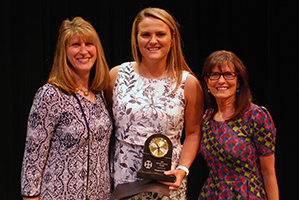 By definition, to have an impact means to have a strong effect on someone or something. Those who watched Meaghan Gibbons play for the Belles these last two years, know that they saw an impact player for the volleyball team.
Since her first day with the volleyball program, Meaghan's drive and determination have been evident. She has always been ready to jump in and do whatever she could to be out on the floor to compete. While her journey to being one of the team's biggest contributors did not take a linear path, her intensity has never wavered.
Meaghan was a strong outside hitter with two other strong student-athletes at her position during her first two years on the team. Any time her number was called to step on the court, she was ready to go. At the conclusion of her freshman season, she led the team in kills, digs, and blocks an MIAA Tournament Semifinal loss to eventual National Champion Calvin. Her sophomore season, she stepped into a new role as the team's starting libero. A role usually held by athletes of shorter stature, Meaghan was the tallest libero in our conference, and her confidence and focus on giving her best was head and shoulders above the rest.
In her junior season, she embraced and succeeded in a starting role as an outside hitter for the Belles. Battling through a lingering injury for much of the season, she was second on the team in kills and third in both digs and aces despite playing in fewer sets than her teammates ahead of her in those categories. She knew she could do more. She knew she could be the difference-maker on the court. That season only scratched the surface of what she did as a senior. She was determined to lead her team to success.
A co-captain this past fall, Meaghan's presence on the court could not have been more evident. She led the team with 304 kills and averaged 3.45 kills per set, which was the second-highest in the MIAA. Meaghan was second on the team in digs with 289 to average 3.28 digs per set. She posted 12 double-doubles. She had at least 10 kills in 22 of the team's 29 matches. She put up a season high 20 digs twice this year. Meaghan took impact to a new level in one particular match this season. The Belles were starting the second round of their conference competition with a road match at Adrian. Trailing two sets to one, the Belles came back from 20-16 and 23-22 deficits in the fourth set to win 25-23 while forcing a decisive fifth set. Meaghan capped off an epic comeback with three consecutive kills to lift the team to a 15-12 fifth-set win as that victory would propel the program to a third place finish in the MIAA.
She was named to the Oshkosh University All-Tournament Team, was a two-time MIAA Player of the Week, and capped off her tremendous senior season by being named First Team All- MIAA. She is just the eighth volleyball player in the history of our program to be named first team. She was voted the Belles Offensive Player of the Year, Outstanding Competitor, and voted the Belles Player of the Year.
Meaghan played in over 300 sets in 100 matches during her career. In addition to all of the accolades just mentioned, she finished her career with more than 100 aces and is among our program's all-time leaders. Without a doubt, she made her presence known and helped the Belles regain their spot as a force to be reckoned with in the conference. She has been a dynamic competitor with the heart of a champion.
A native of Dallas, Texas, Meaghan is the daughter of Tom and Lexi Gibbons. She will graduate in May with a degree in nursing. She has accepted a job at Memorial Hospital and will begin immediately upon graduation.
Leadership Award - Emilie Vanneste
Presented for outstanding leadership, commitment, and dedication.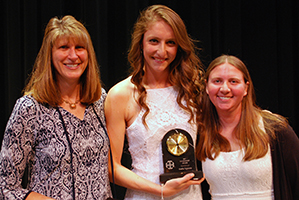 Good leaders do what is expected of them. They show up on time and run the team through their warm-up. They encourage their teammates and help put equipment away at the conclusion of practice. They take initiative to organize positive team gatherings and team bonding opportunities because that is what is asked of them. Great leaders are harder to find and do more than what is expected of them. They get to know each one of their teammates and find out what motivates them, and more importantly, what does not. They own the role of liaison between the team and the coaching staff, accepting that the responsibility of being a leader may mean making people unhappy at times for the betterment of the team. They put in extra time and recognize that a person cannot be great by doing the minimum. It is what you do when no one else is watching that makes you a great leader.
Emilie Vanneste is a great leader. Her teammates describe her as passionate, committed, dependable, and a role model. She was selected as a team captain in both her junior and senior years and has been a strong presence on the lacrosse team since her freshman year. After only playing in three and a half games her freshman year due to injuries, Emilie received the Coaches Award for her resilience and leadership throughout the season.
After recovering from an ACL injury, Emilie had a breakout sophomore season. She led the team in goals, assists, and points while collecting the second-most draw controls. She earned All-MIAA Second Team honors and the team's Offensive MVP award. Emilie continued to be a key contributor, a true impact player, throughout her junior year. She was a top-five leader in the crucial statistical categories of goals, assists, points, ground balls, and caused turnovers. This season, she became the first player in program history to score 100 goals. She was the first Belle to surpass 100 career goals and 100 career ground balls, and she is among the team's active career leaders in goals, assists, points, ground balls, draw controls, and caused turnovers.
Emilie's impact as a player and as a leader extends well beyond her impressive stats. She does the little things while never looking to gain individual recognition. Many times, this included having a strong voice for her team to refocus them or raise their intensity both at games and practices. She has dedicated herself to her team and set a strong example of how a student-athlete can be involved all across campus as she has balanced numerous commitments while making her sport a priority. Emilie has served as a team representative on the Student-Athlete Advisory Committee and as the athletics representative on Student Government Association.
Her ability to lead and motivate others has extended beyond the athletic department. Emilie serves as the Army battalion commander in the Notre Dame Army ROTC program. It takes an unparalleled amount of dedication and commitment to balance ROTC and being a Division III student-athlete. She is one of only two Belles ever to accomplish that feat. She has been a four-year member of both the Army ROTC Color Guard and the Alliance to Lead and Serve Clubs. Her relentless work ethic and determination have led her to new heights of leadership within ROTC. Likewise, her leadership within ROTC has not gone unnoticed. Emilie has received several awards from her service in the Fighting Irish Battalion. Among those are the Military Order of the World Wars Gold Award of Merit, the VFW Post 88 Award for Community Service, the American Legion Post 2864 Award for Scholastic Excellence, the Patrick M. Dixon Award, and the Dr. Michael McKee Award for academic achievement.
A native of St. Petersburg, Florida, Emilie is the daughter of Laurent and Elizabeth Vanneste. She will graduate from Saint Mary's with a major in biology and minors in both mathematics and military science. She will commission on May 20th as a 2LT in the U.S. Army after completing her Signal Corps Basic Officer Leadership Course at Fort Gordon, Georgia. She will then serve as a Signal Officer in the 2nd Armored Cavalry Regiment in Germany. We are proud to present the 2017 Leadership Award to Emilie Vanneste.
Composure Award - Ali Mahoney
Presented to the person who shows unparalleled poise and self-control in the face of pressure and competition.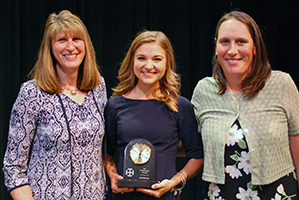 There are many emotional highs and lows with any sport. In basketball, it is needing to make both free throws for the win. In volleyball, it is being down two sets to none. In softball, it is being up with the bases loaded in the bottom of the seventh inning and being down by three runs. In golf, it is needing to make the left-to-right breaking five-footer to be medalist in a tournament. Let me paint a picture of what that looks like.
Imagine yourself in the final group, stepping up on the 18th tee box. This hole has two deep fairway bunkers on both sides, a line of trees, as thick as a rain forest, lining the left side, and a long, winding creek weaving down the entire right side. It is crucial for you to hit it down the middle for to even have a chance at hitting the green in regulation. You know that you are currently shooting one of the best rounds of your career. If you finish this hole with a par or better, you will earn all-conference accolades and give your team the opportunity to possibly play for a national championship. If you finish with a bogey or higher, you will lose your spot on the all-conference team, and your team may lose their chance for a national championship bid. Is your heart pumping? Are your palms sweating? This scenario would make even the professionals extremely nervous. For a player to succeed in this scenario, she needs extreme confidence and composure.
Regardless of the situation, it takes a special athlete who can relish in the pressure and be composed in the moment. Ali Mahoney has been the perfect example of those characteristics.
Ali made an immediate impact on the golf team. She played in all but two of the season's tournaments, had the best freshman scoring average on the team, and was one of only two freshmen in the conference to earn All-MIAA honors. Since then, Ali's performance on the golf course has turned into one of the best four-year careers a Belle has ever had. She currently holds the sixth-best individual 18-hole score in program history with a two-over par 74. That score is also the second-best score in an MIAA competition for our program. She holds the second-best 36-hole total for an individual during an MIAA Championship Tournament in program history with a 154. That same total allowed her to earn her fourth All-MIAA award after rising to the challenge of the situation described earlier. She is one of only three players in our program's history to have earned All-MIAA honors in each of the four years of their career. She has been an MIAA Athlete of the Week and Saint Mary's Athlete of the Week multiple times during her career.
Ali shows composure and confidence throughout her daily life, and it is why her teammates have voted as her a captain two years in a row. She is a model example of what a Saint Mary's Division III Student-Athlete is all about. She studied abroad during the spring of her sophomore year in Rome. While there, she had the experience of a life-time as she was asked to give the Papal Palm Sunday Mass reading in front of the St. Peter's Basilica. Broadcasted to millions of people around the world, that experience probably takes more composure than trying to sink a five-foot putt for the win. In addition to golf, Ali has sung in the Saint Mary's Women's Choir, held a position with the Sports Nutrition Program at Notre Dame, and has been an active participant in the Saint Mary's Dance Marathons for the Riley Children's Hospital. She does all of this while maintaining being the #1 player for our golf team. Ali demonstrates composure in all facets of her life, but it is her passion and love for her teammates, Saint Mary's, and the game of golf that makes her so successful.
A native of Naperville, Illinois, she is the daughter of Dennis and Mary Mahoney and will be graduating with a communications degree. Her future plans involve interning with a marketing/nutritional company in the Chicago area, with hopes of landing a full time position. We are proud to present the 2017 Composure Award to Ali Mahoney.
Mary Ellen Smith Academic and Athletic Achievement Award - Katlynn Dee
Presented for outstanding academic and athletic achievement and future promise as a Saint Mary's graduate.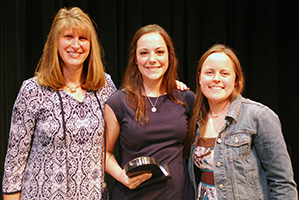 Mary Ellen Smith served as our Dean of Students from 1986 – 1992. She was a dedicated leader, educator, and avid supporter of all students during her tenure at Saint Mary's. She was especially supportive of the athletic department and of all student-athletes. Every student-athlete knew Mary Ellen. She was at our home events, award banquets, fundraisers, and would even assist in driving our teams to away contests. Through Mary Ellen's leadership and commitment to improving the athletic experience, she advocated for and oversaw the transition to our move from NAIA to NCAA Division III. Mary Ellen Smith passed away suddenly on June 1, 2015. To ensure that her contributions to Saint Mary's College Athletics will not be forgotten, we have re-named our academic and athletic achievement award in her honor.
It is one thing to be a four-year college student-athlete. It is quite another to excel both on the field of play and in the classroom to the extent of earning athletic and academic honors. Lacrosse player Katlynn Dee has done just that and is our 2017 recipient of the Mary Ellen Smith Academic and Athletic Achievement Award.
She helped establish a lot of "firsts" for a program which has grown exponentially in just four years. Katlynn was selected as an All-MIAA Second Team honoree in both her sophomore and junior seasons and is the first two-time All-MIAA selection for the program. In those same seasons, she was selected as the team's defensive most valuable player. She became the first Belle on the lacrosse team to earn MIAA Defensive Player of the Week honors. She was the first player in program history to collect 100 career ground balls, accomplishing the feat in just 36 games. In three seasons on the field, she earned 91 caused turnovers and currently holds second place in the record book for career caused turnovers. She accomplished all of this despite missing this competitive season due to an injury. She continued to contribute to the team's success this past season as she encouraged her teammates from the sideline.
In the classroom, Katlynn has made the Dean's List every semester and will have earned MIAA Academic Honor Roll all four years of her career. She holds a cumulative GPA of 3.93 with a GPA of 3.96 in her major of philosophy and a perfect 4.0 in her major of history.
Additionally, Katlynn has studied abroad in Rome, is a member of the history club and the history honor society Phi Alpha Theta. During her senior year, she presented at the Seneca Falls dialogue convention and the Saint Mary's research symposium on a collaborative research project with fellow students and a history professor.
A native of Chicago Heights, Illinois, Katlynn is the daughter of James and Catherine Dee. She will graduate from Saint Mary's with a double major in philosophy and history while also earning a minor in sociology. She will continue her education by attending DePaul Law School in Chicago. We are proud to present the 2017 Mary Ellen Smith Academic and Athletic Achievement Award to Katlynn Dee.
Mary Fran Meekison '40 Service Award - Liza Felix
Presented for extraordinary service to Saint Mary's College and the local communities.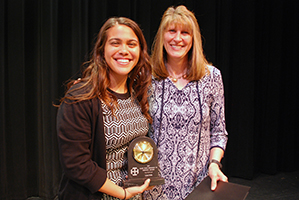 The Mary Fran Meekison Award for Service is named after a Saint Mary's graduate from the class of 1940. Mary Fran is a Hall of Fame Inductee who participated in basketball, track, tennis, and field hockey. Until the age of 77, she played competitive tennis as a member of the United States Tennis Association (USTA). When Mary Fran was not competing she dedicated her time and efforts to serving others for the greater good of the community. She served as a class reporter for more than half a century while also spending time as a member of the Alumnae Board. She was awarded the prestigious Saint Mary's College President's Medal for her outstanding community service by former President William Hickey in 1991. It is with great honor that we present this year's Mary Fran Meekison Award for Service to Liza Felix.
Liza is an outstanding representative of Saint Mary's and the Belles soccer program. While Liza strove to serve her team on the pitch, it is her dedication to serving others outside of soccer that has led to this award. She has had an impact on almost everyone who visits campus as she has made multiple appearances on the Saint Mary's introduction video that is played for visiting students and families. When she was not starring in Saint Mary's media, Liza was a Student Ambassador for the Office of Admission and provided families and potential students with campus tours, assisted at campus recruiting functions, and hosted potential students during campus visits and overnights. She regularly was called upon beyond the hours already dedicated to assisting the Office of Admission when their staff was in need of help. Liza never hesitated to answer that call to share her love of Saint Mary's.
Service has played a large part in her career path. One of her majors – social work – is focused on serving others. Social work is defined as a discipline which seeks to facilitate the welfare of communities, individuals, families, and groups. This mission is one which Liza has taken to heart. Through her major, she has worked with the Saint Joseph Health Services and their Senior Services Outreach program. The program assists patients in finding primary care physicians and advocates for seniors' needs in residential facilities. She has given of her time at Healthwin Specialized Care through the College's Music and Memory program. The program's mission was to help patients with neurocognitive disorders like dementia rekindle memories by listening to music. In both of these community outreach endeavors, Liza has gone above and beyond the requirements set forth by the Social Work Department. She volunteered over 20 additional hours of her time to the Saint Joseph Outreach Services program throughout the fall while managing soccer season and other campus commitments. Beyond the Music and Memory program, she religiously returned to Healthwin to have dinner with the residents as her passion for serving the aging population has grown in the last year. Last November, she was selected to present at the Inauguration Dinner for President Jan Cervelli, and naturally, her speech was about service.
While the description of this award focuses on service to Saint Mary's and the local communities, her dedication to sharing her time and passion for life with others through service extends well beyond the Avenue. Last summer, Liza served with the Sisters of the Holy Cross in Park City, Utah. The Holy Cross Ministries and Park City School District provide a summer camp program to low-income children. Rather than getting a "normal summer job", Liza taught and mentored fourth grade students and managed athletic, social, and art activities. The bonds she formed with students and Sisters during her service-based summer are ones she has fostered over the past year.
A native of Escondido, California, Liza is the daughter of Maria and Francisco Felix. She will graduate with degrees in both social work and Spanish. She begins her master of social work degree at Grand Valley State University this upcoming week. We are proud to present the 2017 Mary Fran Meekison Service Award to Liza Felix.
Don Miller Belles Spirit Award - Shannon Weyer
Presented to the person who best exemplifies the winning spirit of the College's athletic programs.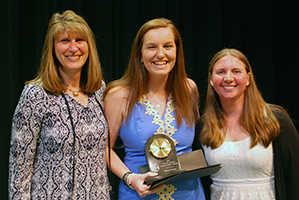 In 2008, the Belles Varsity Club Award was re-named the Don Miller Belles Spirit Award in his honor as a longtime math professor and assistant softball coach for the Belles. His life was taken by pancreatic cancer, but his legacy lives on through the many lives he touched both in the classroom and on the softball field. Coach Miller displayed true dedication and passion for Saint Mary's College and her Belles. This award is presented each year at the Senior Athlete Awards Reception to the student-athlete who best exemplifies the winning spirit of the athletic program.
This year's recipient has an undeniable passion for Belles Athletics. From serving as a Big Sister in the athletic department mentorship program, to owning the role of servant leader on her team, to being the softball team's biggest fan, Shannon Weyer's Belles spirit is unparalleled. Her enthusiasm for lacrosse and her teammates was evident as she put her heart and soul into each and every game whether she was on the field or on the sideline. Shannon has always put her team before herself and this display of leadership and compassion is what makes her truly stand out.
Teammate Cara Givens describes Shannon as "one of the most impactful people in my life on and off the field." Further, Cara states, "From the very beginning, she has been there for me and taught me not only how to play lacrosse and be a better player but a better person. Although her role on the team changed, her heart has remained the same. The strength she exudes gives me strength. I can only hope to follow in her foot steps and exude the dedication and kindness she shows every day. Shannon embodies the essence of a leader and long after she is gone the mark she has made on this program will be remembered."
Shannon is the type of player that every coach would love to have during their coaching career. You never question her commitment, work ethic, passion, or pride in her team. She always has a great attitude no matter what adversities she has encountered. While she has never complained about the pain she endured as a collegiate athlete, Shannon faced many challenges that would have made quitting lacrosse a reasonable choice.
In her first season with the Belles she played defense and was third on the team in caused turnovers. This was the inaugural season for Belles lacrosse and the team had no subs for most of their games. Many times the team was on defense for the majority of the game. Shannon battled through aches and pain in her knee to ensure the team would not be playing woman down in any of their games. By the final game of the season, the team was sore and exhausted and at one point in this particular game, the Belles were down 18 to 2. Shannon, with tears in her eyes from the pain, still refused to come off the field. After being instructed that she had to come to the sideline for at least a few minutes, Shannon's passion for her team glowed even brighter as she cheered them on from the sideline. Everyone took notice of Shannon's spirit and beaming positivity that day.
As Shannon's sophomore year began, it was determined that her knee could not handle the running and cutting required of lacrosse. It appeared that this would be the end of her lacrosse career. Shannon's passion for her sport and her teammates prevailed as she found a way to continue to play. She would learn an entirely new position and take on the challenging role of goalie. In her sophomore season, Shannon played in all 1020 minutes of the season in goal and finished the year with 110 saves. She emerged as a servant leader for her team doing anything she could to help her teammates achieve their best. She developed personal relationships with each one of her teammates and provided support to them on and off the field.
As her junior season began, Shannon was selected as a team captain by her teammates. A second goalie was brought on who like Shannon the previous year had no goalie experience. Shannon owned the roles of supporting, teaching, and encouraging her new teammate. As the season continued, Shannon found herself on the sideline more than she had been in her first two seasons on the team. Her focus continued to be not on herself or her playing time, but on others and helping them achieve more than they even thought was possible. Her desire for her teammates to succeed was evident as she stood on the sideline encouraging, supporting, and cheering for her new teammate in goal. When Shannon earned the starting position over her teammate, her first action was to reassure her fellow Belle and encourage her to keep working hard. Shannon beamed with excitement and pride on game-day regardless if she was in the goal or if her teammate was in the goal. Shannon finished the season with a save percentage almost three percent better than the previous season, an MIAA Defensive Player of the Week honor, and the program's only shutout.
During the fall of Shannon's senior year, she suffered a career ending injury. There was no new position for Shannon to try. There was no way she could continue to play the sport she loved and had played since she was in fourth grade. This did not stop Shannon from continuing to be an incredible teammate. She was again voted a team captain by her teammates and thrived in the difficult role of a non-competing player on the team. Although she could not practice or play in the games, Shannon's dedication and passion for her team was unwavering. She has been a key contributor to the team's success this season as she serves as captain, student goalie coach, mentor, encourager, counselor, and motivator.
While Shannon holds the program record for the most career saves and most career wins, her impact on the lacrosse program encompasses so much more. Her hard work and dedication to build and sustain a strong, positive team culture is something her coach will always be grateful for. She has connected with and supported each and every one of her teammates on and off the field. Absent of Shannon's winning spirit over the last four years, the lacrosse program would not be what it is today.
A native of La Grange Park, Illinois, Shannon is the daughter of John and Traci Weyer. She will graduate from Saint Mary's with majors in history and humanistic studies and minors in sociology and intercultural studies. At this time, we ask the Miller Family to help us present the 2017 Don Miller Belles Spirit Award to Shannon Weyer.
Marvin Wood Outstanding Senior Athlete Award - Brittany Beeler
Presented to the outstanding senior athlete.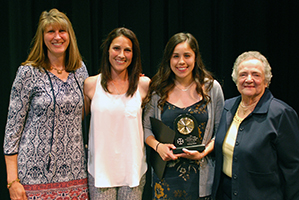 In 2000, the athletic department named the Outstanding Senior Athlete Award in honor of Coach Marvin Wood. Coach Wood was an outstanding former basketball coach who finished out his career at Saint Mary's College. His commitment, passion, and love for his athletes through the years inspired the nationally acclaimed movie, "Hoosiers" which highlighted the Cinderella basketball success story early in his coaching career. Coach Marvin Wood's former athletes describe him as a beautiful person inside and out. They say his passion, faith, dedication and commitment to his players made their athletic experience at Saint Mary's a truly fulfilling and lifelong treasure for each of them. It is with these thoughts in mind that we honor you, our outstanding senior athlete.
Coach Wood embodied positive leadership, passion for his sport, and love for his athletes. He valued players with a strong work ethic; players that excel not only in their sport but, also in the classroom; players that make their teammates better through the example they set. This year's recipient is the type of athlete that Coach Wood would have been proud of!
Outstanding senior athlete. To be marked by distinction; excellence. These descriptions only scratch the surface of the young woman we honor today. In practices and competition, she worked hard, was disciplined, extremely coachable, and has had incredible drive and persistence. As a teammate and friend, she has exemplified the traits of a great listener, acted as a servant leader, and has a heart of gold. She is kind, giving, gracious, and incredibly humble. Brittany Beeler is truly one of a kind.
As a runner, you need a strong work ethic, because at the end of the day, you are the only one responsible for the outcome of your race. The amount you put in largely determines the output. Brittany was never short on work. She put in the miles and was often the last to leave a practice. She understood the benefits of doing things the right way, never taking shortcuts in her work or her effort to take care of her body.
On the cross country course, she has amassed a multitude of accolades over her career. It was Brittany's sophomore year when she really found her stride and made a splash not only in the MIAA, but throughout the region. That year, she was the first and only cross county Belle to be recognized by the conference with Athlete of the Week honors. She was named to the All-MIAA Second Team, which is awarded to the 16 athletes with the most points over two meets. In a field of over 240 runners at the NCAA Regional race, Brittany placed 24th in the meet to finish off her sophomore year with her first All-Region honor.
In her junior and senior years, Brittany continued to put in the hard work and developed the confidence to take her to the next level. She moved up in the conference and earned First Team All-MIAA honors both her junior and senior seasons after being one of the top eight runners in the league. To cap it all off, she added two more All-Region honors, making her the only cross country Belle to earn All-Region honors three times in her career. In her senior season, she clocked the second fastest 5k by a Belle with an impressive 18:39. Her time falls only behind that of two-time national qualifier, Megan Gray. A week later, Brittany raced the second fastest 6k in program history with a time of 22:09, or the equivalent of 5:56 per mile pace. Her name is all over the Saint Mary's Cross Country record book. She holds three of the top eight 5k times and seven of the top eleven 6k times in program history. In fact, her five 6k times just from her senior season are among the top ten-fastest 6ks run by a Belle ever.
She has been recognized as an Athlete of the Week at Saint Mary's nine times. In every race of her career, she finished either first or second for the team. Moreover, since her sophomore season, she has been the first Belle across the line in every competition she raced – excluding one. For this, and so much more, her teammates have voted her Most Valuable Runner for the past three seasons.
Although Brittany's amazing prowess on the cross country course is etched in the record books, how she made her teammates and coaches feel is what will never be forgotten. As a captain for the past two seasons, she was always mindful of the issues that concern first year students as well as keeping our team motivated. Her focus is always on her team first. She is incredibly humble. If Coach Bauters did not share her race results, the team would not know how well she performed. Brittany is far more focused on celebrating her teammates new personal records than her own.
Her athletic feats are impressive on their own, but coupled with the rigorous academic load and standards she has maintained, and there is a whole separate level of amazing. As a double major, Brittany carries a 3.88 cumulative GPA and has been on the Dean's list every semester at Saint Mary's. Likewise, she is a three, soon to be four-time MIAA Academic Honor Roll Honoree, and has made USTFCCCA All-Academic honors in the 2014, 2015, and 2016 seasons.
To round out her Division III, Saint Mary's experience, Brittany studied abroad in Seville, Spain, has been a Peer Mentor, a Big Sister, a Teaching Assistant in the Biology lab, and Sister Jane's buddy through Friends with Sisters for the past four years.
A native of Spring Lake, Michigan, Brittany is the daughter of Joe and Angie Beeler. Brittany is a Biology and Spanish double major and Chemistry minor. A week after graduation, she and her four senior teammates will run the Bayshore Marathon together, with their coaches. She plans to work and volunteer this next year before taking the MCAT and applying to medical school. At this time, I would like to ask Mary Lou Wood to join me in presenting the 2017 Marvin Wood Outstanding Senior Athlete Award to Brittany Beeler.