2018 Senior Athlete Awards
Every year, the Saint Mary's College Athletic Department hosts an awards ceremony honoring the senior athletes who have been a part of the Department over the past years. In addition to each senior athlete receiving a watch to commemorate their time spent participating in Belles' Athletics, a select few seniors are recognized with special awards, including the Don Miller Belles Spirit Award and the Marvin Wood Outstanding Senior Athlete Award.
Listed are the 2018 honorees. To learn more about the award and read the citation of each award winner, please click on the individual's name.
Improvement Award - Rachel Bonek
Sportsmanship Award - Caleigh Gainey
Athletic Integrity Award - Leah Buck
Impact Player Award - Clare Theisen
Composure Award - Jamie Young
Mary Ellen Smith Academic and Athletic Achievement Award - Makenzie Duncan
Don Miller Belles Spirit Award - Mary Green
Marvin Wood Outstanding Senior Athlete Award - Cassie Young
---
Improvement Award - Rachel Bonek
Presented in recognition of significant improvement as a student-athlete over a four-year period of time.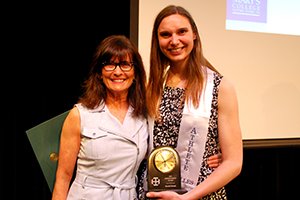 Definition of Improve: to enhance in value or quality; to make better. Rachel Bonek did just that for the Volley Belles as she demonstrated significant improvement over her entire career. Her self-confidence, and belief in herself and her abilities skyrocketed over this four year period allowing her to reach her potential and help lead the Belles to one of our best seasons in the history of the volleyball program.
Rachel started her first year as a front row only player for the Belles. She had 104 kills, hit .092, and averaged only one kill per set. Definitely some room for improvement! Her sophomore year, despite having a little anxiety about adjusting to a new coach, she showed slight improvement in most statistical categories. As one of our tallest players at 6'0, she had quite a bit of room to grow to be the presence on the court that we knew she could be.
It was during Rachel's junior year that she started to come out of her shell and attack the ball with some authority. She ended up leading the team in hitting efficiency with a .248. In fact, she hit over .300 thirteen times that year after only hitting over .300 four times the previous year. A defining moment in Rachel's volleyball career came that year when she was named to the all-tournament team at the very prestigious, nationally-ranked Emory tournament.
At the end of this junior season, and a heart-to-heart talk in preparation for her senior year with her coach, Rachel came into this year a different person. Having a couple of her peers quit right before the start of the season really affected Rachel. It was an emotional blow to her. Being the incredible team player that she is, she responded with a strong commitment to lead her team with fellow senior, Leah Buck... and lead she did.
In Rachel's senior season, she went from a three-rotation player to a six-rotation player, handling serve receive passing for the first time in her career. She began hitting out of the back row as well as the front row, and she went from one of the lowest hitting percentages on the team to leading the team in this statistical category. She recorded double-digit kills 14 times her senior season after achieving that only once in her first year. She went from a quiet player to a vocal leader and captain. In one of the strongest conferences in the nation which boasts two national champions in the past four years, Rachel finished third in the MIAA in kills and earned First Team All-MIAA honors this year.
In this span of four years, Rachel Bonek did more than simply improve in her sport – she underwent a metamorphosis. She achieved in sport at the highest levels while also modeling to her team what it is to be a true NCAA Division III student-athlete. She is a double major, and she has been named to the Dean's List each semester of her career. Rachel is a three-time (and counting) MIAA Academic Honor Roll honoree. She has studied abroad in Greece. She has served as the treasurer of the Physics Club. Rachel has been involved with the Society of Women Engineers, the Mathematics and Computer Science Club, and the Pi Mu Epsilon Mathematics Honor Society.
A native of Buchanan, Michigan, Rachel is the daughter of Debbie and Mike Bonek. She will receive her degree from Saint Mary's in physics and applied mathematics this May before completing her degree at Notre Dame in electrical engineering. We are proud to present the 2018 Improvement Award to Rachel Bonek.
(top)
---
Sportsmanship Award - Caleigh Gainey
Presented for sportsmanship, fellowship, and special contributions to the Department of Athletics.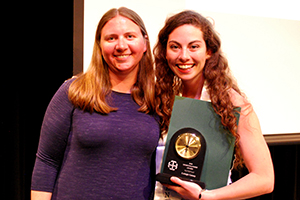 When you think of someone who displays great sportsmanship, you probably think of someone who is encouraging to teammates, who shows respect to their opponents, and who believes they are blessed to have the opportunity to play. Caleigh Gainey not only demonstrates these acts of sportsmanship in lacrosse, but she builds fellowship with other Belles athletes, the Saint Mary's College community, and beyond. Sportsmanship is defined as fair and generous behavior or treatment of others, especially in a sports contest. Caleigh incorporates sportsmanship in her daily life, in and out of sport, with her strong morals, consideration of fairness, respect for others, and sense of fellowship among her peers. She maintains a positive attitude even during challenging times, and her words of encouragement have impacted more people than she knows.
Caleigh earned the lacrosse team's Coaches Award at the conclusion of her freshman season due to her exceptionally positive attitude and team-first mentality. Her cheerful personality was quickly noticed by the Athletic Department as she began serving as a Student-Athlete Advisory Committee representative. The lacrosse team's SAAC meeting minutes soon became something everyone looked forward to seeing in their inbox as Caleigh's joyful personality shined through, even in print. She kept the emails exciting by incorporating the team's catch phrases of "stay tuned, don't bet on it, ring their chimes, and lights out" as well as emojis and pictures of her team. Caleigh worked to integrate research on the mascots of some of our conference schools as she encouraged the team to attend our fellow Belles' games. Caleigh voiced a genuine desire to get the lacrosse team to support the other Belles teams more, in part so that she could learn more about the student-athletes she kept seeing in the training room but knew little about. Caleigh was authentic in her pursuit to build relationships with student-athletes outside of her own team.
Caleigh has served as a student worker in our athletic facility since her sophomore year and brings her best to a position that some would describe as mundane. Caleigh seeks out ways to brighten the day of everyone she interacts with. When asked to describe a time when she has led by example for her SAAC representative application, Caleigh stated: "I like to lead by example in the way I treat people. Greeting the bus driver each time I hop on for an away game, saying thank you (and sorry for the huge group) to the staff at Portillo's, and making sure to let parents know that I appreciate them as fans are ways that I think just brighten the world a bit. I also try to give 100% at practice at all times. I want a winning season and I definitely believe in us to earn it. I know not every day is an "on" day but giving your best effort in that moment is valuable."
Caleigh shows an outstanding work ethic and dedication to serve her team well. She puts in the work in the off season to be the best she can be for her teammates. This is apparent when looking back at Caleigh's two mile times during tryouts for each season of her career. Her two mile time her freshman year was 15:05 followed by a 14:49 run as a sophomore. As a junior, she ran her two mile in 14:23 before lowering it for the third straight year to 14:07 this season.
Caleigh has been a very reliable player for the team starting in all but one of the team's games during her four year career. At the conclusion of her junior year, she earned the team's Most Improved Player award. Caleigh is one of only three players in program history who have a career caused turnover amount larger than the career turnovers committed. She has caused 83 turnovers while only giving up 69 turnovers in her career. She has the fifth-most career caused turnovers and fifth-most career ground balls in the program's history.
Caleigh has served as a first-year peer mentor, sociology department student representative, and the treasurer of the sociology club. As a SAAC representative, Caleigh also served as the liaison between SAAC and the convent when planning collaborate events with the Sisters. She studied abroad in Rome and has earned academic honors within the International Sociology Honor Society, Alpha Kappa Delta, and the MIAA.
A native of Grand Blanc, Michigan, Caleigh is the daughter of Yvonne and Joe (Shamrock) Gainey. She will graduate from Saint Mary's with majors in communication studies and sociology with a minor in theatre performance. We are proud to present the 2018 Sportsmanship Award to Caleigh Gainey.
(top)
---
Athletic Integrity Award - Leah Buck
Presented to the senior athletes who best exemplifies honesty and respect for herself, her teammates and opponents, and the game itself.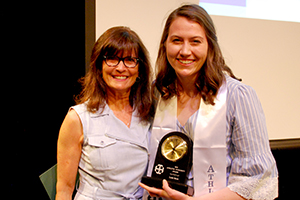 Integrity: the quality of being honest and having strong moral principles; moral uprightness. Anyone who knows Leah Buck knows that this is her. Leah has a presence. She is a person of great faith. She is kind and respectful, and one cannot help but be immediately impressed with Leah's work ethic and personality. She has a way of carrying herself and she remains true to this "way" in sport. She doesn't fluctuate in her principles. She doesn't break rules, she is on time, she is positive, and she does not cut corners. Simply put, Leah always does the right thing. A coach could not ask for a player to serve as a better example as a team captain.
Leah consistently has shown a genuine respect for her coaches and her teammates, opponents, and their coaches. She is the first one to ask if we could pray before practice, the first one to get the devotional to read each day, the first one to volunteer to take care of Mel, our Team IMPACT player. It was a common sight to see Leah helping first year players figure out how to study on road trips and how to work hard with a positive attitude every day. She was consistent and reliable as she never failed to give it her all every day that she came into the gym. She is a model student-athlete.
Leah has also made great contributions to the success of the volleyball program. She was named to the all-tournament team at the Otterbein/Capital Tournament and will go down in the record books as second all-time in the rally scoring era for career blocks at 245. She improved her hitting efficiency each year that she played starting at a .115 and ending with a .244. Those accolades are testaments to her work ethic - they do not happen without great effort.
Leah is a great example of a student-athlete whose contributions and involvement reach beyond sport. She is involved with Belles for Life and has traveled to Washington, DC, for the Rally for Life. She has been a Christ the King youth ministry volunteer for two years and did a summer missionary project in six cities to conduct a Catholic summer camp for elementary school children. This year, Leah was given the Coaches Award at the volleyball banquet for the many things she does with a smile and a positive attitude. She has always been open to coaching and has never made an excuse. She is the glue for this team and extends her influence to all of our Belles. She does not miss an opportunity to support her fellow Belles by attending and cheering them on at their competitions. In fact, she and fellow Belle, Emily Lambert, asked if they could make up and post banners for the basketball team to welcome them to their new competitive arena in January.
Academically, Leah was one of only 11 NCAA Division III volleyball players from the Indiana, Ohio, and Illinois (District 7) region to earn College Sports Information Directors of America (CoSIDA) Academic All-District® recognition. A student-athlete's performances both in the classroom and in the competitive arena are taken into account for consideration for the honor. A chemistry and chemical engineering double major and mathematics and physics double minor, Buck boasts better than a 3.95 cumulative grade point average at Saint Mary's. She has earned Dean's List every semester and has been named to the MIAA Academic Honor Roll honoree every year.
A native of Mattoon, Illinois, Leah is the daughter of Terri and Jim Buck. We are proud to present the 2018 Athletic Integrity Award to Leah Buck.
(top)
---
Impact Award - Clare Theisen
Presented to the senior athlete who elevates the intensity and focus of a game beyond what statistics can measure.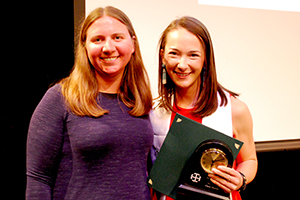 By definition, to have an impact means to have a strong effect on someone or something. Clare Theisen has had an unparalleled effect on the Belles lacrosse program.
From Clare's very first practice during the fall of her freshman year, she set herself apart. She worked twice as hard as anyone else at that first practice and the other freshmen, as well as the upperclassmen, took notice. Clare was recognized as someone who was ready to push herself and her teammates to lead the lacrosse program to new levels of success. Over the last four years, Clare consistently demonstrated a relentless work ethic, enthusiasm for her teammates, and an unwavering passion for her sport. Clare's drive for excellence has resulted in a deeper motivation within her teammates and significant success of our program.
Clare holds the majority of the career records for our program. She is at the top of our career record book for goals, points, shots, ground balls, and caused turnovers. She is second in career assists and draw controls. She also holds single game records for assists, ground balls, and caused turnovers. Clare was the first player in our program history to earn 100 caused turnovers in a career and was also the first to amass 100 ground balls in a career. She is one of just two players with 200 ground balls in their career. What is even more impressive is that Clare has increased the number of ground balls, draw controls, and caused turnovers she has earned each season.
Clare served as a two-year captain and earned First Team All-MIAA honors as a junior. She has been named the MIAA Defensive Player of the Week three times and the MIAA Offensive Player of the Week once. Clare earned our team's Rookie of the Year award at the conclusion of her first season. She went on to receive our team's Offensive MVP award in her sophomore season and our team's Defensive MVP award in her junior season. This season, she received our team's Most Spirited Player award for her dedication to her teammates and her ability to consistently raise the intensity level of our team.
Clare has a tremendous energy that is contagious. She inspires her fellow Belles to be the best version of themselves by not only setting a strong example, but by encouraging and helping them in any way she can. As part of this year's captain application process, Clare was asked what skills she has that would make her a good captain. Clare responded "passionate and compassionate, team player, loyalty, tremendous work ethic and a positive mental attitude". Clare embodies these characteristics at all times, and her impact on her teammates and Saint Mary's reflects that.
Clare approached her college experience as she has approached the game of lacrosse – with mental toughness and extra effort. She has excelled in the classroom as a biology major with a chemistry minor and holds a cumulative GPA of 3.95. She has made the Dean's List every semester and will have earned MIAA Academic Honor Roll all four years of her career. Clare is a member of Tri-Beta Biology Honor Society and Friends with Sisters. She studied abroad on Semester At Sea visiting 14 different countries on four different continents during her sophomore year.
A native of Downers Grove, Illinois, Clare is the daughter of Patrick and Colleen Theisen. She will continue her education at Northwestern University where she will pursue a doctorate in physical therapy. We are proud to present the 2018 Impact Award to Clare Theisen.
(top)
---
Composure Award - Jamie Young
Presented to the person who shows unparalleled poise and self-control in the face of pressure and competition.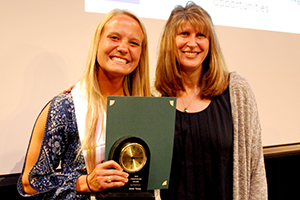 The word composure is defined as the state or feeling of being calm and in control of oneself. To know her own talent and ability while continuing to push herself beyond what she thinks is possible while staying composed in the tightest of scenarios is what puts Jamie Young on a level of her own. Her ability to maintain composure at bat or on defense is evident to anyone who has had the privilege of watching her play the game.
To score a run in softball, there is a lot more to it than just having someone behind you in the batting order get a hit. It takes intelligence running the base paths, a combination of instinct and knowledge in judging where a ball is hit, how hard it is hit, how the weather will affect the play, and having a deep understanding for your own abilities. Add to that the necessity of knowing the scenario of the game, and there is a lot of pressure particularly on a lead-off hitter to score to help her team succeed. Jamie has been more successful than any other Belle in knowing how to score runs. She broke two 20-year-old records – one for the most runs in a season and one for the most runs in a career. For her career, she has scored a run 54.2 percent of the time she has reached base. In order to score, however, you need to reach base safely. A multi-faceted threat at bat, she has the focus and instinct of knowing whether to bunt or hit for power. Jamie has earned her way on base with at least one hit in 132 games of her career.
Defensively, it is safe to say there are no other shortstops in the conference who compare to Jamie. In fact, in each of the past three years, she was the ONLY shortstop selected as a First Team All-MIAA honoree. Jamie has laser-sharp focus and an incredible range that would make Derek Jeter proud. She makes plays which appear impossible look easy. In the MIAA Tournament as a freshman, the other top teams in the conference took notice of her composure at shortstop. In the program's first MIAA tournament win in nine years, she accounted for more than half of the outs of the game with no errors in a victory over nationally-ranked Hope. Since day one, she has repeatedly demonstrated why she is the best shortstop in the history of the softball program. She has robbed the opposition of countless hits over the past four seasons, and her defensive production is staggering. In 153 games, Jamie has had a hand in over 550 outs. That is the same as 26 GAMES worth of outs. Success is always paired with shortcomings, but Jamie's composure almost certainly ensures she does not let one mistake turn into two. Over her career with more than 580 opportunities to make a mistake, she has committed just 32 errors.
A four-time All-MIAA selection, she became one of the first two players in program history to earn all-conference accolades in each of her four seasons. Jamie has been an All-Region selection twice and is very likely to earn that distinction yet again this spring. She currently holds the all-time career hit record at Saint Mary's with 227 hits and holds at least share of four of the top seven single-season hit totals.
A native of South Bend, Indiana, she is the daughter of Dirk and Mary Jo Young. She will graduating with degrees in both history and humanistic studies with a minor in gender and women's studies. We are proud to present the 2018 Composure Award to Jamie Young.
(top)
---
Mary Ellen Smith Academic and Athletic Achievement Award - Makenzie Duncan
Presented for outstanding academic and athletic achievement and future promise as a Saint Mary's graduate.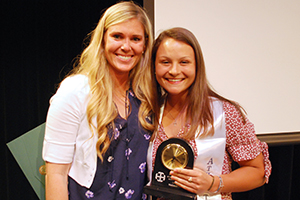 Mary Ellen Smith served as our Dean of Students from 1986 – 1992. She was a dedicated leader, educator and avid supporter of all students during her tenure at Saint Mary's. She was especially supportive of the athletic department and of all student-athletes. Every student-athlete knew Mary Ellen. She was at our home events, award banquets, fundraisers, and would even assist in driving our teams to away contests. Through Mary Ellen's leadership and commitment to improving the athletic experience, she advocated for and oversaw the transition to our move from NAIA to NCAA Division III. Mary Ellen Smith passed away suddenly on June 1, 2015. To ensure that her contributions to Saint Mary's College Athletics will not be forgotten, we have re-named our academic and athletic achievement award in her honor.
School record holder and valedictorian. If that doesn't define academic and athletic achievement, we are not sure what else would. Makenzie Duncan can list both of those accolades on her resume, but her accomplishments speak for themselves. On the softball field, she has had a consistently strong career for the Belles. She holds claim to both the single season and career triples records. She is among the top ten all-time in career hits, doubles in season, doubles in a career, home runs in a career, season runs batted in, and career runs batted in. Having played in over 140 games during the past four seasons, Makenzie has had no fewer than 40 hits in each year and has amassed over 170 career hits. A two-time All-MIAA honoree, she has been named to the MIAA Academic Honor Roll each year. Last spring, she became just the second softball player in program history to earn CoSIDA Academic All-District honors.
Being recognized as one of her class's valedictorians holds a merit which does not need to be defined. Makenzie has maintained a perfect 4.0 grade point average while balancing not only academics and athletics, but also clubs, research, and volunteer work. She has served as a Belles Against Violence Office ally, been a Campus Ministry Mass assistant, served as the Biology Club secretary, and has been a Team IMPACT representative. She is the fourth student-athlete since 2004 to earn the honor of being a class valedictorian at Saint Mary's, and she is the first softball player to be recognized with the College's highest academic honor.
In addition to the many things we know about her, Makenzie has also searched the unknown. As a member of the College's research team dubbed the "Belle Bats", she has been part of ground-breaking research. She is a published scientist as she is a co-author on a scientific paper which was just accepted into the journal Frontiers in Microbiology Extreme Microbiology. Additionally, her research with her advising professor Dr. Laura Kloepper may have led to the discovery of a new species of bacteria.
A native of La Salle, Michigan, Makenzie is the daughter of Tim and Chris Duncan. She will graduate from Saint Mary's with a degree in integrative biology with a minor in chemistry. She will continue her education by attending Midwestern University to become a physician assistant. We are proud to present the 2018 Mary Ellen Smith Academic and Athletic Achievement Award to Makenzie Duncan.
(top)
---
Don Miller Belles Spirit Award - Mary Green
Presented to the person who best exemplifies the winning spirit of the College's athletic programs.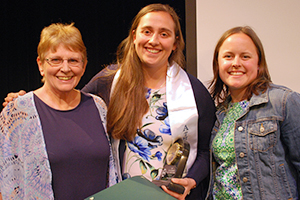 In 2008, the Belles Varsity Club Award was re-named the Don Miller Belles Spirit Award in his honor as a longtime math professor and assistant softball coach for the Belles. His life was taken by pancreatic cancer, but his legacy lives on through the many lives he touched both in the classroom and on the softball field. Coach Miller displayed true dedication and passion for Saint Mary's College and her Belles. This award is presented each year at the Senior Athlete Awards Reception to the student-athlete who best exemplifies the winning spirit of the athletic program.
This year's recipient epitomizes everything great about being a Belle. She is kind, selfless, compassionate, a model teammate, and she has a great sense of humor. If you ask anyone who has met Mary Green what they think of her, you know they will immediately smile. If you talk to one of the few student-athletes who have not met her, you will get the response that they want to be friends with her and know her. She radiates goodness. But the reasons why Mary is receiving this award extend beyond just those things.
When someone asks what exactly a Belle is, all you need to do is look at Mary. She is honest, hard-working, and dedicated to Saint Mary's in a very true and real way. Being part of the softball team has served as a motivator for her from day one. And while that one facet of her Saint Mary's experience alone does not fully define her as she has been involved in many ways beyond Athletics, it is the sacrifice and commitment to her team that makes her shine even brighter. Allow us to share some of her own words about an experience she had earlier this year. During her "Why We Play" speech, she recounted a particularly challenging moment pitching over the team's spring break. Her focus, rather than being on herself, was on her team. In her words: I put my team in a hard spot to be able to get the win that we spent six and a third innings working toward. You work for months to be able to contribute to team goals over the course of innings, and when you fall short, it is devastating. As silly as this may sound, I am grateful to be in a situation where failing is devastating, a situation where I care so much, and am surrounded by people who care so much. This is why I play softball.
Just a few short weeks prior to that speech, Mary had an injury while at home over Christmas break. While that injury sidelined her from practicing with her teammates in January and some February workouts, she showed up with a determined attitude and work ethic to get back to 100%. She has never given up on herself or her teammates. She was always fully present as she was encouraging and supportive of the rest of her Belles despite not being able to fully participate.
Her support for her teammates is genuine, and her support extends beyond the softball team to all of her fellow student-athletes. Twice, she has given up a Friday night to drive up to Grand Rapids to cheer on the volleyball team in the MIAA Tournament. She is regularly found in the stands at home competitions of many of our teams, and she is among the first to know the results of all of the other Saint Mary's programs. Mary Green – you embody the spirit of Belles Athletics.
A native of Brighton, Michigan, Mary is the daughter of Bob and Jacki Green. She will graduate from Saint Mary's with a degree in biology and a minor in chemistry. At this time, we ask the Miller Family to help us present the 2018 Don Miller Belles Spirit Award to Mary Green.
(top)
---
Marvin Wood Outstanding Senior Athlete Award - Cassie Young
Presented to the outstanding senior athlete.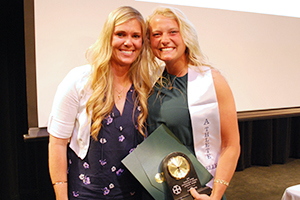 In 2000, the athletic department named the Outstanding Senior Athlete Award in honor of Coach Marvin Wood. Coach Wood was an outstanding former basketball coach who finished out his career at Saint Mary's College. His commitment, passion, and love for his athletes through the years inspired the nationally acclaimed movie, "Hoosiers" which highlighted the Cinderella basketball success story early in his coaching career. Coach Marvin Wood's former athletes describe him as a beautiful person inside and out. They say his passion, faith, dedication and commitment to his players made their athletic experience at Saint Mary's a truly fulfilling and lifelong treasure for each of them. It is with these thoughts in mind that we honor you, our outstanding senior athlete.
Coach Wood embodied positive leadership, passion for his sport, and love for his athletes. He valued players with a strong work ethic; players that excel not only in their sport but, also in the classroom; players that make their teammates better through the example they set. This year's recipient is the type of athlete that Coach Wood would have been proud of!
When a student-athlete does something no other Belle in the history of their program has accomplished, people take notice. Cassie Young has done just that – charted previously uncharted territory for the Saint Mary's softball program while helping the Belles to new levels of success. A Second Team All-MIAA honoree as a freshman, Cassie was a First Team honoree in her sophomore season while also being named the MIAA Most Valuable Player after leading the conference in batting average and total hits. The following spring, she was one of 50 Division III student-athletes to be named to the National Fastpitch Coaches Association Preseason Player of the Year watch list.
She went on to repeat as conference MVP as a junior after leading the conference in batting average for a second consecutive year. The MIAA MVP award was expanded in 2007 to recognize both a position player and a pitcher, and she was the first position player since that expansion to earn the honor multiple times. As a senior, she was again named to the NFCA Preseason Player of the Year watch list, and at the end of April, she was named to National Player of the Year Top 25 List. A four-time All-MIAA honoree and soon to be three-time All-Region selection (barring something ridiculous), Cassie's name can be found in the softball record book among the all-time leaders in career batting average, single season hits, career hits, career doubles, single season and career runs batted in, and career runs scored. Against Olivet, she broke the school record for hits in a career by surpassing the previous high mark set by a two-time All-American. She has been named MIAA Position Player of the Week five times during her career, and she has never had a season batting average below .400. She will leave with three of the top seven single-season batting averages and will have one of the top two career batting averages of all time. Imagine how much larger all of those numbers would be if people did not choose to walk her instead of pitch to her – that is how dangerous of a hitter she is. Cassie, along with her fellow senior softball players, have led the team to school records for single season wins, career wins, and conference wins in a season as the 2018 softball team won their first MIAA championship and garnered their first Top 10 national ranking.
A native of South Bend, Indiana, Cassie is the daughter of Dirk and Mary Jo Young. She is a business administration major with concentrations in finance and management. We are proud to present the 2018 Marvin Wood Outstanding Senior Athlete Award to Cassie Young.
(top)