Western Equestrian Club
The Saint Mary's College Western Equestrian Team was founded in September 2010.  It is a club sport that competes in the Intercollegiate Horse Show Association.  They show in the western discipline through Zone 7, Region 1.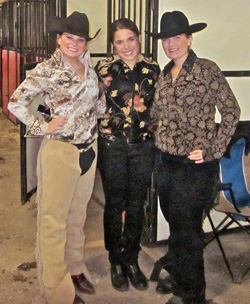 They practice once a week at Harnish Performance Horses approximately 10-15 minutes away. There are a few shows each semester that members participate in and travel to through IHSA. The Western Equestrian Team is made up of members of all riding abilities, even those who have never ridden before! They are always looking for new members so please do not hesitate to contact Mary Beth Langford for more information.
Leaders
Student Leaders: Mary Langford
Advisor: TBA
2018-19 Western Equestrian Club Members
Mary Beth Langford, 2020 
Emily Casado, 2020
Cynthia Penaloza, 2022
Dita Muller, 2022
Jane Braverman, 2022 
Fall Semester 2018:
TBA