Citzenship - Saint Mary's SAAC
Saint Mary's SAAC - Citizens of a Global Community
One of the fundamental elements of the mission of Saint Mary's College is to prepare young women to make a difference in the world. Moreover, the College's core values of learning, community, faith/spirituality, and justice are all rooted in growing not only academically, but through service and leadership. Such goals are also mirrored in the College's Student-Athlete Advisory Committee as community service is fostered, encouraged, and organized by the SAAC and the collective body of Saint Mary's student-athletes.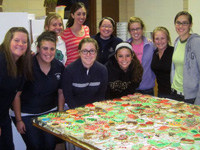 The Saint Mary's Golf Team assisting
with a craft show at Little Flower
Catholic Church.In striving to emulate and live out not only the College's mission, but also the larger mission of NCAA Division III, the SAAC helps each Saint Mary's student-athlete prepare for being good citizens on campus and beyond after graduation. The SAAC and its members organize service projects that are meaningful to individual teams and the group as a whole.
Each year, the SAAC organizes holiday-themed parties on campus for two groups from the community as a way for student-athletes to see how they can impact the world on a local level. Groups from South Bend's LOGAN Center, which provides resources and opportunities for people with disabilities, and Memorial Hospital's Oncology Floor come to celebrate Halloween and Valentine's Day with activities and treats with Saint Mary's student-athletes. The group also organizes trips to the on-campus Saint Mary's Convent to decorate the halls of the convent and visit with Sisters of the Holy Cross.
Through the Division III Strategic Initiatives Grant Program, the Student-Athlete Advisory Committee has given back to the greater South Bend community through reading programs at schools and donating books to the Boys and Girls Club. The Saint Mary's Athletic Department and SAAC have also donated school supplies and uniforms to students at Navarre Intermediate School. The two have combined forces to invite kids from the community for a home basketball game and providing a pizza party and t-shirts for those in attendance.
In the fall 2010 semester alone, Saint Mary's student-athletes combined to give over 500 hours of their time on and off campus. Groups helped at a unity garden in downtown South Bend, raked leaves at a local chapter of the American Red Cross, assisted with Little Flower Catholic Church's fall craft show, and run and volunteered at 5Ks which have helped raise funds and awareness for the prevention of child abuse and for the assistance of medically fragile children.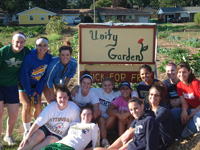 The Saint Mary's Basketball Team
assisted at a unity garden in
South Bend.Well over 150 separate service projects have taken place in the last decade because of the willingness of Saint Mary's student-athletes to be active citizens of the College and outside communities. Not only has the SAAC made an impact on the local communities, but it has helped to inspire student-athletes to go on to help groups well beyond those in northern Indiana. From Indianapolis and Chicago to Uganda and Honduras, current and former Saint Mary's student-athletes have demonstrated the importance of serving and being leaders in all capacities while continuing to live out the College's mission of making a difference in the world.