Comprehensive Learning - Lauren Easton
Lauren Easton - Running the Country
When Lauren Easton departed last spring for Washington, D.C., the Saint Mary's senior cross country runner and co-captain could not have expected to have such a world of educational exposure and experience at her hands as she did.
The psychology and political science double major from Pittsburgh, Pennsylvania, envisioned an uncharted challenge in the full course load semester in the nation's capital that would extend her far beyond her own comfort zone. What she experienced, however, was an immeasurable amount of growth as an independent, mature Saint Mary's woman.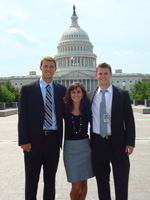 "Before leaving for Washington, D.C. I had no idea what to expect from my semester abroad," commented Easton. "I saw it as a challenge because it was taking me outside of my comfort zone of Saint Mary's and the Psychology Department."
For three days a week, Easton attended classes, attended lectures on American politics, and gained a broad-based education of the inner workings of the government as a whole. She traveled around Washington to hear speakers in the Senate and the House of Representatives, the Washington Field Office for the FBI, and the Department of Transportation, just to name a few.  
On those stops, she listened to:

The Honorable Ray LaHood- Secretary of Transportation;
Andrew Card- Former Chief of Staff for President George W. Bush;
Mark Putnam- Political Media Consultant;
Senator Lisa Murkowski (R- AK);
Bob Schieffer- Former host of the Saturday Edition of CBS's Evening News, former Chief Washington Correspondent for CBS;
The Supreme Court
"I experienced firsthand major events in American history – the passage of the healthcare bill, the Supreme Court's decision to strike down Citizens United, immigration protests, the growth and influence of the Tea Party," recalled Easton on her wide-ranging educational experience.
She also gained firsthand experience of the inner workings of the Department of Justice through an internship both during the semester and over her summer break. During the semester, Easton interned two days per week with the Office of Community Oriented Policing Services. She was able to gain an inside understanding of the Office while networking with several people who were able to provide her with interviews and publications to help Easton complete her senior comprehensive project for her Political Science major requirement.
The internship went so well for Easton that she was offered a full-time position for the summer. She met with various mayors, police chiefs, and local representatives and government officials of cities across the country that are in need of assistance in their work to decrease and control crime in its many forms. That opportunity also allowed her to attend meetings with representatives from the U.S. Attorney's Office, the Office of Justice Programs, the Office of Violence Against Women, and several offices specializing in the protection and well-being of children.
That same summer position continued to provide Easton with the chance to listen to well-known experts in the field of American politics, including Attorney General Eric Holder, who she met, and Agent George Piro, who interviewed Saddam Hussein during his incarceration.
Even with a full slate of work and educational growth, Easton found time to relax, have fun, and run, of course. She volunteered at the Central Kitchen in D.C. and ran in both the Suntrust half marathon and the National Cherry Blossom Festival 10 mile race.
"I spent a memorable seven months of my life in Washington, D.C. and I would not trade the experience and friendships I made for anything!"