Comprehensive Learning - Patsy Mahoney
The Big Picture
When senior basketball player Patsy Mahoney arrived on campus three-and-a-half years ago, she had full intentions to study engineering through the dual degree program offered between Saint Mary's and the University of Notre Dame. Three years later, she has traveled across Indiana State Road 933 for another academic pursuit.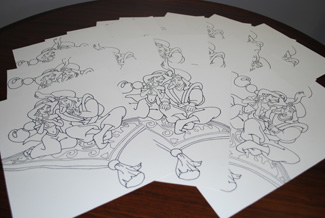 For her Drawing 2 class, Patsy created drawings of
"A Whole New World" being sung in Sign Language
while replicating animation with subtle differences."I have kind of always been interested in the new media part of art," said the native of Nashville, Tennessee. An art major earning her degree with concentrations in new media and photography, she first made the leap toward art thanks to a math class at Saint Mary's. "After taking computer programming and having to put some small graphics in a program, I wanted to do more on the front end of design than the back end of programming."
While Saint Mary's does not offer a straightforward graphic design concentration, she took things in stride. "Since we don't have a graphic design program here, any of those classes had to be taken across the street at Notre Dame," she added. After checking with professors at Notre Dame to ensure there was room in her desired classes, Patsy filled out the co-exchange paperwork in the Registrar's Office, received her Notre Dame ID and PIN, and registered for her classes.
Without having a car on campus, Patsy again had to adapt to pursue her academic ambitions. "On days that are not nice enough to walk, I usually end up taking the bus that runs between campuses or find someone on their way off campus who can drop me off."
For a shooting guard turned point guard, Patsy has learned to adjust on the fly, whether it is on the court or in the classroom. That experience has not come without its challenges, however. "Being able to play basketball while completing my major was difficult at times," she said. "Art is one of those things that takes large chunks of time. Since basketball is a five-month or longer season, finding the open time to get work done was sometimes hard to juggle." While most students can study, read, or get work done on the bus rides to and from games, Patsy did not have that same luxury as the majority of her work needed to be done in the stable environment of a studio. That did not stop the All-MIAA honoree from excelling in and out of the classroom.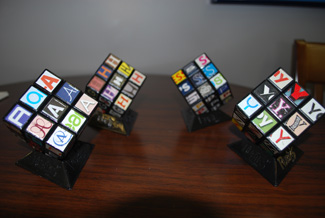 For her Graphic Design 2 Typography project, she used
different typefaces of letters and replaced the conventional
Rubik's Cube colors with letters.After twelve studio art courses and three art history courses at Saint Mary's and four graphic design classes at Notre Dame along with all of her other Saint Mary's academic requirements, Patsy is set to graduate in May with a degree in art and both concentrations in hand. She presented her senior comprehensive project on the last Friday of March.
"I have learned that the more ideas you have, the better the end result will be. Even if you think they are bad ideas, you have the critical thinking power to come up with multiple solutions to a problem or assignment." That lesson has been evident in all that she has accomplished with the inevitable hurdles that arise being a Division III student-athlete.
"Being able to play and finish out my career has been fantastic," she added. "I wouldn't have wanted to picture my college life without playing."
That picture of her collegiate experience has truly become a work of art.