Excellence - Saint Mary's Tennis
Building a Tradition
More than a decade before Saint Mary's joined the MIAA, the Belles tennis team had already established themselves as a formidable force for any opponent. In the Belles' first four meetings against neighboring University of Notre Dame in the mid-1970s, Saint Mary's walked away with four wins. In the 1980s, the team won several NAIA District titles and represented the district at the National Championship Tournament while being nationally ranked in the NAIA on several occasions.
In 1997, Saint Mary's joined America's oldest collegiate conference. The Belles finished fifth in the league in that first year of membership. The team moved up to third in MIAA standings at the end of 1999 and shared second place with Calvin just a year after that.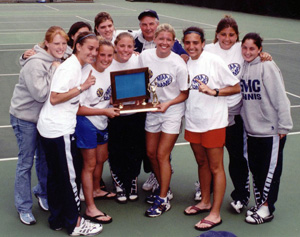 The 2001 Saint Mary's tennis team with their MIAA
Championship trophy.In the spring of 2001, the tennis program made history by claiming the College's first MIAA title as they went undefeated in regular season play against conference competition and won six of nine flights at the end of season MIAA Tournament. During that first championship run, the team's members combined to go 57-6 against their conference counterparts during the regular season.
"It was a whirlwind of excitement as we realized our potential for winning the first school conference championship," recalled Kris Spriggle Werth '04, who won her singles flight of the MIAA Tournament each of her four years of her career.
"It obviously felt great to be successful in your position and to contribute points to team matches," added classmate and four-time All-MIAA honoree Kaitlin Cutler Silliven '04. "It really does take a team effort to win conference titles since there are so many matches. You often don't realize how big of an accomplishment it is until you experience it"
In 2002, the Belles ran the table again, winning all seven conference matches and the tournament for back-to-back titles. Saint Mary's joined the ranks of Kalamazoo, Hope, and Calvin as the only schools to repeat as MIAA Championships to that point in the sport's conference history. During that same season, another piece of Saint Mary's Athletics history was made when the team earned the school's first NCAA Division III Tournament berth.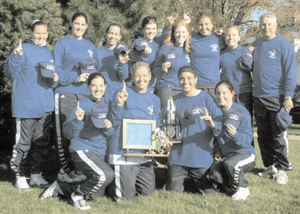 The Saint Mary's tennis team repeated as MIAA
Champions in 2002."The NCAA Regional Tournament was so much fun and a great way to end such a successful season," said Silliven. "All of the hard work and focus of that season paid off. We had so much support from our families and friends who came on the trip. It would be great to see the team return sometime soon."
After their third MIAA Tournament title in 2003, the three seniors who had been a part of that first title run finished their careers on a high note with both a conference tournament title and an overall MIAA Championship in 2004.
"Our senior year, Jeannie (Knish), Kaitlin and I together walked up to claim the conference trophy - that is something I would never have predicted four years earlier, and I doubt if any of us will ever forget that feeling of pride and accomplishment in our team and coach," said Werth.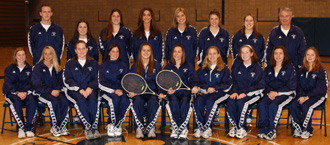 The 2004 Saint Mary's tennis team won their fourth
consecutive MIAA Tournament and the program's third
overall MIAA Championship.Then-sophomore Kristen Palombo '06, who also went on to earn All-MIAA First or Second Team honors in each of her four seasons with the Belles, was motivated from the onset of her career to help the team succeed. "Our team had such good chemistry during those years that winning was the icing on the cake," she said. "We worked really hard on and off the court and just kept building momentum after wins. It is great to enter a team with that kind of dedication and motivation because it rubbed off on me and made me want to compete harder."
Since 2004, the Saint Mary's tennis team has finished fifth, fourth, and tied for third place in the final season standings. In head coach Dale Campbell's eyes, however, it is just a matter of time before the Belles reclaim the conference title and earn another postseason berth.
"Great tennis and excellent academics definitely go together," Campbell said. "Most tennis players and families I have been around over the past 20 years have placed a high value on education, and also believe in healthy competition. At Saint Mary's, education, tennis and competition have come together over the years to bring about that winning formula."
"We, the coaches and players at Saint Mary's, appreciate the tradition of excellence that those before us have achieved, and we know that the foundation to have that future is here at Saint Mary's," Campbell went on to add. "With the caring environment, the guidance toward excellence, and the standards that Saint Mary's College upholds, we can build on the tradition that was started here. I believe that we will have the ability to win conference titles, and compete both in our conference and on a national level going forward. We want to do that on a consistent basis. We are laying more bricks on that foundation!"