Passion - Audrey Dalrymple
There is a saying that no one swims because they like it. The battle between body and water, the grueling workouts, the mental exhaustion of repeats, constantly hitting the physical wall and barreling through a level of fatigue that would make anyone want to give up - it is not a sport for the faint of heart. Couple the pure exhaustive nature of swimming with the fact that Saint Mary's does not have a pool on campus, it takes more than the average amount of resolve not only to compete, but to compete at an elite level.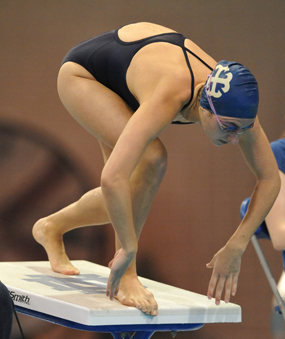 Senior co-captain Audrey Dalrymple not only takes on all these hurdles head on, but she excels in spite of them. Going back to the 2007-08 school year, it was difficult for Dalrymple to choose a college. Her choices included a Division I school where she would try to walk on to the team, a Division II school where she was offered a full scholarship, and Saint Mary's.
"I chose Saint Mary's because I did not want to have to compromise my education for swimming," recalled Dalrymple, who is majoring in biology and earning a minor in chemistry. "I wanted to be able to receive a good education and have the opportunity to compete and excel in swimming."
The Grand Rapids, Michigan native has done just that from the on-set of her collegiate career. In her very first dual meet for the Belles, she was a winner in the 200 individual medley against defending conference champion Calvin.
At the end of her freshman campaign, she became just the second swimmer in school history to earn a chance to compete at the NCAA Division III Championships. At the national meet, she set a new school record in the 400 individual medley, finished 26th in the 100 breaststroke, and narrowly missed the consolation finals of the 200 breaststroke. None of those moments, however, are classified by her as her best moment in the pool.
"My best moments were the moments I got to share a win with the team, whether it was a win at a dual meet or out-touching a relay at conference. While individual successes are great, I would much rather share the excitement with my teammates. I cherish the moments where we can experience it [swimming] together."
With thirty individual wins in dual meets since the fall of 2008, the motivation to continue to compete still thrives within Dalrymple.
"Swimming is an individual sport, but when we are in the middle of an intense set and I want to give up, my motivation to continue comes from knowing that my team is experiencing the same exhaustion," said Dalrymple. "If I gave up, I'd be giving up on them. It is easier to bring the focus off myself and push through the pain for them."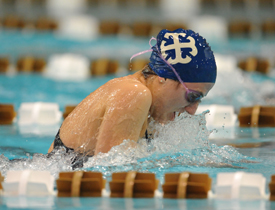 One thing has remained a constant through the ups of a Division III Championship appearance and the downs of seeing an NCAA B cut time come within fractions of a second of earning a return trip to the national meet last spring - her passion.
"I know the euphoric high of achieving a goal, and I know the feeling of complete loss and defeat of falling short of something I worked for every single day. It is a combination of success and defeat that continue to push me in the pool. When negative thoughts come into my head, I remember the rush of getting a best time or making a cut. It is equally important to recall the conquering feeling of falling short, of giving your all and not having it be good enough. In remembering defeat, I am able to make improvements by recognizing my weaknesses and mistakes. I think of success as 'why I push myself' and defeat as 'how'."
In regard to the fact that Saint Mary's does not have a pool and team members must travel to the University of Notre Dame's facility, it is just another obstacle Dalrymple hurdles in stride. "As for commuting to practice and the demands of my major, I don't think of either as a reason not to swim. I am passionate about my sport and have a commitment to my team regardless of whether or not the conditions are prime."
The biology major has done well considering the less-than-prime conditions. She has several school records to her name and has been a two-time All-MIAA selection. After all the school records and accolades, her love for swimming remains.
"I love the feeling of being in the water, I love the sense of accomplishment after a grueling practice, I love the palpable nervousness before a race, and I love the team."