Passion - Jackie Bauters
Jackie Bauters '04 - Running for Something More
It is no surprise that runners are passionate about what they do. They brave elements from extreme heat to wintery cold to pound the pavement. For Saint Mary's alumna and head cross country coach Jackie Bauters '04, that love of running means helping others grow and learn self-respect and discipline through a healthy lifestyle.
That mindset of self-growth and education of healthy practices is the essence of the mission statement for Girls on the Run (GOTR), a non-profit organization whose curricula address all aspects of preteen girls' development - their physical, emotional, mental, social and spiritual well-being.   
Currently 42 of the 50 United States and two Canadian provinces have Girls on the Run councils. Seven councils exist in Indiana, and Bauters was part of the team that helped bring GOTR to the Michiana area. The girls in the program culminate a 10 week season with a 5k that they complete as a group. It is a program that is all about moving forward in any fashion in life, not just running.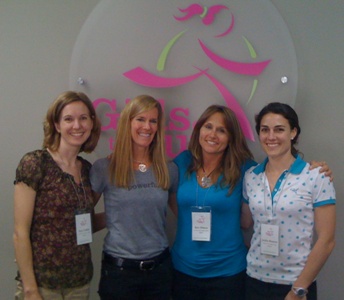 Jackie Bauters with the founder of Girls on the Run and her
Michiana Council Co-Founders."Being a coach at Saint Mary's, I have seen how challenging society is for even the most educated and privileged young women, let alone those facing tougher circumstances," said Bauters. "I believe Girls on the Run is a program that can help provide all young women with the tools to be more prepared to face their futures."
To help the Michiana council get off and running, Bauters and her husband ran the San Francisco marathon in July as "SoleMates" to help raise money for the group. SoleMates is the adult charity running program for GOTR. Through SoleMates, people can walk, run or bike in any event and raise funds for GOTR. She is the Michiana GOTR SoleMates Coordinator and is a board member.
The Michiana council will officially get started in the spring. Bauters and other members of the board will attend the National Summit in January. From there, the council will begin working with local schools in the spring of 2011 to start getting girls involved.
"Running has been a constant in my life," Bauters added. "It has carried me through the tough times, helped me stay true to myself and disciplined me to be a better person."
It is for those reasons that Girls on the Run is something she is passionate about and looks to help inspire other young girls and spread that passion for running.
For more about Girls on the Run, visit www.girlsontherun.org.