Proportion - Hayley Bojorquez
Hayley Bojorquez - More Than Just a Student-Athlete
 
The rigors of being a collegiate student-athlete are enough to keep anyone busy. Saint Mary's softball player Hayley Bojorquez goes beyond only being successful in the classroom and on the field.
Going to college more than 2,100 miles and a 34-hour drive from home might have been more of a distraction than a reason to focus her time and efforts into just a few activities and softball. But the Moorpark, California, native used the resources and opportunities of the College to get involved and become a strong presence in the campus and South Bend communities.
The elementary education major and lone senior on the softball team sets an example to her teammates and other student-athletes of how involvement is not only possible, but integral to the total educational experience.
"If I weren't as busy as I am, I would have thought about it all the time. Without the many activities that I am personally involved in, I would have not been able to evolve into the person I today."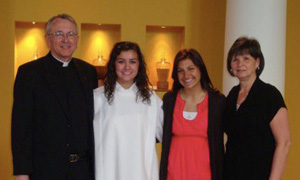 Father John Pearson, CSC; Emily Treat; Hayley
Bojorquez; Judy Fean all pose at the Church of LorettoBojorquez is a softball representative on the Student-Athlete Advisory Committee, a member of the College Republicans and Education Clubs, active in the Friends with Sisters group, a student assistant in athletic training, a student teacher at Harrison Primary Center, and last year, she sponsored a Catechumen who received some of the holy sacraments in the Catholic Church. They are activities that have had a profound effect both on her development as a teacher and also on her personal faith and spirituality.
"Being involved in various activities has required an incredible amount of discipline and time management skills," she commented. "Because the activities and clubs that I am involved in are so different in nature, they have exposed me to many different aspects of the College community and lifestyle. I get to familiarize myself with other athletes and have the opportunity to witness how various teams work together. Sponsoring my best friend as a Catechumen was a two year process that not only helped me to guide her in her journey towards Catholicism, but only helped me grow stronger in my own faith. I enjoy knowing that I am involved in activities that help me to grow in my professionalism, spirituality, as well as character in general."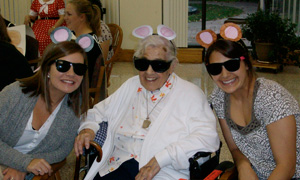 Annie Regan; Sister Vlbiana, CSC; and Hayley
Bojorquez at the Friends with Sisters Halloween PartyWhile incredibly involved outside of the classroom, she has accomplished great things inside the academic realm as well. A Dean's List and MIAA Honor Roll honoree, Bojorquez has been a three-time National Fastpitch Coaches Association (NFCA) Scholar Athlete. Her academic success has also led to her induction into Pi Lamda Theta, the international honor society and professional association in education.
To truly reaffirm how she has demonstrated an appropriate relationship between all facets in the college years, last spring, she was an All-MIAA First Team selection and was named to the NFCA Central Region Third Team after a breakout season in which she hit over .400 with 47 RBIs, 8 home runs, 12 doubles, and 53 total hits.
"Being a student-athlete has provided me with the skills to succeed in the classroom and competitive world, as well as become a member of a bigger community."