Proportion - Not Your Average Summer Vacation
From the breathtaking skyline of New York City, to the dusty, beaten dirt roads of Uganda and the hut homes of the lowest members of the caste system of India, Saint Mary's student-athletes had a wide array of experiences far from home this past summer. A handful of Belles lived in five different countries, covering four separate continents and learning more about life, adjustment, and balance than could ever have been taught in a classroom.
New York - it is the city that never sleeps and is home to more than 18 million Americans and hundreds of different ethnicities and languages. This past summer, it was also home to junior Ashley Morfin and seniors Christine Brown and Keely Noonan. Morfin had an internship with FIFA, the world governing body of international soccer. Brown interned with Fusion Public Relations, a technology public relations firm with offices in New York City, Los Angeles, and London. "It was my first time actually working in public relations, and it was a great experience to be able to learn firsthand about the business," said Brown.
Noonan, meanwhile, worked in Midtown for InStyle.com as a digital planning intern. "I was living in the middle of China Town, Soho, and Little Italy," said Noonan. "The most interesting thing about being somewhere from home for the summer is learning NYC's lifestyle and how fast paced it is compared to everywhere else."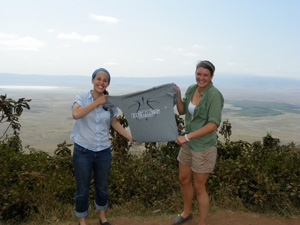 Annie Doyle and Kelley Murphy show off a Saint Mary's
basketball t-shirt above Ngorongoro Crater in Tanaznia.Nearly 7,000 miles away in the town of Kyarusozi, Uganda, seniors Kelley Murphy and Meghann Rose were busy assisting the Sisters of the Holy Cross by working in their health clinic. Working alongside nurses, the pair assisted in the many facets of a small, rural health clinic. "While in Kyarusozi, we worked with the clinical staff by traveling to nearby villages to give young babies and children immunization shots," recounted Murphy.
Meghann Rose added, "Going to Uganda was the most valuable and memorable experience of my life. The people in the community in which I lived not only became my family, but taught me so much about myself and the importance of diversity. I would go back in a heartbeat."
Neighboring to the South of Uganda is Tanzania, which is where junior Annie Doyle spent five weeks working for The Foundation For Tomorrow (TFFT), a non-profit organization that provides scholarships and quality educational opportunities for orphans in the country. Outside of the classroom, TFFT provides after school programming to ensure a holistic education for each of its scholars as well as teacher training programming for each of TFFT's partner schools.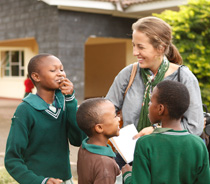 Annie Doyle shares a laugh with some
of the students at Usa River Academy."Working with TFFT revealed to me how blessed I am to be fortunate enough to have family, friends, and faith in my life," said Doyle. One of those friends, teammate Kelley Murphy, came to Tanzania at the end of her summer experience to visit.
"I saw people living in horrible conditions, spent time with children that were not wanted by their families, and heard stories that broke my heart," Doyle went on to add.
"I am studying education because I believe that every child deserves the opportunity to receive a quality education. This experience opened my eyes up to the many routes I can take in order to work towards my mission in the education field."

Morgan Bedan took full advantage of
her time in Argentina, which meant
leaping at the chance to paraglide.
Education was the basis of Morgan Bedan's summer in Argentina. The junior was in Cordoba, Argentina in an intensive Spanish language program at the University of Cordoba. The five week experience not only helped hone her Spanish, but also helped her learn to embrace and become a part of a city and culture drastically different than her own. "I was completely dependent on myself and had to figure everything out on my own," said Bedan. "I hope that I'll look back on this experience if I'm ever uncomfortable with taking a risk or if I ever find myself in a foreign situation and remember that I was able to assimilate and make things work."
Junior Allison Zandarski also had education at the center of her trip to India. She traveled to Tamil Nadu, India with her church for a ten-day mission trip in a village of members of the lowest caste system in India. She and her group stayed with the villagers called "untouchables" and taught conversational English. They also helped build a community center, which has become a spiritual education center for new Christians and pastors in the village of Kalavai.
"There were about 250 kids ranging from age two-and-a-half to fifteen-years-old," said Zandarski. "It was really cool to see who valued their homes and how they live in nothing more than a 12' by 15' hut, but can make it into a home to cook, sleep, and enjoy their family in." With ambitions of becoming a medical missionary, Zandarski valued being able to see and interact in a culture half a world away.
"Understanding how people live really made an impact on how I live and how I will help them someday," she added. "To know what's most important in someone's life is the easiest way to find out how to serve them best."