Responsibility - Katie Griffin
Katie Griffin - A Soldier of Responsibility

The few, the proud, the Marines. It might just be the most well-known mantras of all the branches of the United States Armed Services. It could easily be adjusted to fit the majority of colleges and student-athletes - the few, the proud, the Belles, or the Irish, or the (your mascot name here).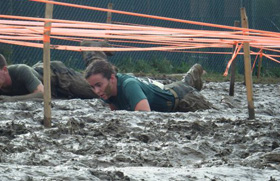 Katie Griffin participates in a Mud Run with fellow
NROTC - Marine Officers.Very few people, especially college student-athletes, are able to intertwine both the present and the future in such a way that their lives are defined by those six words that summarize one of the nation's strongest lines of defense. Sophomore swimmer Katie Griffin finds herself in that small population.
It seems only fitting that a collegiate swimmer would find a home in the Marines. Someone who stands alone but is a part of a whole dedicated to a common cause describes so many who fearlessly dive into a pool or readily dive into the front lines of combat.  
"A lot of people think swimming is an individual sport, but each athlete on the team has a commitment to one another to do our best in every race, in every set, and every practice," commented Griffin. "I know without my team I wouldn't achieve the same things on my own." That sentiment makes the lines between swimming and the Marines about as transparent as a pool itself.
A competitive swimmer for the past 11 years, the computational mathematics major from the small town of Bristol, Indiana has grown to merge both her responsibilities of school and swimming with her additional responsibility of becoming a Marine through the University of Notre Dame's Naval Reserve Officers Training Corps (NROTC).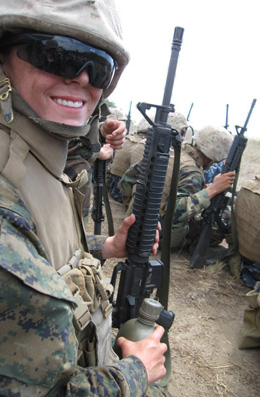 Griffin with an M16 at a training session.Her journey toward the armed services began in high school. One day at lunch, one of her male counterparts on the Northridge High School swim team bet Griffin that she could not complete the pull-up challenge the recruiters from the Marines brought along for a visit - do twenty pull-ups, get a free shirt.
"Not being able to back down from a challenge, I did as many pull-ups as I could," said Griffin. "I didn't do twenty, but I did enough that the recruiters asked me if I was interested in filling out a form. I was drawn to the Marine Corps initially because I knew it would challenge me every day, both mentally and physically."
Moving forward a couple of years to the present day, Griffin has found a balance among her responsibilities. Despite the Monday morning PT sessions, the challenges of not having a pool on campus and late swim team practices, and the three additional PT sessions required by the NROTC - Marine Option, she has learned to thrive academically, athletically, and beyond.  In addition to being named to the Dean's List, her name can be found in the top-five all-time best swimming performances in Saint Mary's history in three individual event categories and all five relays. She and three of her teammates set the new school standard in the 400 freestyle relay at this past February's MIAA Championships.
 "Having a schedule and staying on top of school work is what has helped me to be successful in and out of the pool. There are times when it is overwhelming and I look back and wonder how I got everything done and turned in on time, but overall I'm glad I decided to swim and do ROTC. Between the two, I have made countless great friends and learned many valuable lessons that are going to help me to become a better Marine Corps Officer and serve my Marines to the best of my ability."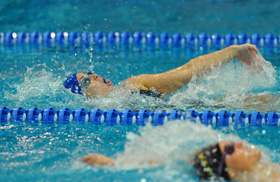 Griffin edges an opponent earlier this year in
the 100 backstroke.After Griffin receives her diploma with her class of 2013 classmates, she will commission immediately. She will serve four years of active duty and four years in the reserves. By spring of 2013, she will know exactly when and where she will be starting her training as an active duty officer.
Semper Fidelis. Always faithful. It is the motto of the United States Marine Corps, and it strikes a notion of constant vigilance, duty, and responsibility to protect our nation and its people. It takes those whose moral fiber is woven with the drive and determination to never back down from a challenge, someone like a young woman who would not shy away from a pull-up test.