Sportsmanship - Domestic Violence Awareness
On Wednesday, October 26, there was more than the average amount of purple on the field at the Saint Mary's versus Albion women's soccer game at the Belles' home field. To the casual observer, it would have appeared that two teams with purple were squaring off on a neutral site. However, the Saint Mary's soccer team was donning purple t-shirts during their pregame warm up to help raise awareness for domestic violence.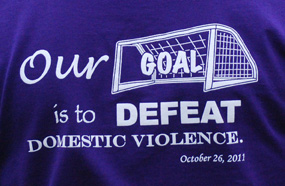 According to national statistics cited by the Saint Mary's Belles Against Violence Office (BAVO), one in every four women will experience relationship violence in her lifetime while 16-24 year old women are consistently reported as the group most at risk of relationship abuse.
Senior midfielder Taylor Paton is a student advisor for BAVO and helped the office collaborate with the soccer team and the Student Activities Board to recognize Domestic Violence Awareness Month in October.
"I wanted to pair BAVO and the soccer team together to create a deeper awareness of domestic violence for my teammates as well as for the student body," said Paton.
Connie Adams '08, Assistant Director for the Belles Against Violence Office, added, "A Domestic Violence Awareness Month soccer game demonstrates the awareness and commitment of Saint Mary's to address this issue and to empower individuals to stand in solidarity."
An important aspect of the game beside the competition itself was the chance to instill a sense of fellowship among the two teams for an important cause. That essence of fellowship is one of the ways that sportsmanship is defined and practiced in an otherwise ordinary way.
"Sportsmanship is something I value as a person, but especially as an athlete," Paton said. "As our team came together to play for this cause, we created an unspoken unity with the other team by wearing their colors. [Purple] is the designated Domestic Violence Awareness Month color; I think it made them feel more at home."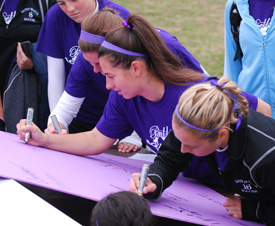 Team members sign the empowerment wall prior
to the Domestic Violence Awareness Month soccer
game in October.With BAVO and Student Activities Board members on hand to distribute information, all in attendance at the game learned more about the serious nature of domestic violence. Spectators and team members alike were encouraged to sign an empowerment wall to give words of strength and encouragement to victims of violence. Fellowship and raising awareness - both were achieved at the Domestic Violence Awareness Month game.
"The biggest thing I hope my teammates, coaches, fans, athletic staff, and Albion took away from this game was recognition or awareness for domestic violence," Paton added. "Playing a game for domestic violence is definitely not as glamorous as a game for cancer, yet domestic violence is a disease that needs to be cured in our society."