Sportsmanship - Mary Kate Boyce
Mary Kate Boyce - Defining Character
 
Golf is a sport that is meant to be played with integrity and honesty while maintaining the etiquette that goes hand in hand with teeing up the ball on the first hole. Saint Mary's senior and Oak Lawn, Illinois, native Mary Kate Boyce is one golfer who continually does her best to uphold the traditions that have made golf the sport it is.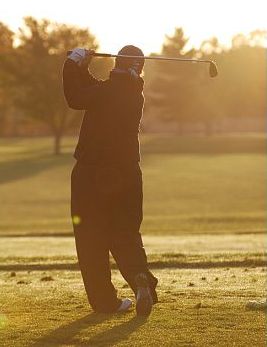 Earlier this fall, Boyce was competing as usual at one of the four MIAA Jamborees and was in the hunt not only for a team conference title, but also for the individual season medalist crown. During the course of the round of play while assessing her next shot, the senior was clearing debris from around her ball. While all golfers are extremely cautious in performing such a task, accidents do happen. The action inadvertently caused the ball to move and the senior was the only person around to see the incident. In her mind, there was no gray area and no hesitation - she already assessed a penalty on herself in that millisecond. 
While that penalty stroke potentially meant the difference between being the medalist of the round and not, Boyce demonstrated the conduct of fairness and respect for her competitors and the game that was able to transcend her play that day. In short, she epitomized sportsmanship.
Boyce would go on to help lead her team to their sixth MIAA Championship and also win the conference season medalist race, but that one moment defined her character more than any win ever could.