2011 Hall of Fame Inductees
Saint Mary's College Athletic Department Announces 2011 Hall of Fame Inductees
NOTRE DAME, Ind. - The Saint Mary's College Athletic Department is proud to announce that two individuals and one team will be added to the Hall of Fame during the College's annual Reunion festivities this June. The 2011 Hall of Fame Class is made up of Stefanie Simmerman '05, Megan Ramsey '04, and the 1988-89 Tennis Team.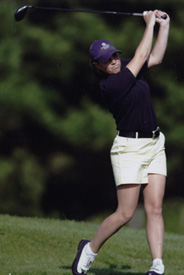 Simmerman, a native of Phoenix, Arizona (Mountain Pointe), graduated in 2005 as the most decorated golfer in the program's history at Saint Mary's. In the spring of her sophomore season, she became the College's first national champion as she won the individual title at the 2003 NCAA Division III Golf Championships in the team's first appearance in the NCAA Tournament. A two-time All-American, she is one of just two athletes in any sport at Saint Mary's to be named to the All-MIAA First Team in each of her four seasons. The holder of several school and MIAA records, Simmerman was also the program's first MIAA Season Medalist and Most Valuable Golfer, accomplishing the feat in the fall of 2003.
Ramsey earned her degree in May 2004, and like Simmerman, graduated as one of the most decorated athletes in her sport - swimming. A native of Michigan City, Indiana (Phillips Academy), Ramsey competed in relays and distance events, but where she shined was the butterfly. In each of her four seasons for the Belles, she finished in the top six of every event she competed in at the MIAA Championships. As a junior in 2003, she became the College's first individual MIAA Champion in swimming by taking the top spot in the 100 butterfly. The holder of several school records at the time of her graduation, she was a four-time All-MIAA selection in swimming.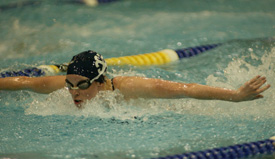 The 1988-89 Tennis Team holds the distinction of being one of the most successful teams of any sport in Saint Mary's history still to this day. The team posted a 22-7 overall record with five of those losses coming to Division I programs. Led by both Debra Laverie, who was named Coach of the Year, and JoAnn Nester, the team won the NAIA District #21 Championship and was the district's representatives in the National Championship Tournament in May 1989. Four individuals and two doubles pairings won District titles as all of those winning individuals and doubles pairs were named All-District.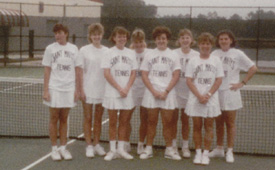 Jennifer Block Howard '90, Charlene Szajko Marino '89, Sarah Mayer Carron '91, Ellen Mayer Vaughn '92, Marie Koscielski Gerken '92, Michelle Cheney Loudon '91, Renee Wenger (ND) '92, Angie Muller McPearson '91, Student Manager Kara O'Leary '89, Coach Deb Laverie '85, Coach Jo-Ann Nester will all be inducted as members of the 1988-89 tennis squad.
Simmerman, Ramsey, and the 1988-89 Tennis Team will be formally inducted into the Hall of Fame on Friday, June 3, 2011 in conjunction with the Saint Mary's College Reunion.