2014 Hall of Fame Inductees
2014 Hall of Fame Inductees
NOTRE DAME, Ind. - The Saint Mary's College Athletic Department is proud to announce that three individuals and two teams will be added to the Hall of Fame during the College's annual Reunion festivities. The 2014 Hall of Fame Class is made up of Andrea Arena Wade '98, Michelle Limb '96, Janet Libbing Prendergast '92, and the 1975-76 and 1976-77 basketball teams.
A graduate of the class of 1998, Andrea Arena Wade is being inducted into the Saint Mary's College Athletic Hall of Fame on May 30, 2014 after an outstanding collegiate softball career.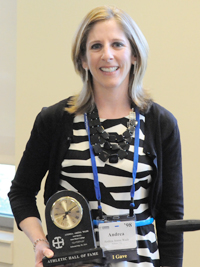 As a freshman, Andrea stormed onto the scene and immediately made an impact on the program. She and fellow Hall of Fame inductee Michelle Limb helped provide big offensive sparks in the Belles' first win back from spring break - a mercy-rule victory over Wheaton. That was one of 20 wins for the nickname-laden team and propelled the Belles to a national ranking for the first time ever. La Pared, or "The Wall" as she was known by her teammates, posted a school-record 49 hits while leading the team with a .426 batting average.
In the spring of 1996, her offensive production climbed even higher. She improved upon her single-season hit record with 50 hits while notching a .370 batting average as the Belles won a school-record 23 games. When the season was said and done, the Belles had another 20-win season in the books for just the fifth time in program history.
During a tumultuous 1997 season which saw the team fall under the guidance of multiple head coaches, Andrea had yet another record-setting season. For the third year in-a-row, she set the school record for hits in a season with 53 hits in just 38 games. She paced the team with a .424 batting average and scored 43 runs.
The spring of 1998 saw Andrea cap off a truly outstanding career. At the conclusion of the season, she became the program's first All-MIAA First Team honoree in the school's first year of membership in the conference. She cemented her place in the record books with 192 career hits, 68 stolen bases, and the three highest single-season hit totals in program history. She also surpassed former teammate Michelle Limb's school record mark of 149 career games played. In four seasons, Andrea scored a school-record 145 runs - a total that still stands at the top of the record book today.
In addition to softball, Andrea worked in both the chemistry and biology labs as a student at Saint Mary's. She studied abroad in Rome during the fall of her sophomore year. During that same trip, she worked for the program director. She was an active volunteer as she gave of her time to talk to prospective Saint Mary's women, assisted at an adult day care facility, and helped serve the Sisters of the Holy Cross. She also earned honors on her senior comprehensive and was named to "Who's Who Among American Colleges and Universities" as a senior.
Andrea graduated in May 1998 with a degree in biology and a minor in sociology. She currently works for Methodist Health Care System in San Antonio, Texas, where she works with trauma patients. She also keeps busy with her four-year-old daughter Elizabeth and her two-year-old son Joseph. She works closely with the National Organization for Albinism and Hypopigmentation. 
A graduate of the class of 1996, two-sport athlete Michelle Limb is being inducted into the Saint Mary's College Athletic Hall of Fame on May 30, 2014 after an impressive four-year career on the softball field for the Belles.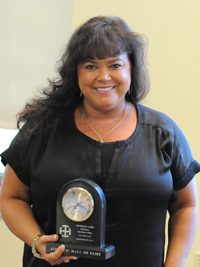 Listed at 5'0", she played in seven basketball games in her first year at Saint Mary's under legendary head coach Marvin Wood. A few months later, she capped off a stellar first season with the softball team by posting a school record .542 batting average while going a perfect 10-for-10 in stolen base attempts. A pitcher and outfielder in her first two seasons, she also had 16 complete games and an impressive 11-5 record in the circle. It was clear that the softball field - a place where size does not matter - would be her area to shine.
During her sophomore season, her production on the basketball court increased considerably after playing in 19 of the team's 21 contests that season. On the softball field, she continued to play a big part in the team's success as the Belles won 23 games - the most in program history. Michelle had a .370 batting average with 37 hits in just 34 games played while also adding eight more pitching wins.
The conclusion of Michelle's junior season with the Belles saw the Saint Mary's softball team post 20 wins for the second consecutive year. She and fellow Hall of Fame inductee Andrea Arena were nearly unstoppable at the plate. Limb collected 44 hits on the year and boasted a .415 batting average while setting the single season school record with 21 stolen bases.
The softball team made it three years in-a-row with at least 20 wins for the first time in program history in 1996. When the final out was recorded that season, the softball team had collected more wins over a four-year period than any other four-year span in the history of the program with 79 victories. Michelle capped off one of the strongest careers in softball history through the first 20 years of the program. She tallied a career-best 44 hits and posted a team-best .414 batting average. She also was a perfect 19-for-19 in stolen bases.
At the time of her graduation, Michelle had more than a handful of school records to her name. Her career on-base percentage of .499, 134 total games played, 159 career hits, and 64 career stolen bases were the highest marks in Saint Mary's softball history. She had staked the claim to single season school records with 21 stolen bases as a junior and a .542 batting average in her first year. Her career batting average of .423 was also the second-highest all-time. To this day, her school records for both single season batting average and single season stolen bases still stand.
Away from competition, Michelle was a strong student and was named to the Dean's List multiple times. She was also involved in both the Spanish Club and the Education Club, although we are not sure where she managed to find the time after balancing the demands of being a two-sport athlete for four years.
Michelle graduated in May 1996 with degrees in Spanish and elementary education. She currently serves as the principal at St. Raphael School in Santa Barbara, California, and is on the leadership council for the Archdiocese of Los Angeles. She also teaches spinning at a local athletic club.
A graduate of the class of 1992, Janet Libbing Prendergast is being inducted into the Saint Mary's College Athletic Hall of Fame on May 30, 2014 after an outstanding career in college athletics.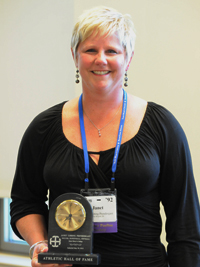 Former Saint Mary's Athletic Director Jo Ann Nester stated Janet is "a true leader and the personification of a student-athlete... she is a wonderful combination of talent, intelligence, patience, humor, tenacity, and compassion. She is a leader in every sense of the word."
Janet used her talents to participate in three collegiate sports: soccer, basketball and softball. Janet was unlike today's athletes who try to specialize their talents in just one sport. In the last ten years, Saint Mary's has only had two students as dual sport athletes. We look back in awe how Janet excelled in three sports.
As a soccer player, Janet was able to combine her athletic talents with a limited soccer background in becoming a valuable asset to the team. Tom Van Meter said, "Janet's determination and competitive spirit was immeasurable yet her sense of enthusiasm was Infectious." Janet scored her first goal in her first year of play.
Her basketball coach, Marv Wood, had stated that Janet is "truly an outstanding individual and an exceptional athlete."  Janet was ranked 17th in the country for her 81.4 free throw percentage. At one point she was averaging 21 points a game - something that does not come easily even in today's game. Fifteen games into her senior basketball season, Janet suffered a career ending injury. Prior to her injury, she led her basketball team in free throw percentage, scoring, assists, rebounds, and three-point field goal percentage during her junior and senior seasons.
In softball, Janet started as a freshman and went on to collect 22 hits that season en route to a team record of 20 wins and 3 losses. The following year, she was chosen to the NAIA All-District 21 Team collecting 28 hits in 26 games. As a junior, Janet helped her team to a 13-15 record while playing opponents from NCAA Division I, II, III, and NAIA. Of the team's four total home runs that season, Janet had two of them to add to her other 17 hits in 24 games. Despite not being able to play her senior year, Janet honored her commitment to the softball team and stayed on that year as a manager and peer mentor.
Her collegiate career is filled with many accolades. She was captain of both basketball and softball teams, named Most Valuable Player for the 1990-1991 basketball and softball seasons, recognized as the Saint Mary's Athlete of the Year in 1991, and then was honored with the Saint Mary's Director's Award for Service, Leadership, and Excellence in 1992 - the two highest awards given within the Athletic Department at that time.
Nominated as a Kodak All-American and the Women's Basketball Coaches Association for Player of the Year, Janet was just as successful in the classroom. She graduated cum laude with a major in biology and minor in chemistry in 1992. After graduation, Janet continued her education in medical school and earned her Doctorate of Osteopathic Medicine from Des Moines University. Today, she is a family practice physician with Parkview Hospital Physician's Group in Columbia City, Indiana. She is also the Medical Director of a local hospice. In addition to keeping up with a full-time medical practice, she keeps us with her very full-time family of five children – Katie, Nate, Jo, Megan, and Zach with her husband Shawn.
1975-76 and 1976-77 Basketball Teams
The 1975-76 and 1976-77 Basketball Teams hold a very special place in the history of Saint Mary's College Athletics. These are the teams that forged a path for the privilege that our student-athletes enjoy today - varsity athletics. The story of their journey is what movies are made of.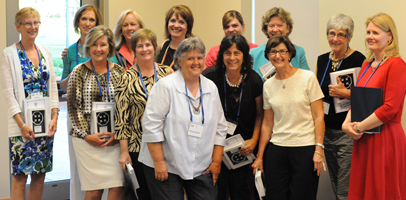 These women had no athletic facility to call their own. St. Angela Hall, the auditorium that served as a gymnasium on our campus since the 1890s, had been condemned and razed in 1974. Their practice sites included Moreau Seminary, Logan Center, and Regina North. Yes, the residence hall lobby with marble floors, fireplaces, and lounging students to dodge. About the only time that they were able to play on regulation size courts with hoops at regulation height were during their games.
They were coached by a 19-year-old tennis star that attended Indiana University at South Bend. She did not play organized basketball, nor had she coached basketball previously. Yet, she taught her team strategies, plays, and how to compete together.
Success could have eluded them and everyone would have understood. There was just too much stacked against them. With no facility of their own, they were only able to practice about eight hours a week. Title IX had just passed a few years earlier. Our women were competing against co-ed institutions that were facing the pressure to finally invest in their women's athletic programs in order to comply with the mandates of Title IX. These colleges were improving their facilities, budgets, schedules, and compensation for coaches. We were in the midst of building a new athletic facility; but, as a single gender institution, we faced none of those other pressures that Title IX created. As a result, we were definitely the underdog every time we stepped onto the court.
Those feelings of pressure were strongest felt in the rivalry that existed between Saint Mary's and Notre Dame. The Chicago Tribune did a feature story that captured the intensity of this competition. The climate between the two schools was tense, especially amongst the female students at each institution. Our women carried the weight of this on their shoulders and onto the basketball court with the entire Saint Mary's campus community cheering them on.
And, our women prevailed. These ladies defeated Notre Dame, not once, but three times. These two teams posted a combined winning record of 19-7. They captured the division title in the Northern Indiana Women's Basketball Championship both years and advanced to the state championships. They finished second and fourth in the Indiana State Championships respectively. They even competed in the Midwest Regional Championships, which is comparable today to our NCAA Tournament.
The heart, talent, and perseverance of these players and their coaches to compete and succeed were powerful enough to transcend the years that have passed. Their journey made our path that much easier.  This team is the rock of our athletic foundation to what we continue to build upon today: competitive, passionate programs that find a way to succeed in spite of their facilities.
1975-76 and 1976-77 Basketball Teams
Mary Frances Liebscher Stopulos '76
Ann Van de Motter Voll '76
Maureen "Pee Wee" Lamb '77
Cathleen Maddox Blum '77
Mary Kelley Hoff '77
Anne Mullaney '78 (posthumous)
Anne Michel Mackiewicz '78
Maryann O'Neil Gotta '78 
Kathleen Cullen Holm '79
Mary Liz Dunne Dudek '79
Margaret Holland Tull '79
Martha Kelly Salata '79
Diane Klucka '79
Pamela Waldner Johnson '78
Kelli Conlin '80
Karen Hooper Clayton '80
Martha McLean Whittaker '80
Trish McMahon Bonnet '80
Nancy Nowalk McKinnis '80
Coach Monica Doyle
Assistant Coach Bonnie Rape